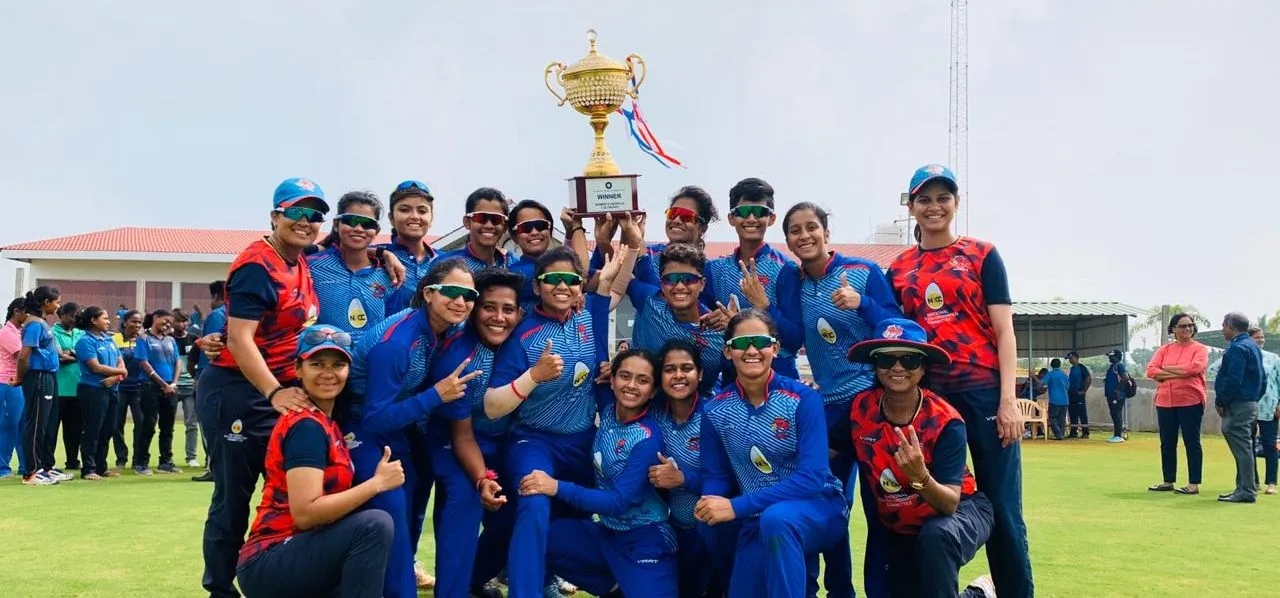 Mumbai Cricket Association (MCA) is conducting a four-team women's tournament from February 15 to 17 at Sachin Tendulkar Gymkhana in Kandivali.
All the teams will play each other once in the tournament and the top two play each other in the final on February 17. The other two teams will clash in a third-place play-off on the same day before the final.
Four 21-member squads have been selected for the tournament. Manjiri Gawade will captain Team A, while India international Jemimah Rodrigues will lead Team B. Sayali Satghare has been appointed as captain of Team C and India A pacer Manali Dakshini will lead Team D.
ALSO READ: Dhiraj Malhotra set to replace Saba Karim as BCCI new General Manager: Reports  
Team A is coached by Aparna Kambli and Sushma Madhavi is in charge of Team B. Swati Patil is the coach of Team C, while Hemangi Naik is guiding Team D.
Team A:
Manjiri Gawade (c), Humira Kazi, Kajal Upadhya, Nidhi Dawda, Vidhi Mathuria, Fatima Jaffer, Komal Parab, Batul Perira, Mansi Patil, Mahek Pokar, Palak Dharmshi, Jaya Negi, Shweta Haranhalli, Shobita Bhamne, Monica Paste, Ishwari Gaikawad, Khushi Sawant, Nandita Trivedi, Vishakha Acharya, Supriya Pawar, Anchal Valunju
Team B:
Jemimah Rodrigues (c), Vrushali Bhagat, Priyanka Macchi, Riya Choudhary, Jhanvi Kate, Nirmiti Rane, Amruta Parab, Simran Shaikh, Radhika Thakkar, Mahi Thakkar, Mithali Mhatre, Ishita Bhosale, Shraadha Shetty, Khushi Bhatia, Sanika Chalke, Saima Thakor, Aleena Khan, Vedika Dawane, Sara Samir, Surbhi Shinde, Anagha Narvekar
Team C:
Sayali Satghare (c), Hemali Borwankar, Darshana Pawar, Sejal Raut, Prakashika Naik, Jagravi Pawar, Tanvi Parab, Tushi Shah, Pranjal Gurav, Madhu Madhav, Akshi Gurav, Kashish Nirmal, Dhanshree Waghmare, Pooja Yadav, Sneha Raorane, Yuga Churi, Ketki Dhure, Hurley Gala, Priyanka Golitkar, Soumya Singh, Shusmita Awhad
Team D:
Manali Dakshini (c), Reshma Nayak, Esha Oza, Siddheshwari Pagdhare, Simran Mhatre, Shaheen Abdulla, Saniya Raut, Samriddhi Rawool, Zeal Demello, Vaibhavi Raja, Samiksha Bangal, Niyati Jagtap, Disha Chandak, Tanisha Gaikwad, Kritika Krishnakumar, Kavita Singh, Sharvi Save, Bhagyashree Salunke, Prerna More, Riya Salunke, Yayati Gawade