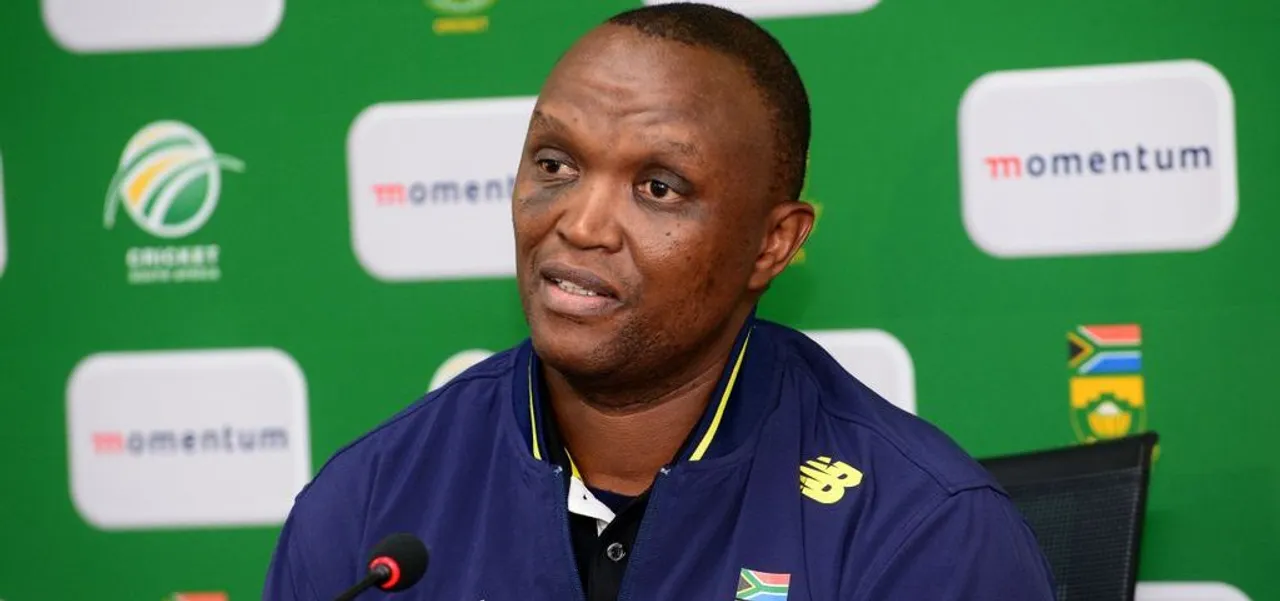 South Africa's captain Dane van Niekerk and allrounder Chloe Tryon will mark their return to international cricket against
West Indies
after missing out on two of the national team's series due to back injuries. South Africa's coach Hilton Moreeng anticipates this "long overdue" series five months ahead of the World Cup in New Zealand will turn out to be "a very good tour" for his side.
With the return of van Niekerk and Tryon, South Africa will be with their full-strength squad for the first time since T20 World Cup in Australia. "In coaching terms, We'll call it ideal. That's what we'd always love to have as coaches," Moreeng said during the media interaction before South Africa's departure to Antigua on Monday (August 23). " We know it's not always in our control as certain things happen like injuries. Now we welcome two members back in the squad- Dane van Niekerk, the captain, and Chloe Tryon."
Van Niekerk missed out on an opportunity to play in the
home series
against Pakistan in January 2021 and the away series
against India
in March 2021 due to back injuries. She was part of the
Sydney Sixers
squad during the sixth season of the Women's Big Bash League (WBBL) and played in 10 matches. She led the London based
Oval Invincibles
side to the title in the inaugural The Hundred and en route became the highest run-scorer of the competition as well.
"It has been a bit frustrating for both the country and the player. We, as management, worked closely with the injuries she had. It's been a setback and frustrated
throughout this period. It's just very exciting to see her back on the field because you know what she brings. She is an all-round cricketer and a very good cricket brain, and we know once she's on the field how she leads a team," Moreeng said.

ALSO READ: Hilton Moreeng glad to see allround Dane van Niekerk in The Hundred

The head coach stated that his team is aware of the lack of success for them in the West Indies. Their previous tour of the Caribbean in 2018 before the T20 World cup saw both teams draw the series in both formats. South Africa failed to make it to the knock out stage of the World Cup as they were beaten by West Indies in the group stage by 31 runs.

"Although we know that the team that plays extremely well on those conditions and the last one we had there was not a very joyful one. So it's something that we want to rectify as a team. They play well on slow wickets, but it'll be important for us to adapt. The good thing for us, we start with T20 cricket, so players from the Hundred are well aware of that and players that will be headed home will be prepared accordingly, because we could arrange for slower wickets. Our preparations building up over the last five months have been very good," Moreeng said.

South Africa will look to take confidence from the fact that they outplayed India in their own backyard where the home spinners were expected to dominate the visiting batters. Moreeng believes that series win hold them in good stead against West Indies.

"The good indication we had is our last tour - of India - batters adapted to that and we need to continue on that and then make sure we complement that with our bowlers and fielding overall because we feel that the last time we were there we did not bat as well as we could although the bowlers did a really good job and kept us in the game. It's now for us as a batting unit to make sure we counter that because we know we have to face a lot of slow bowling and the wickets are not going to get any quicker," he added.



Moreeng was impressed with the players who represented various teams in the inaugural season of The Hundred, including the trio of van Niekerk, Marizanne Kapp and Shabnim Ismail, who lifted the trophy for Oval Invincibles on Saturday (Aug 21). Four other South Africans - Laura Wolvaardt, Lizelle Lee, Mignon du Preez, Tryon - were also part of the tournament for various sides.

"What has been good is that players have been to The Hundred now and how they contributed. You could see even those that played in the final, how they dominated on the day. It shows the quality they have and we feel in having Dane in the squad and also Chloe - the experience and the dynamic they bring into the team. As a team, it just makes us a more forceful unit to deal with and we're very happy with their achievements as a team."

Some of the South African players have regularly featured in domestic leagues like WBBL, The Hundred and its predecessor Women's Cricket Super League (WCSL) where they played in front of large crowds. Moreeng underlines the impact of playing in these matches will help his team at the ODI World Cup in New Zealand under high pressure situations.

"If we look at the history of Shabnim, Marizanne, Dane, and even Mignon also - they have been involved those finals at the best level but not in the capacity that we had the last weekend. The last time we played as a team in front of such a crowd in such a pressure game, it was the 2017 World Cup. That experience, as we can see, how they started to handle that and they've grown from that," he said.

"We feel anything between 15-20 ODIs building up to the World Cup is good preparation as a team. We have five ODIs coming and if can play another few more, this would put us on the right path on what we need to achieve as a team."

ALSO READ: Barbados to represent West Indies in Birmingham Commonwealth Games 2022

In the absence of regular captain Suné Luus led the side across formats against Pakistan and India as South Africa won comfortably. Moreeng also lauded Luus and other young players who performed well against challenging oppositions.

"Sune also handled it very well when the opportunity was given to her. That also shows that when the youngsters are in the squad how they are learning, how they're stepping up when you have these kinds of injuries, how even (Laura) Wolvaardt had a chance . These opportunities, when they come, people can take the role," Moreeng concluded.