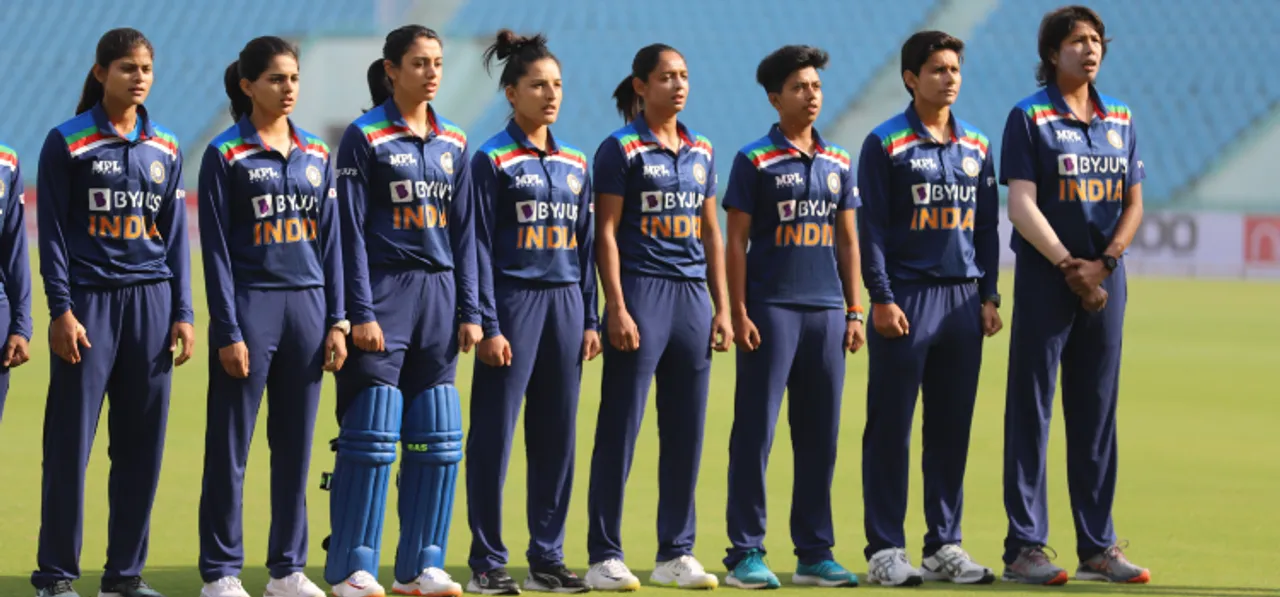 22 February 2020. Though early cases of COVID-19 had broken into the country, India were yet to witness the widespread impact of the pandemic. Cricket tournaments were being held across the country - it was business as usual. At the Indira Gandhi Stadium in Una, Karnataka took on Railways in an Elite Group A fixture of the Senior One Day Trophy 2019-20. 
Railways skipper Mithali Raj won the toss and opted to bat first. Punam Raut and her favourite opening partner, MD Thirushkamini, tried to see off the new ball without losing any wickets. However, it did not take long for Karnataka to make inroads. Railways went from 13 for no loss in five overs to 13 for 2 in 5.3. Monica Patel had sent both Thirushkamini and Nuzhat Parween, who came in at no.3, back to the pavilion, and Raj was in the middle with Raut. 
The left-arm seamer, only 20-years-old at the time, still remembers the spell vividly. "I started off well. One of the international players, Vanitha (VR)
di
came to me, and the captain spoke to me. They said, 'You are bowling to the best team here. You need to show your best'," Patel tells
Women's CricZone.
For a young cricketer trying to rise through the ranks, she didn't seem flustered by the presence of international stars in the Railways team. For her, every opponent was the same. She had a ball in hand, and her job was to take wickets. Her first wicket on that Saturday was Thirushkamini, who was trapped on the pads by a short-of-length delivery that kept a bit low, Patel recalls. 
She took only two deliveries to get Parween to nick one to the 'keeper, Sanjana Batni. Now, she was up against arguably the best batter in the world and the captain of the Indian team. Patel wanted to make an impression. High on confidence with two wickets under her belt, Patel steamed in. All she wanted was to beat Raj and make her edge to the slip cordon. 
"She was moving across the crease, but I did not lose my line. My line was on the fourth stump, thinking she was going to give me at least one nick. I got her beaten twice or thrice.
'Kuch bhi ho jaye, main move nahi karoongi'
(no matter what happens, I'm not going to change my tactics), not even the length or line. I almost got an edge, but I missed it. I think I did not give her any loose delivery."
ALSO READ: Didn't sleep well ahead of The Hundred debut, says Jemimah Rodrigues
After Patel completed her first spell Raj and Raut did what they do best, adding 210 runs for the third wicket. Raut missed her century by six runs but Raj made a 123-ball 121. Railways finished with 266 for five in 50 overs and eventually won the match by a margin of 191 runs. 
Despite the result, Patel had accomplished what she had set out to do. She had made an impression on the Indian skipper. After the match, Raj appreciated Patel for her bowling. "I got the compliment, and I was like, I need to be stronger. It can't end here itself. I wanted to be the best," she says.
And that moment became a driving force for her to strive to be better and step up her game to the international standards.
                                                                                               *** *** ***
Born into a Rajasthani family, who moved to Bengaluru a couple of decades ago, Patel started playing cricket at a very young age. Playing gully cricket along with her brother in their colony in Basaveshwaranagar, a residential suburb in Bengaluru, she was interested in batting more than bowling. After watching her bat in tennis ball matches, people in the neighbourhood suggested that Patel be taken to a professional cricket club.
"My brother did not know all about this. He took me to a local club in Basaveshwaranagar near our house. The coach asked me to pick up a ball and bowl. I don't know what I did; I just ran and bowled fast, and I got one of the senior batters bowled. It was too quick. I didn't expect I would bowl quick."
ALSO READ: Show people that you can practise your faith and be a cricketer if you want to: Abtaha Maqsood
When the coach asked her to pursue fast bowling, Patel stood her ground, saying that she wanted to become a batter. After much persuasion, the coach convinced her to become an allrounder, ensuring a way to keep her focus on bowling as well. Though Patel made rapid strides in club and age-group tournaments, it was not until her Under-19 debut for Karnataka she took the sport seriously.
"I wasn't serious about professional cricket. I was like, 'What's there to think? Just run in and bowl'. When I debuted for Karnataka U-19 team, the coach told me, 'You need to be serious. You are so quick. And why don't you work on your consistency?' And that's how it started for me."
After making her U-19 debut for the state in 2015, Patel was selected for the Karnataka senior team the very next year. She played only one match in 2016 and a couple more in 2017. It was not easy for her to break through into a star-studded playing XI.
"We had two international players in the team, Karuna Jain and Vanitha. There were three or four pacers, and it was a challenge for me to get an opportunity to play ahead of them. Every player used to get a chance, and whoever does well on their day will play for long. I was not worried about selection. Whenever I got an opportunity, I wanted to give my best."
When asked if being a left-arm pacer was an added advantage, Patel said that she doesn't feel lucky but she is quick to acknowledge the edge she might have because of the variations that come into play. "We have an advantage with different angles, bringing the ball into the right-hander. There are very few left-arm pacers around the world. I don't feel any luck there but it is always an advantage in that sense," she said.
ALSO READ: Sneh Rana 2.0: India's new lean, mean spin machine
Patel finished the 2018-19 Senior One Day Tournament with six wickets. In the 2019 season, she had taken four wickets in the league stage going into the knockouts. However, the BCCI called off the tournament midway in March 2020 due to the pandemic. When Patel travelled back home, little did she know that she would make her India debut in March 2021.
****
There was not much cricket in the latter half of 2020 due to the widespread effect of the Coronavirus. In January 2021, Patel participated in the Falcons Sports Club golden jubilee T20 tournament. Though she took only three wickets, the 22-year-old played a crucial role in Herons Sports' run to the final. Raj was among the chief guests for the tournament final, in which they lost to KINI RR Sports, led by Prathyusha C. 
A month later, she earned her maiden national call-up for the series against South Africa. Patel made her debut in the very first match of the series. She knew that she was in the XII a day before and was expecting to play. Though she had prepared all her life for this moment, that night, she couldn't sleep. "I spoke to my mom that night. She asked me to take it as a normal match and not to pressure myself. I couldn't sleep well," she recalls.
After her morning routines, when she walked on to the field for the match, she was nervous and had little butterflies in her stomach. Laura Wolvaardt welcomed her with a glorious square drive off the very first delivery. Patel overcompensated with the line, and Wolvaardt flicked the second delivery behind square-leg for another boundary. It was not until her third over, when she bowled a maiden, her nerves had settled.  
Defending 177, India lost by eight wickets. Patel got to bowl only four overs, giving away 20 runs. She did not play the next three matches. She spent time in the nets working on what she could have done better and prepared herself for the next opportunity that came her way.
Patel came back in the fifth and final ODI, where once again, India were defending a below-par total. This time, she exhibited better control over her lines and lengths and bowled very few poor deliveries to the South African batters. The left-arm seamer finished with figures of 9.2-0-34-0, with the tourists chasing down the target in the penultimate over. 
Reflecting on her debut series, Patel conceded that there is a giant leap between domestic and international cricket. She said that the margin for error is less in international cricket, and one has to be consistent with their lines and lengths. In fact, it was her biggest takeaway from the series. 
"I spoke to (Marizanne) Kapp. She told me about the simple things that need to be taken care of. 'It's all about the little things you need to improve; not about how quick you are. It's about how consistent you are. That's all that matters in international cricket.' She opened my mind. I was like, 'yeah, she is right.' It's not always about the pace, but about hitting the right areas consistently."
ALSO READ: 'The last year has taught me to respect life more'
Patel was not a part of India's recent tour to England where India drew the Test match but lost both the ODI and T20I series. After the T20I series, India head coach Ramesh Powar
said
that Jhulan Goswami performed well but she had little support from the other pacers. He said the team management is keen on creating a strong pool of fast bowlers before going into the World Cup in New Zealand. 
"We are looking to enhance our fast bowling department. We have seven months, so we have got to create a pool of fast bowlers. Already we have five in the team. We are looking at five more. We are looking to create a pool of at least 10-15 fast bowlers," Powar said.
Currently, the Indian contingent is
training
in Bengaluru, with as many as 35 players preparing for the tour of Australia. Patel is also a part of the camp but whether she will travel with the team to Australia is still uncertain.  
However, the left-armer is not too worried about selections at the moment. She seems focused on being mentally and physically fit so that if and when she gets a chance, she can make the most of it. 
"I have just arrived in international cricket. Whenever I get an opportunity, I will make sure I do my best. I have learnt from my mistakes, and I want to be much more consistent, and that is what I am training for."