New Zealand's skipper Sophie Devine once said that Mithali Raj can be an institution telling everyone how to remain at the top of their game. Her cricketing journey can be a business school case study. For somebody who wields the kind of success that the India skipper does as a player, it is certainly not an exaggerated statement to make.

When you are able to play a sport for over two decades, then you have to be excellent at your craft or else you are bound to be replaced. The word 'mediocrity' doesn't exist in Mithali's dictionary as her numbers embellish the longevity of her decorated career.

She has scored the most number of runs in the history of ODI cricket and even the current lot of international cricketers take a leaf out of her batting. Her illustrious career has seen everything except for a World Cup winners medal and the 39-year old legend is on the lookout for the same to immortalise her legacy.

In a chat with Women's CricZone, Mithali talks about India's chances in the ongoing World Cup, her camaraderie with fellow teammate Jhulan Goswami, Women's Indian Premier League (WIPL), her legacy and a lot more.

Excerpts:

Q: What are your thoughts on the round-robin format for the World Cup?

I will always prefer this (round-robin) format and then play the semi-finals. With the round-robin format, even if you have a bad game, you can always make a comeback into the tournament. I still remember the 2013 World Cup. It was played in the super-six format. We were under a lot of pressure after losing the game to England in that tournament and the next game against Sri Lanka became really important. We went on to lose that game (Sri Lanka) and were out of the World Cup. It was quite a disappointing tournament. It is always better to play the round-robin format because you can always make up even when you have a low net run rate, you can plan how you want to go ahead in the tournament.

Q: There is a lot of talk about Mithali Raj playing in her last World Cup. Do you think it adds to the pressure or you just don't pay heed to it?

Well, sometimes it does play on my mind. But I guess, as an athlete, when you get on the ground you only focus on the task at hand. Also whenever I feel the nervousness, I try and interact with the youngsters, because they emit powerful energy. So it feels nice to be among a bunch of youngsters who do not have the kind of pressure that an experienced player carries into the World Cup.

I remember this one instance that happened during the Women's T20 Challenge. Shafali (Verma) was in my team and leading into a game I asked her should we bat or field first? And she said that it doesn't really matter, let's just give our best. As a captain, when you are unable to make the decision that you want to bat or bowl and then when you speak to a youngster and she replies in the manner that Shafali did then it eases a lot of pressure. And as a captain, you are propelled to go with an open mind.

Q: Jhulan Goswami and you have played a lot of cricket together. How has the journey been thus far?

I have always looked up to her (Jhulan Goswami) whenever I needed some kind of inspiration. She always works really hard on her game and that motivates me to put those extra hours into my batting drills. When you have a personality like Jhulan on tours, then it's always helpful. There are times when I share my apprehensions with her. I always look forward to her valuable inputs. When I am not sure about the team combination, I walk up to her and ask her the same. She has played with me for many years and has led India too. Hence as a senior player, she understands what the team requires. A different perspective is always very helpful.

Q: What do you think are India's chances of winning this World Cup?

I think this is our best opportunity to win the World Cup because of the kind of bilateral series we played leading into the World Cup. We played South Africa at home, squared off against England in England, locked horns with Australia in their backyard, and competed against New Zealand right before the World Cup. So we have played a lot against the best sides recently and mostly on their home turf. It is always a tough task playing away from home and we have done well under challenging conditions. Yes, the results haven't gone in our favour but preparations wise now the girls know that what is expected of them in terms of the roles that have been assigned to them.

ALSO READ: The many rescue acts of 'saviour' Sneh Rana

Q: Do you think that the ODI format is India's forte?

Yes. I definitely agree. We have given a lot of opportunities to youngsters over the years. I remember back in 2016 the likes of Deepti Sharma, Smriti Mandhana and others were all very young. The 2017 World Cup gave them a lot of confidence, which they needed. After that tournament, the kind of exposure all these girls got by playing in various T20 leagues around the world and playing the amount of international cricket that they played because of the itinerary that we had, helped them to grow immensely. Now we have a very experienced team, I wouldn't call it a very young side. We have a seasoned set of players.

Q: Have you been able to forget the 2017 World Cup final loss?

Well, it certainly took a lot of time for me to get over it. I don't want to look back. But I believe that this is a fresh World Cup and it has its own set of challenges. We have a lot of youngsters in the side and I am looking forward to watching them perform.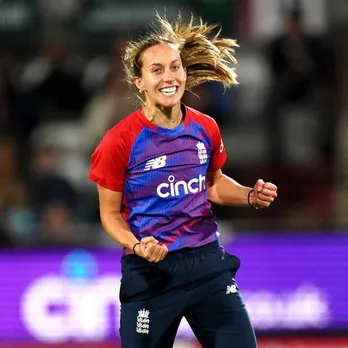 Mithali Raj timing a cover drive to perfection © Getty Images
Q: How do you personally prepare for big tournaments like World Cups?
I think what most of the athletes do in the middle phase of their careers or in the beginning is that they stress a lot on the physical side of the preparations. They do not allocate much time in preparing and gearing up mentally. I have started preparing mentally in the last one year. Because I want to tick every box as far as the preparations are concerned. I don't want to limit my preparations to batting, fielding, or my fitness training. I want to think and keep reinventing my strategy so that I don't become predictable. Even during practice sessions, I deliberately create pressure situations for myself and visualise.
ALSO READ:
Smriti Mandhana, Harmanpreet Kaur and art of batting in partnerships
Q: You are the face of women's cricket in India. You have inspired many girls to take up the sport. Women's cricket in India is synonymous with Mithali Raj. How do you look back at your legacy?
I have not given it much of a thought. I have said in a couple of my interviews that women who are successful in sports inspire women in general. Sports is a level playing field. The cricketing world doesn't see whether it's a male or a female cricketer. I think it's important that as a woman you inspire other women across domains. It is really heartening to see young girls taking up the sport these days and even boys looking up to female cricketers as their role models.
Q: Do you think that it's high time we see the Women's Indian Premier League (WIPL)?
I think now that the girls are playing in different leagues across the globe and with the kind of exposure around, it is the right time to get going with it. I feel that if we really do well in the World Cup then that will push the cause for sure. But otherwise also, I think it's the right time to begin with it because we need to build a team for the future and a strong one for that matter.