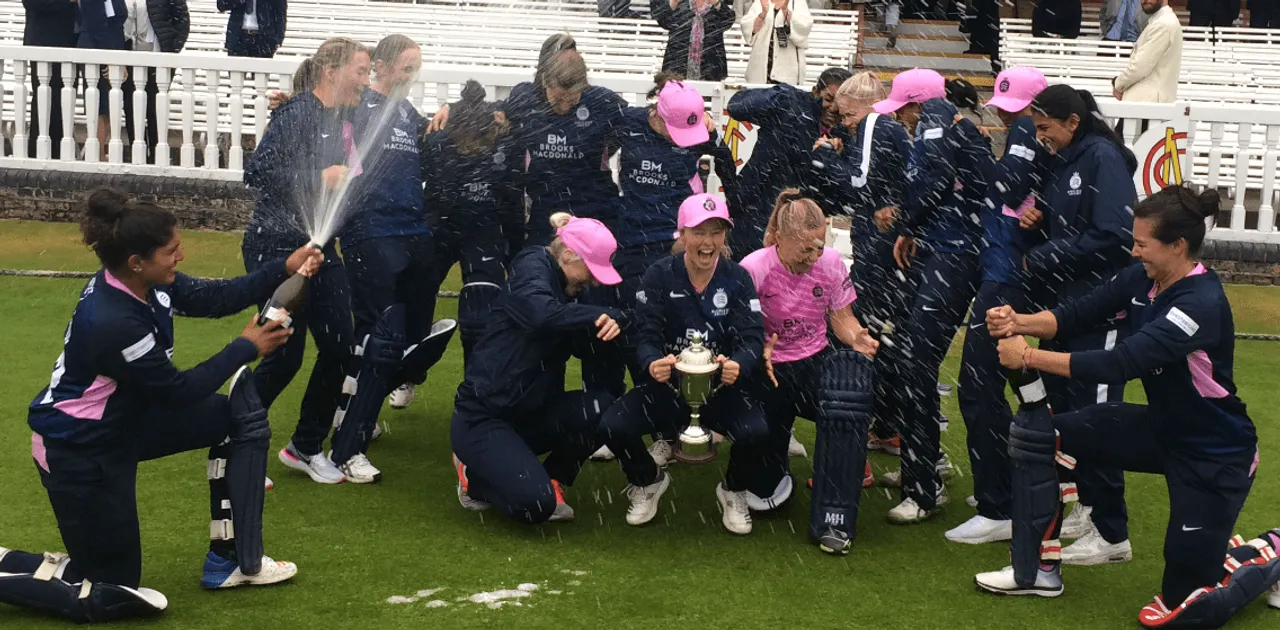 Middlesex emerged victorious over local rivals Surrey in a close finish to an historic first county fixture at Lord's yesterday.
Weather conditions conspired to reduce the run chase to a five over thrash but despite frustrating rain delays, this annual London Cup clash ended in an enthralling fashion with home skipper Natasha Miles hitting a single off the last ball to win the match.
It was the fifth successive year that Middlesex have won the trophy, sparking champagne celebrations in front of the famous old Victorian pavilion at close of play.
The match was part of this season's MCC Women's Cricket Day which also featured a women's softball tournament with 200 playing on the Lord's outfield.
Last year's inaugural MCC event was marked by Middlesex Women making their debut appearance on the Main Ground at Lord's. This year was the first time a competitive women's county fixture has taken place at the Home of Cricket, an experience which MCC and Middlesex head of women's cricket Danni Warren said will benefit the players in the future.
Speaking to Women's CricZone, Warren said: "We had a very successful day in 2018 and the question is how do you go one better? The weather didn't come to the party on that one, but the idea being that we had the women's softball on at the beginning which got over 200 women out here playing cricket on the outfield at Lord's playing cricket.
"So that's one part of the pathway, then the top end, we wanted to get the very best cricket that we could do and the London Cup is always a competitive fixture and one the girls look forward to. It's kind of always been a goal of mine to make sure we got it at Lord's at some point and the MCC were kind enough to let us take over their women's day with that.
"It's been a really enjoyable day. Everyone who has taken part has enjoyed it and the crowd thankfully stuck around for a really tight finish at the end."
 
Match report
The game had already been reduced to 18 overs a side when Surrey were put into bat by Middlesex who soon had the visitors in a stranglehold with both openers back in the pavilion after two overs, leaving them in real trouble at 3-2.
Making her Middlesex debut, Lauren Bell got one to swing in and knock back Bryony Smith's stumps before Kirstie White attempted to pull Katie Wolfe and got a top edge to Beth Morgan at short midwicket.
Wolfe and Bell restricted the batters well and the first boundary came only when Aylish Cranstone top edged Bell over the keeper's head in the third over.
Runs were proving difficult to come by before Amy Gordon drove Wolfe stylishly through the covers for four in the fourth over.
Middlesex's England international Sophia Dunkley pegged Surrey back further with her first legitimate delivery, trapping Cranstone in front attempting to sweep, leaving Surrey 18-3 in the fifth over. A fourth wicket almost fell, but Eva Gray was put down at cover off Gayatri Gole.
Soon after the rain returned and Surrey left the field at 28-3 after seven overs.
A resumption seemed unlikely but the umpires made the most of a brief break in the clouds to get the players back on with Middlesex set a DLS adjusted target of 26 to win in five overs.
It was one of those tricky low chases which are always difficult to pace. After a tight first over from White, Amara Carr and Dunkley targeted Surrey skipper Hannah Jones in the second over, both coming down the wicket only to be stumped thanks to some sharp glovework from Rhianna Southby.
When Naomi Dattani drilled Smith straight to mid-on in the third over, the wheels looked like they had come off the Middlesex run chase. At 5-3 they still needed 21 off 15 balls to win.
The pressure was relieved slightly by a couple of wides in the fourth over while Miles survived after hitting one low to point.
With eight needed off the final six deliveries, Cordelia Griffith swung at one from Jones and became the third batter to be stumped Southby bowled Jones of the innings.
That brought Bell to the crease who betrayed her years by calmly partnering Miles towards their target.
Bell took a single off her first ball before cutting the next ball she faced behind square for four. That left two needed off the last two balls with Miles sweeping the final delivery to bring up the win.
Special credit must also go to the umpires and Lord's groundstaff who made every effort to ensure that the players were able to finish the game.
 
Reactions:
Head of Women's Cricket (MCC and Middlesex) – Danni Warren
"The girls benefit from playing in games like that. The great thing is that we've seen someone like Lauren Bell who's 18 years of age. It's the first game she's played for Middlesex, and she's walked out there in that situation and shown exactly how to play it. It's a tough chase when you've got five overs and the score seems very obtainable and then it's never in your favour when you do that. You either go big and everyone expects it or things start to go wrong quickly. But they came home and they showed a calm head in a situation and it will only benefit them in the future.
"The best cricket we can get on this ground the better and if we can do that then that will be fantastic. It's Middlesex's home, male or female, and therefore we want to keep that going whatever the future might be. Hopefully we'll see more games and we'd like to see more games out there like this because we saw a taste of what the appetite is for it. The weather might not have kept everyone in the crowd, but we had a good 4,000 people apply for tickets and quite a few come through the door at the start of the day, so hopefully we will get more out here."
 
Middlesex T20 captain Natasha Miles
"To have a county fixture here at Lord's is really special. The girls are so excited to play. It's leaps and bounds forward for women's cricket.
" I'll be honest. The girls would kill me, but I was dying a little bit those first two overs, ending up 3-2 after the first over and a half. But I knew that we had the strength and depth and we just needed to get a tiny little partnership, a couple of runs going and we'd be able to claw it back if we stuck our heads at it.
"We knew that we had to go out there and hit them hard and our openers and Dunks at number three did that and that didn't come off. That happens and we know that we've got the batting to be able to pull something together really well."
 
Surrey captain Hannah Jones
"It was a complete honour to be playing at Lord's. It was over just as quick as it started, so the girls all really enjoyed it and it was a good buzz for five overs. A bit of chaos, but it was good fun.
"I said to the girls try and use your nerves wisely. For a lot of us it's the only time we're ever going to play here, but once you get going it's what we normally do. When we were walking out, the moment got us all a bit. It was a really good experience.
"Hats off to Rhianna. I did my part <3-11 from two overs> and hoped for the best. It was just ball by ball and we couldn't plan too far ahead. Just had to see how it goes and react from that. It was good, it kept me on my toes.
"I think we're well prepared for the T20 competition. With Bryony in the side, it's a massive bonus for us. We can build our batting line-up around her which is really good and with Eva and Rhianna and Amy Gordon coming through there's lots of potential in our team. So, it just takes a day for us to come off and we'll be looking good for T20.