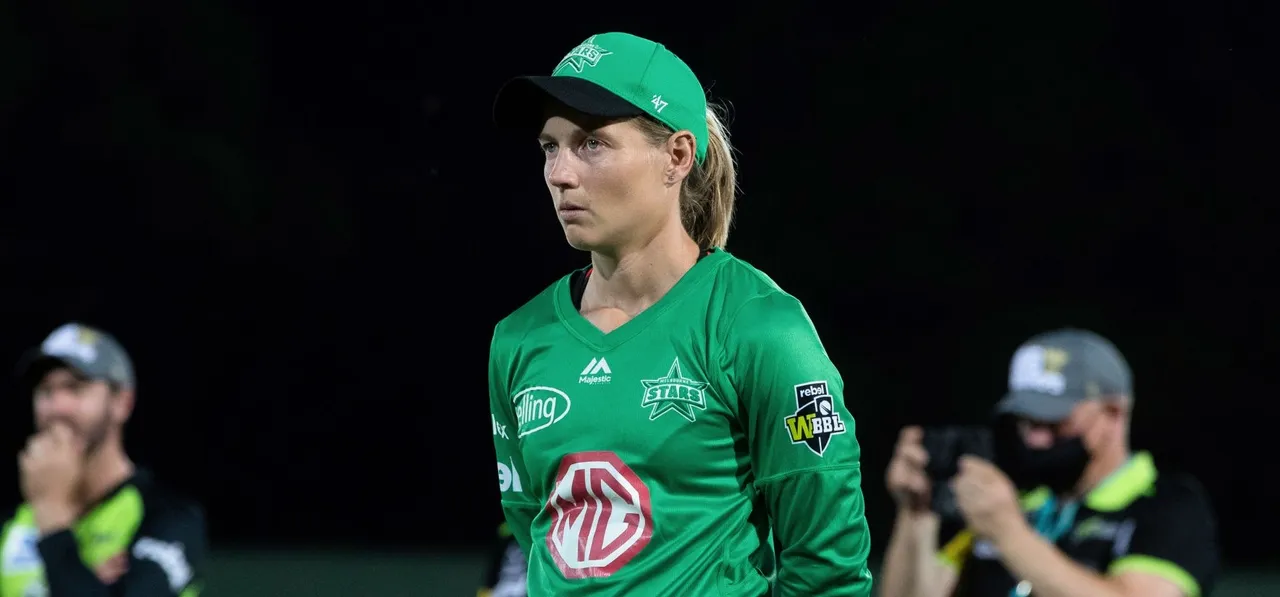 It was supposed to be a fairy tale homecoming for Meg Lanning at Melbourne Stars. Or at least it was until the day when it actually mattered the most. Lanning was part of the Stars when the Women's Big Bash League kicked off in 2015. They finished fifth in the first two seasons, and when Lanning moved to Scorchers, they slumped further to the bottom in the next three years. 
Ahead of the sixth season, David Hemp, former head coach of Stars, said that in a tournament like the WBBL the franchise needs to have a balance between the marquee players and those who play the supporting role. 
"For Melbourne Stars, it was a bit of - we had ticked a lot of boxes in one area, but not so much in the other. It was, kind of, mix and match and got all those lined up, which unfortunately didn't happen," Hemp had told
Women's CricZone. 
This year was different. Lanning was back, and so was Natalie Sciver. Katherine Brunt joined, and Mignon du Preez, too, was re-signed. They already had Elyse Villani, Annabel Sutherland, Alana King and Holly Ferling. Above all, they had a new coach in Trent Woodhill.
"We're backing ourselves to bounce back from some of the results in recent WBBL seasons. I'd certainly like to see a maiden finals appearance this season and win the title, but there is plenty of work to do first," Woodhill
said 
when he took over in June.
ALSO READ: Hannah Darlington, the yorker bowler in an era of variations
Along with Lanning, Woodhill had set a template to follow: heavily loaded top-four, an aggressive approach with the bat irrespective of the match situation, and opting to chase every time they won the toss.
Ans it worked. Despite the initial washouts, the Stars were on a roll in the tournament this season. They won six matches in a row before facing their first defeat, in a Super Over against Melbourne Renegades. 
Every time Lanning and Villani walked out to bat, they showed intent from ball one. Their key strategy was to play aggressively and take the attack to the opposition irrespective of the match situation. Throughout the season, Stars were one of the few teams who made the most of the fielding restrictions. They scored more than 40 ten times, in which five were 50 or more. They did so without losing too many wickets.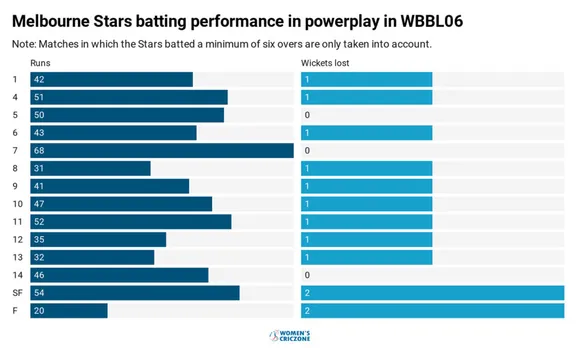 On average, Stars scored close to 44 runs per innings in the powerplay losing a wicket this season. Their worst performance came on the most important day of the tournament, and that was one of the significant reasons for their downfall in the final against Sydney Thunder. 
One of the biggest reasons for Stars' dominance in WBBL06 was the consistency of their top order. Villani, Lanning and du Preez contributed 66 percent of the runs scored by Stars. While Lanning made six half-centuries, du Preez scored four and Villani accounted for two. Whenever they lost an early wicket, either one of the three stood up and scored a bulk of the runs.
ALSO READ: The paradoxical ways of Mignon du Preez
It is not to say that those who batted below did not perform at all. Whenever the opportunity arrived, both Sciver and Sutherland chipped in with useful contributions. The

match against Hobart Hurricanes

is a perfect example. They lost Lanning early. Sutherland, who was promoted to No. 3, struck a partnership with Villani. Despite scoring only 35 in the powerplay, Sutherland hung in there and launched a counter-attack late in the innings to take them to a match-winning total.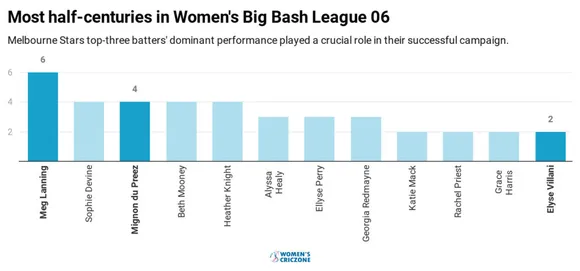 In the finals too, there was a brief period when Sciver and Sutherland were batting together. After nine overs, they were struggling at 33 for three. Rather than taking the game deep, Sciver tried to get them out of trouble by playing aggressively and got out to Samantha Bates. Sutherland's dismissal, if anything, was worse. She had just hit Lauren Smith for six and a four. Sutherland wanted to go big again and was caught at deep midwicket. 
Had both Sciver and Sutherland, or just Sutherland batted till the 20th over alongside Katherine Brunt, Stars might have had a better chance at getting to a defendable total. However, it was not to be. 
After their loss to Melbourne Renegades in the Super Over, Stars pacer Holly Ferling said that they do not mind losing the match as long as they play the aggressive brand of cricket. "It's our blueprint. If we go down in a game like that, then we are happy because we were aggressive," she
said at the time.
ALSO READ: Devastated, but hoping for more opportunities to play in the coming years, says Scotland coach Steven Knox
Well, it is hard to think whether the thought process would be the same when the loss came in the all-important final. If there was one other thing that was clear about Stars' approach this year, it was their decision to chase every time Lanning won the toss including the semi-final. And they had not lost a match in the tournament batting second.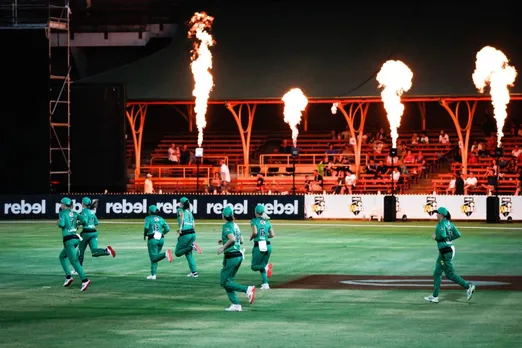 Stars had a perfect plan A, to which they did not have an alternative, and it backfired in the final. © Getty Images
When Lanning opted to bat first in the final, it surprised many. Woodhill had said that the idea was to 'put runs on the board' in the final. One cannot help but think that the Stars, who had taken an aggressive approach, might have wanted to play it safe. While it might not have changed the result, the way they performed with the bat did not help their cause either. 
Throughout the tournament, Stars had ridden on the success of their batting strength. As far as the bowling department is concerned, Sciver and Alana King led the wickets charts. Other bowlers played a complementary role to them. However, they could not have done much in the final.
Stars had a template and stuck to that. It worked well for them until the final. It was a perfect plan A, to which they did not have an alternative, and it backfired in the final.
Though they did not end the season on a high, the aggressive brand of cricket would have been a thrilling experience for the fans. Like Lanning
said
after the finals, this could be the start of something special, and it would be exciting to see how they come back in the next season.