Meg Lanning has signed up to play for Melbourne Stars in the sixth season of the Women's Big Bash League (WBBL), it was announced on Wednesday (July 22) after the contract embargo was lifted last week and the fixtures were announced. It was
speculated widely
that the Australia skipper would return to the team she captained in the first two seasons of the competition.
"I'd like to thank everyone in Perth for their support during my time there but it's great to be back in Melbourne for the WBBL," said Lanning after the announcement.
"I'm proud to have been part of the first couple of years at the Melbourne Stars and I'm looking forward getting back involved with the club. We've got an exciting group and I can't wait to start working with those players and the coaching staff as well."
In the last season, Stars won only two of their 14 matches and finished bottom of the table. They would hope to change that with Lanning's reunion with
new head coach
Trent Woodhill, which was
one of the factors
behind her move from Perth Scorchers, with whom she had a three-year stint.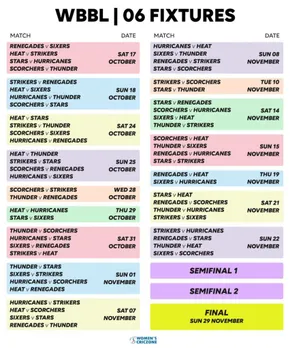 "Trent Woodhill's got a lot of experience in T20 cricket," Lanning said. "(He's) worked with so many great players and different franchises in different tournaments."
"I'm certainly looking forward to working with him and seeing what his philosophy is on T20 cricket especially."
Lanning had a productive WBBL 05, where she scored 531 runs including her maiden WBBL century and led Scorchers to the semi-finals, losing to eventual runners-up Adelaide Strikers. No wonder Woodhill was glad to have the Aussie skipper back with the Stars.
ALSO READ: Ruthless & competitive: Meg Lanning's Australia
"Having Meg back at the Stars is huge, it's almost like starting again," Woodhill said.
"It's a chance for the Stars to reset. We won't be putting too much pressure on Meg to be the star of the show, but we know Meg is a star of world cricket."
"We want to be able to provide her with the environment where she can thrive, and bring out the best in her by having as much fun as possible through success and establishing a winning culture."
Apart from Lanning, Elyse Villani, Annabel Sutherland, Nicole Faltum, Alana King and Holly Ferling are currently signed up with the Stars.
"We've got an exciting group with a lot of improvement in it and I can't wait to start working with those players and the coaching staff as well," said Lanning, who, with 1,983 runs at an average of 47.15, is sixth on the list of most runs scored in WBBL.
"Elyse Villani is someone who I've always really enjoyed playing with (and) we've also got two very bright talents in Annabel Sutherland and Nic Faltum who have been around for a few years now, so I'm really excited to be able to play alongside them and hopefully help them develop further."
https://open.spotify.com/episode/484PTeQYxjKUMnQdE9PXa6