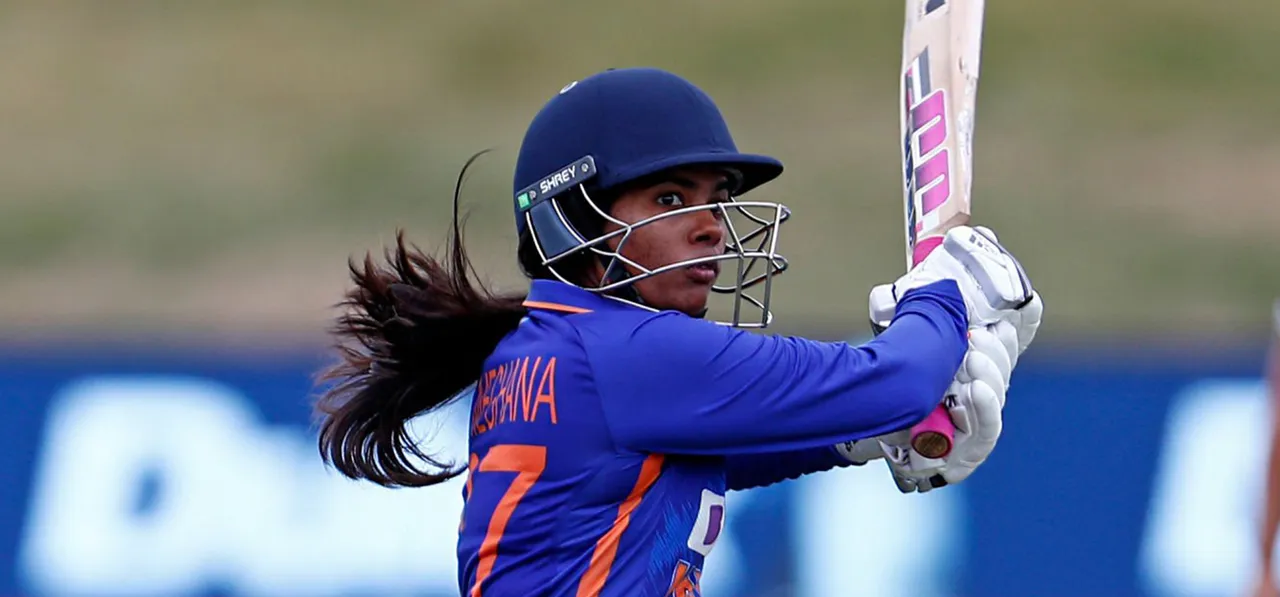 Indian Railways were chasing 161 in the final of the Senior Women's T20 Trophy 2022 against Smriti Mandhana's Maharashtra. Sabbineni Meghana gave them a rollicking start with a 32-ball 52 – comprising of nine boundaries – as Railways rode to their tenth T20I title triumph in the competition. The knock – seemingly an eye-catching one – was played out away from the prying eyes as the tournament wasn't broadcasted anywhere.
That final wasn't the first time Meghana did remarkable things in domestic cricket. She has been a prolific run-getter in the circuit for a long time now. Between her international debut in 2016 and her comeback in 2022, a lot has changed in the women's game. But one thing that has remained constant is her appetite for runs, and there was a renewed interest in Meghana for she impressed everyone during India's tour of New Zealand ahead of the World Cup 2022.
******
Meghana, the right-handed batter from Andhra, made rapid progress through the age-group levels to represent the state at the senior level at 13-14. She was a prolific run-getter in Under-19 and made her international debut at the age of 20. She has been an integral part of Railways ever since, becoming a regular in the playing XI, batting at the top of the order.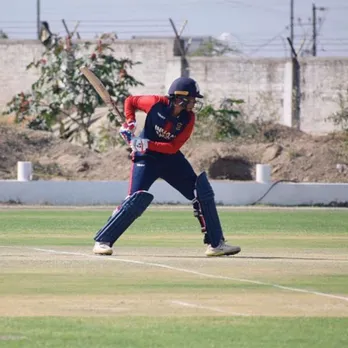 S Meghana in action for Railways © Meghana/ Instagram
"During my Under-19 days, Purnima Rau was our coach in Andhra. As a kid, when I just started playing cricket, she is the one who told my parents that 'She has the ability to pick on the rise. She can drive good length deliveries at will and very few people have that skill. You have got to make her play cricket and you have to take this up as a profession.' So that's when I knew that I had that ability to pick those deliveries," Meghana told
Women's CricZone
during the Senior T20 Trophy.
But despite all this and admiration from her peers and coaches, her flair – which was visible from the time she started playing competitive cricket – was noticed by the larger cricketing community only in 2022.
"I couldn't blame anyone because I didn't get enough opportunities when I played in 2017, and 2018 span even at the domestic level. One thing I'm happy about is when I got the opportunity, I utilised it and the selectors also have seen my potential that I will be able to perform for the country. I am more of an optimist, I don't see the negative side of anything," Meghana said.
ALSO READ: Meghana Sabbineni: Indian Railways' North Star
Now 25, Meghana is finally reaping the rewards for all the hard yards she put in on the streets, and then in domestic cricket. First came the call up to the New Zealand tour, then she travelled to the World Cup as a reserve.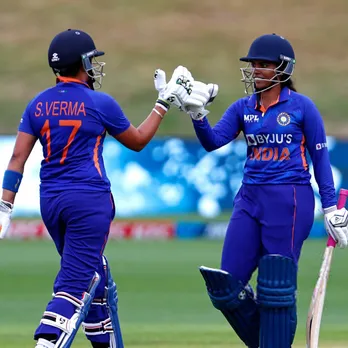 Shafali Verma (L) and S Meghana (R) © Getty Images
"It was a good feeling. Like it was not like a surprise because I have been expecting the call because I have been doing really well that season. So I have been mentally prepared if I get the opportunity, if I get a call, what I should do as a player, and how I can perform better. So I've always been in that loop."
Now she will be making her debut in the Women's T20 Challenge – a precursor sort of a tournament for the long-awaited Women's IPL – as she earned a place in the Mandhana-led Trailblazers on Monday (May 16).
******
It was the same optimism that drove Meghana during her years in the wilderness. During her international debut – in the T20I format – in 2016, she played six matches and was dropped after amassing only 54 runs.
"It's not like I didn't get the chance to play or whatever because I've got my opportunities and I didn't utilise it properly at that time. So I was disappointed in myself. I was not disappointed with anybody," Meghana said about her first stint at the international level.
"It was a little scary because that was my first time and I was so young. I was not so mature with my game, with my batting and all that. I used to be that kind of hard hitter where you just go get 20, 30 runs and get out."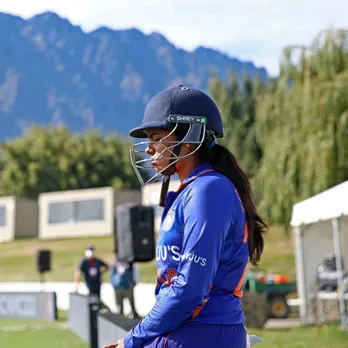 S Meghana says she worked on her mindset © Getty Images
But optimism can take you only that far. It needed the young batter to put in some real hard work to make herself seen and she did exactly that. Meghana realised that she needed to build on her consistency and she had to be physically and mentally stronger to become the cricketer she wanted to be.
"I needed that consistency even at the domestic level. Even before getting selected for India, I was not as consistent as a batter. So that made me realise that if I can build on my consistency, I have a good future with the Indian team."
ALSO READ: I want to make a comeback in the Indian team: Ayushi Soni
So, the first part of her mission was to score a lot of runs at the domestic level. Meghana scored 329 runs in six matches during the Senior One Day Trophy 2020-21 season at 65.80 – including one century (her first in List A) and three fifties – to finish as the sixth run-getter. Then she went and upped the stakes further in the 2021-22 season with 388 runs from the six matches and that included her career-best List A score of 142 as well. And those runs came at a rapid pace where she struck at 104.02 per hundred balls.
******
Scoring runs was only one part of it, Meghana demanded more from herself. It wasn't just about scoring runs; she wanted to make sure that she could endure the long hours that would come with the territory. For that, she needed to train harder, and she sought the help of Mantravadi Shalini - former Hyderabad/ India A cricketer turned strength and conditioning coach – and she has been Meghana's personal trainer for the last two years.
"One thing I realised is that fitness is really important aspect over there, because even if you see Australians, they play with a very good strike rate and their running between the wickets, right now standards (in international) cricket is really high," Meghana added.
"She (Shalini) has really helped me to see which areas I can improve as an athlete. Earlier, if I scored a 50, I used to get tired, and then my focus shifted and I used to get out. So not to be able to score big runs and I know how much it has affected my game. Now that I have started working on my fitness, I think even if I play a longer innings and even if we have back-to-back matches, I was able to consistently give my best on the field. So that's the major role that fitness has played in my cricket."
******
Even though she earned her spot in the Indian side - with Mandhana and Shafali Verma in the lineup - Meghana wasn't expected to get many chances in the New Zealand tour as she was pencilled in as a travelling reserve for the World Cup.
However, the MIQ (Managed Isolation and Quarantine) rules in New Zealand meant Mandhana couldn't be part of the starting XI until the fourth ODI of the series. With the one-off T20I, Meghana once again took to international waters after a gap of almost six years. She was slotted in to bat at number four. It wasn't the ideal circumstance, but that was the exact opportunity Meghana was looking for.
"Before going to New Zealand Mithu di (Mithali Raj) and I went to Mangalagiri for practice. For one and a half week we practiced there facing Under-19 and Under-23 boys. We played so many match scenarios, match simulations and practice games before going to New Zealand," she added.
"Even in 2016, I have done that, but this time my mindset actually helped me, you know, to perform better, to take less pressure as a batter."
In the chase of 156, Meghana came into bat at the score 42 for 2 and she lofted Sophie Devine over mid-off for a boundary. She eventually made a 30-ball 37 with six fours as India went down by 18 runs.



the boundaries are coming thick and fast, Sabbhineni Meghana starts the match on the right note!🤩#NZvIND #LiveCricketOnPrime pic.twitter.com/feEYh4i9DH


— amazon prime video IN (@PrimeVideoIN) February 17, 2022
By the time the New Zealand series ended, Meghana followed it up with four, 49, and 61 in her first three ODI hits. They weren't the kind of big knocks she has been preparing for, but they showed what she can do, it brought back the belief that she could do it at the international level.
Bigger scores are going to be inevitable and Sabbineni Meghana will be ready with those trademark on the rise drives when they eventually show up.