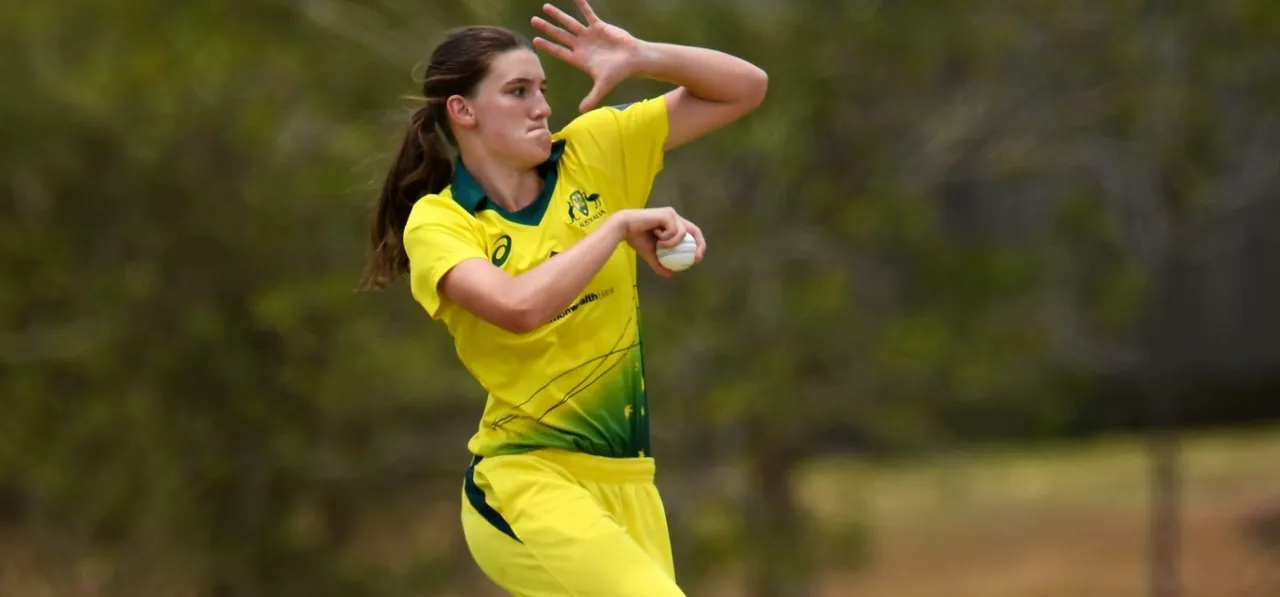 Australia pacer Megan Schutt is in awe of youngster Annabel Sutherland describing her as 'Raw Pace'. The 18-year-old made his ODI debut against New Zealand in the ongoing series and had Amy Satterthwaite as her maiden scalp.
"Raw pace. It's really cool for me to do my thing at one end and have someone who's the complete opposition – she's fast, gets that bounce and a bit of swing at times, too, so she's an exciting prospect and balances out (the attack) really well," Schutt told reporters at a virtual press conference on Tuesday (October 6).
"Not having Pez (Perry) at the other end we need someone who's doing that...and think that's where we work well together, at her age to see the pace and the ruthlessness she has is really exciting," added the senior pacer. Australia have been always a force to reckon with and having the youngsters like Sutherland coming up the ranks, senior players like Schutt have to be on their toes every time.
"There's been a turnaround of new players and they keep us old ones on our toes. (We think), 'Crap! These girls will take our spots one day, so you may as well play your best as long as you can'," she said. In both the ODIs, Schutt came out with figures 1/36 and 2/54. The right-arm pacer feels that she has been average in the series and needs to bowl a lot fuller.
ALSO READ: I think I am a lot more confident about what my where scoring options are, says Rachael Haynes"
Pretty average," the 27-year-old said. "Haven't been overly pleased with how I have bowled. I think I have bowled pretty good overs in there but I have had some poor ones as well. For me in the ODIs, I felt that I have struggled a bit with my length, I think I need to get a little bit fuller.
"But think that's the transition from playing so much T20 cricket for a long period and then we are converting back with the WBBL. I've been a little bit disappointed but, hopefully, will find some consistency." One of the noticeable things for Schutt in the series was her opening spell in the first ODI where she bowled an outstanding 24 dot balls in five overs including a wicket.
"In the first couple of games my eyes lit up a bit being the morning at AB (Allan Border) Field; there's normally a bit more juice in the pitch, and I haven't quite had the swing I thought I'd have - not sure if it's me, the ball, the pitch or all the above so had to switch up after a couple of overs," she said.
"Quite often when I get ahead of myself I chuck up too wide hoping it will swing and give them a nice half volley. I have been quite aware of not doing that, so have been trying to adjust my lines to straighten up." The Meg Lanning-led side are on a verge of creating history having already been on a 20-game winning streak.
ALSO READ: History beckons Meg Lanning & co.; New Zealand aim to finish on a high
They just need one more win to equal Ricky Ponting's 2003 side's 21 consecutive wins and Wednesday's third and final ODI serves them the chance. "There hasn't actually been the discussion obviously deep down would be cool to reach the record. It's one game at a time and every time we go out there we are trying to win. So if the record comes in its nice but if not we start again," she opined.
Asked if Australia get tired of winning, Schutt broke down in laughter, before stating, "Nah, Never. Losing sucks. I think we are pretty hard on ourselves and it kinda makes you dig deep and pick little things out. I think we do that even when we are successful. So that's the best part. Winning is great but we can still get better."
Speaking about the key to winning consecutive games, Schutt emphasised on the assessment, mindset and focus that is doing the job for Australia. "Before we started winning on the trot, we kinda sat down after the loss in the World Cup (2017) and revised a lot of things that we are pretty beatable," she explained.
ALSO READ: Focus is on winning every match and not on records, says Australia skipper Lanning
"For us every game we go in now, we know that the situation can change at any moment. So there is no real chance to take our foot off the paddle and that's probably is a big driver for us against any kind of level teams is trying to make sure we play our best cricket. At the end of the day, it's that which matters."
The current Australian side, baring a few new faces, has played together for a longer period of time. And Schutt believes that is one of the reasons for them to perform collectively and chase down totals easily as they did against New Zealand the previous day.
"I think that's the team belief (on chasing totals easily). We have been in so many games where we have pulled back from nowhere or made something happen. I think that's something comes from experience that is in the group and a lot of us have been around for a long time now," she said.
"There are some fresh faces in there but I think for us we have played enough cricket, now to know that 'it's not over till it's over'. No matter what the situation is we have got the experience to kind of comeback that and chase like yesterday. We knew that pitch was awesome and we thought that (the score was) 20 or 30 under par, and we went in played good cricket. I was happy I didn't have to bat," Schutt signed off.