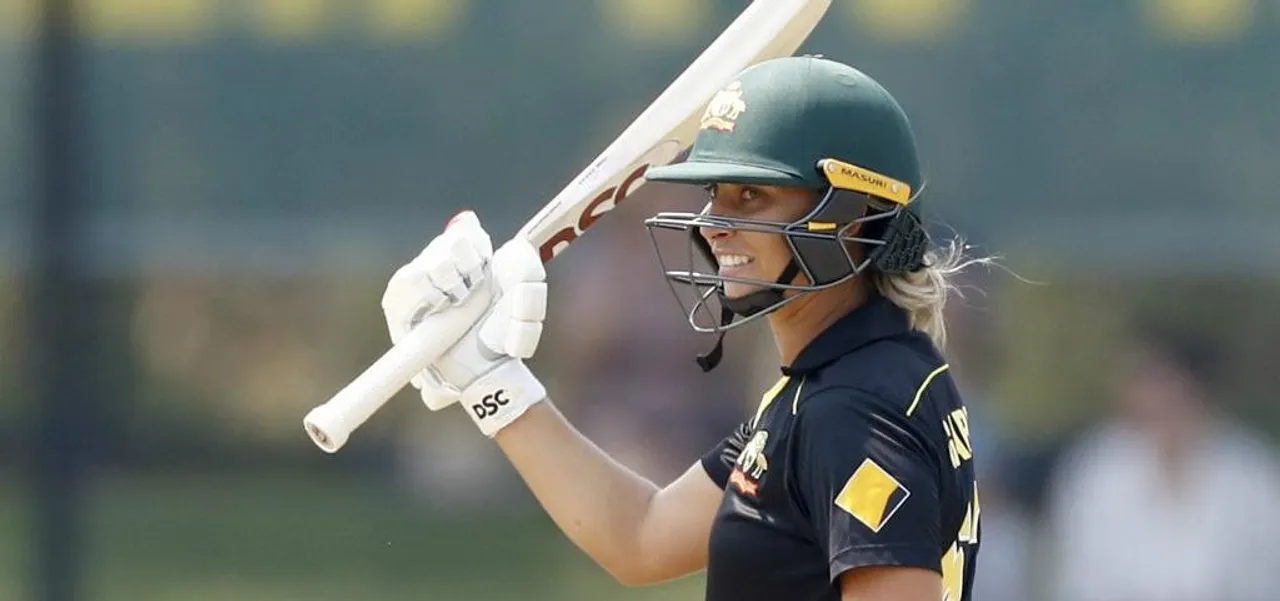 Before play got underway in the first T20I between Australia and New Zealand in Brisbane, the teams came together to form a Barefoot Circle to connect to country and stand in solidarity with the indigenous community, taking a stand against global racism. The significance of the moment was not lost on anyone involved, least of all, the player central to the events unfolding, Ashleigh Gardner.

Gardner's indigenous heritage has never been a secret. She is a fiercely proud Muruwari woman who has used her platform to educate her teammates and those around her about her culture.

"Ash is tremendously proud of her heritage and really respectful of it as well," Ellyse Perry said in an interview with cricket.com.au. "She's educated me on a lot of things in her culture. I know it shapes her a lot and it's a big part of her personality. She's a really special role model in her community."

Gardner - one of only two Aboroginal women to represent Australia - has blown hot and cold through her international career so far. She burst on to the scene in 2017 as a 19-year-old who could smack the ball a mile and bowl some useful off-spin. While she searched for confidence at the international level, the allrounder continued to dominate in the Women's Big Bash League, tormenting bowlers of domestic and international pedigree alike, dispatching them into the stands with utmost glee.

ALSO READ: WBBL find, World T20 star - Ashleigh Gardner is Australian captain in the making

In 2018, after scoring her maiden international fifties against Pakistan, Gardner starred in the final of the T20 World Cup, firmly establishing herself as one of Australia's brightest stars.

Since then, she has forged a reputation of being one of the most destructive players in the women's circuit, spoken of in the same breath as the likes of Sophie Devine, Deandra Dottin and Lizelle Lee. Her belligerent 93 against India earlier this year only underlining that point.

So, when Gardner walked out to bat against New Zealand on Saturday (September 26) with Australia stuttering at 46 for 3 in the ninth over, the prevailing feeling was that on a pitch that didn't quite suit her 'natural style' she may struggle. However, with Rachael Haynes for company, Gardner showed great maturity by taking the time to settle in before exploding – playing what was a match-defining innings.

"When I first got out there we were three for not too many," Gardner said in the post-match press conference. "Rach and I spoke about rebuilding the innings a little bit. She said, 'Just take your time because you can catch up at the back end,' which I was able to do."

ALSO READ: Australia hold the aces going into game two of the T20I series against New Zealand

"I guess conditions played in my favour a little bit as well - the wind was blowing quite strongly to one way which I was able to take advantage of. I really tried to nail that and use that to the best of my ability."

Assisted by a misfield that allowed her to kick off her innings with a boundary, Gardner took her time to settle in and assess conditions. Having watched her teammates depart after trying to force the pace, the right-hander chose to knock the ball around at the start of her innings. She played out as many as seven dot balls in her first 10 deliveries before finding a way to manipulate the field and get the scoreboard moving.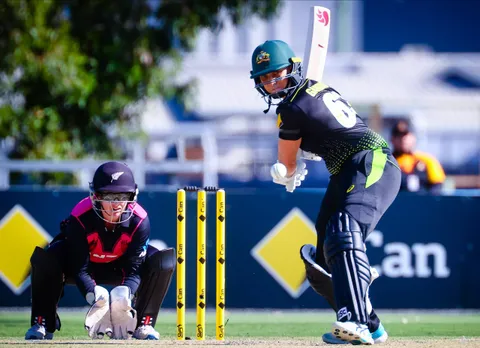 Ashleigh Gardner timed her onslaught to perfection. © Getty Images
"The message that she (Haynes) kept reiterating to me was 'just get yourself in' and if
under 100 strike rate she knew that I could catch up and that's what we spoke about. We knew it was a little bit two-paced early and we saw that, especially with (Lea) Tahuhu bowling - when she did dig it in a little bit short it was coming off the wicket quite slow."

"So, I think at the start of the day we were probably wanting higher than what we actually got, but we knew with a world class bowling attack that we've got that we can defend those lower totals."

Having played her way to a patient 24 off 26 deliveries, Gardner began her onslaught with a mighty six off the bowling of Lea Tahuhu – a mere whip off her legs that sailed over the rope. Following that strike, the next 13 deliveries reaped 32 runs, including two more sixes off Amelia Kerr. She brought up her fifty with a spectacular stroke over extra cover off just 37 balls. It was a shot that seemed to underline Gardner's development over the last 12 months – it was no longer all about power, there was plenty of finesse in her game as well.

ALSO READ: Returning on the back of strong domestic performance, Belinda Vakarewa hopes to make it count 

By the time she was dismissed for 61 by Suzie Bates in the penultimate over, Gardner's rear-guard action had given Australia plenty of hope and more than enough runs for their bowlers to defend.

"I guess it's a really nice thing to score some runs in the first game, but there's still five to go, so there's plenty more work to do," she said.

"I can take a lot positive things out of that innings knowing that it is the same conditions tomorrow with the wind and stuff like that. But I know the wicket will be a little bit different. I know once you get in it does get a little easier."

If Gardner has made anything clear through this knock, it is that she is willing to give herself enough time to "get in". Once she does, the fireworks will begin.