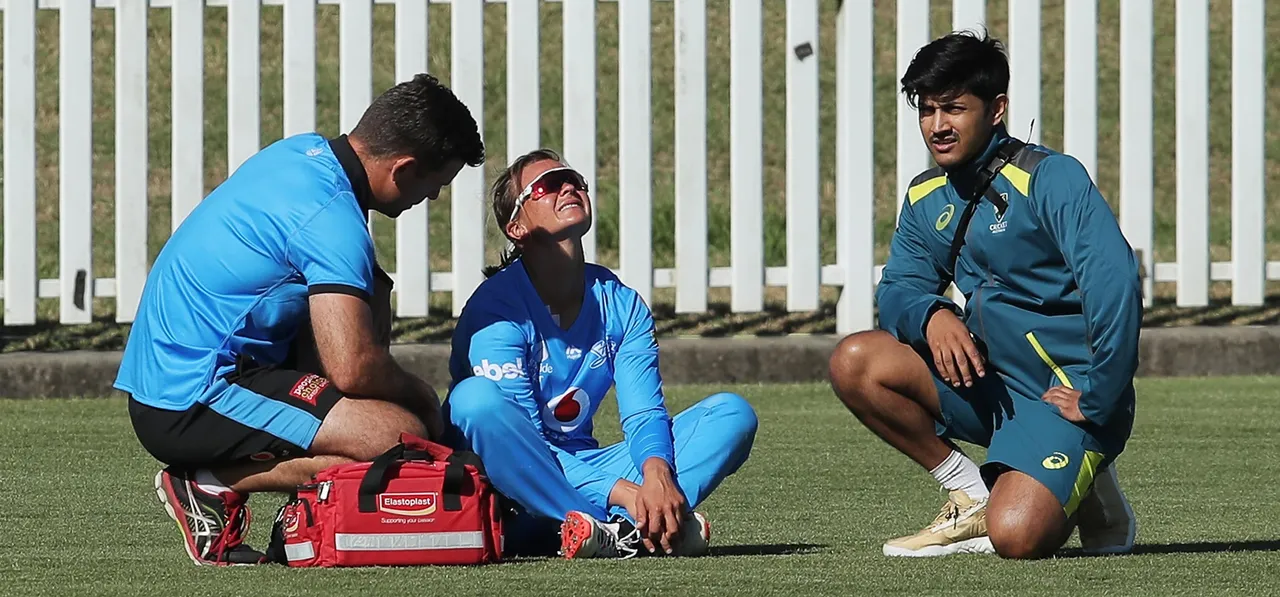 New Zealand allrounder Suzie Bates said she will keep herself motivated over the next few months by thinking of the bumper year that is 2022, which includes the prospect of playing in a home World Cup. Bates, who was
ruled out
of the remainder of the Women's Big Bash League and will now have to undergo surgery to her right shoulder is likely to be out of action for the next six to nine months.
Speaking to the media after the news of her injury broke, Bates admitted that she is gutted to be missing the 2020-21 home summer, but is keen to return soon.
"I've obviously been over here (in Australia) a long time and not played much cricket, and the fact that I'll miss the rest of the summer,
pretty gutted," she said on Monday (November 16). "But at least the World Cup's been moved to 2022 and I haven't missed that just yet."

The 33-year-old originally sustained the injury during New Zealand's ODI series against Australia last month. After five weeks of rehabilitation, the right-hander returned to lead Adelaide Strikers in their clash against Melbourne Stars on November 10. After showing great promise with the bat - she scored 29 - Bates took the field with her side, but was forced off barely six overs into the game after she felt some discomfort in her shoulder when attempting to throw from the boundary.

ALSO READ: Gritty Tegan McPharlin underlines value to Adelaide Strikers

Asked whether she thinks she may have rushed her return, Bates said she thought her shoulder was strong enough to take the load of playing after over a month of rehab.

"I think everyone's probably questioning that. I guess at the time when I injured it in Australia, there was no advice that I needed surgery," she explained. "It was just a little unstable and I sort of took five and a half weeks here to rehab it and strengthen it and I was feeling pretty good going into that game. Unfortunately, I got into a position where I threw a little bit off balance and it wasn't as stable as we perhaps thought."

" I had to rescan it and it's definitely not that stable, so I'm going to have to get it fixed and, in hindsight, it was too soon, but we thought I was in a good place heading into that game."

After consultation with New Zealand Cricket's medical staff and a couple of surgeons - in Australia and New Zealand - Bates has been advised surgery.

"I've spoken to a surgeon here (in Australia) and I'm speaking to a surgeon in New Zealand, hopefully, in the next week, and they've sort of roughly said 6-9 months is the recovery. That's what I've heard so far."



Bates will now return to New Zealand on November 23, at the end of the group stage of the WBBL, and will likely undergo surgery after her quarantine period some time between December 8 and 14.

ALSO READ: Suzie Bates to undergo shoulder surgery; ruled out of WBBL06

With New Zealand having put a 'Managed Isolation Allocation System' in place - a system that requires travellers to secure a voucher for 14 days of managed isolation, Bates admitted the process of booking her tickets and securing a voucher was "stressful", but she is thrilled to be able to return home before Christmas.

"I've managed to thankfully get a flight and a voucher for the 23rd of November, which I think is Monday," she said. "That's been a bit stressful, being online and trying to make sure we can get vouchers and flights that match that, but I've confirmed Monday the 23rd."

"I think that means I get out on the 7th or 8th of December, and we spoke to Dayle Shackel, who's the NZC medical guru, and he sort of suggested that there may be something between the 8th and 15th of December when I can sneak in the surgery. But that hasn't exactly been confirmed yet."

With New Zealand's home summer set to kick off with the Super Smash and the Hallyburton Johnston trophy, followed by a potential tri-series involving England and Australia at home in February next year, the White Ferns have plenty to look forward to. For Bates though, her priority will be to strengthen her shoulder and return to the field in time for the home World Cup.




Bates charges and her first runs of @WBBL|06 is a boundary 😤 #BlueEnergy pic.twitter.com/H3mLDlvuqn


— AdelaideStrikersWBBL (@StrikersWBBL) November 10, 2020



"I think I guess at my age what's really exciting is that 2022 is a massive year for the White Ferns. I think we've got the (ODI) World Cup now - which has thankfully been postponed - we've got the Commonwealth Games and potentially a T20 World Cup. I think with that at the back of my mind, rehab's going to be a little bit easier knowing I have a carrot at the end of it - all those three things - to be fit for."

"I've got plenty of time, so it's not going to be a rush to get back for that big home World Cup which has always been the goal, and we'll see what happens after that."

The former New Zealand skipper, who has as many as 125 international wickets to her credit and has often been called upon to bowl some tricky overs for the national side, insisted that her main aim was to return as a top order batter, and she would be willing to shelve her bowling if it put her shoulder at risk.

"I think it (not bowling) is definitely something I am going to consider. The priority is going to be getting back batting first and foremost and obviously fielding. If the bowling comes back, that's a bonus."

"I have had few messages from back home suggesting that it's time I take up off-spin or even left-arm spin, so yeah, I think that's going to be the last thing I try and get back. The priority is to be a top order batter for the White Ferns," she concluded.