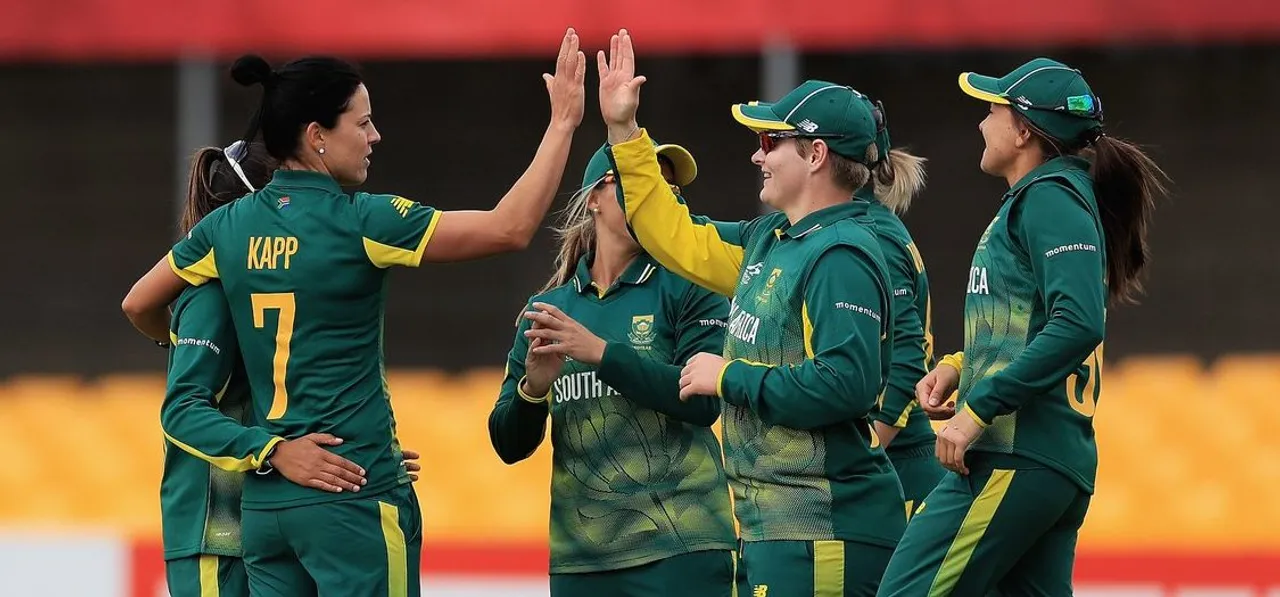 Getting off to a winning start in a series is about as pleasant a feeling as is scaling the first milestone of a treacherous mountainous peak. That the Proteas Women have managed exactly that in the form of beating the Windies at Barbados calls for a celebration. But implicit in that celebration must be the key highlight: Marizanne Kapp.
You don't depend on Kapp for the most obdurate forward defence. You don't resort to cunning tactics to plot the downfall of Kapp, the batswoman. It's not really that with the fall of Kapp's wicket, the South African batting spine receives a blow. But give Marizanne the ball in hand and you can often be found panting and exchanging notes with the batter at the other end in a bid to defy this profusely passionate South African bowler.
Not a talent who comes with a lot of many shenanigans. Probably there are not even a handful of quotes of 28-year-old
Marizanne Kapp
that may have become a viral Internet property, something to cite universally about the game. But hardwired in this medium pacer's craft is an intensity that beautifully expresses itself when each time the Port Elizabeth-born bowler comes out to represent South Africa. And at Barbados, in guiding her team to a winning position, courtesy an epic 3-for, after SuneLuus had stabilized a faltering batting performance, Marizanne Kapp also happened to climb a rear peak.
In going past 100 ODI scalps, a big achievement in the acerbically challenging construct of the game, Kapp was all poise and promise as she removed the dangerous Mathews right at the top, before proceeding to eliminate Aguilleira and Fletcher. At the outset, hers might have simply read 10 overs. But look within; explore a bit deeper. You'd realize Kapp presented a daunting challenge to visibly disturbed Windies batswomen in the form of 60 challenging balls, which yielded only 14 runs and produced 3 wickets.
In so doing, Kapp ensured that the batswomen, perturbed by the string of rising dot-balls would fail to explore any gap anywhere on the field for 12 deliveries. Who bowls 2 maiden overs as a frontline-seamer in a contest that often leans toward the benefit of batswomen, nowadays? Trust Marizanne Kapp to do certain things as only she can. 9 years back when she debuted against Australia and went for 25 in her 3, she wasn't a frontline bowler then. She wasn't the fiery comet that would explode with raw pace and great rhythm.
Years of relentless focus and an enviable level of fitness have ensured her the freedom to explore her great potential. Thus far, it has yielded 102 ODI scalps from just 82 bowling efforts. Who knows how many wickets still beckon her attention? Those throbbing veins, that rhythmic run-up to the popping crease, expect the least expected from Kapp in the years that lie ahead. Not a bowler who doesn't make a show of some emotion when she's carved for a boundary. Not a bowler who resists the temptation of clawing a way back into the batswoman's psyche. Great things hopefully lie ahead of Marizanne Kapp. /codes_iframe