India's much-anticipated return to international cricket will finally happen when they take on
South Africa in Lucknow from March 7
for five ODIs and three T20Is. Since this will be the first time they will be playing after close to almost a year post the historic
T20 World Cup final in Australia
in March 2020, naturally, the talking points had to be about how they will cope with the prolonged time away from the game and how they will start their build-up to their road ahead of the ICC World Cup 2022 in New Zealand.
There weren't many changes expected in the squads since they have been doing well in both the formats with the ODI side winning their last six consecutive series dating back to April 2018 and the T20 side having won 14 of their last 19 matches. But, when the squads were named, other talking points were thrown out of the window and the focus was solely on the nature of the squads.
Six new faces were thrown into the mix
– Ayushi Soni, Monica Patel, Prathyusha C, Simran Dil Bahadur, Swetha Verma, and Yastika Bhatia received their maiden call-ups. Except for Swetha, others were part of India A sides at some point in time but not all of them were regular fixtures. Soni and Dil Bahadur were part of the Women's T20 Challenge sides Supernovas and Trailblazers respectively but didn't get much game time during the tournament. Wicket-keeper Sushma Verma, who last played for India in 2018, also returned to both squads. Dayalan Hemalatha is another player returning to the fold after having not featured in the side since the West Indies tour 2019.
ALSO READ: Passion, perseverance and tireless work ethic fuel Prathyusha's India dreams
Naming newcomers to any squad wouldn't draw this much attention, but it's the names and the numbers of those who were dropped that sparked all the debates. Pace bowling allrounder Shikha Pandey, left-arm spinner Ekta Bisht, wicket-keeper Taniya Bhatia, Veda Krishnamurthy – all featured in the
T20 World Cup squad
– were the prominent names among those dropped.
Taniya has been India's first-choice wicket-keeper since her debut in 2018. As far as keeping numbers go, hers are among the best to have played the game. While most keepers were proficient behind the stumps, India have been looking for someone who can provide impetus with the bat as well since Anju Jain's retirement. Taniya made 68 in her first ODI innings batting at six, but has never batted again there or anywhere in the top six. In T20Is, she batted in all positions except for number five and 11.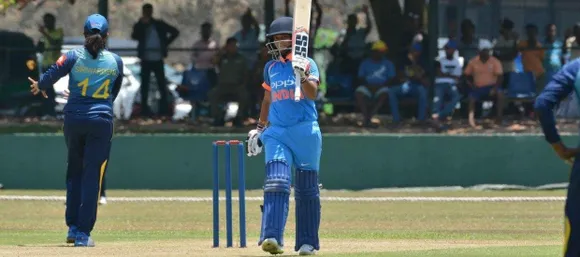 Taniya Bhatia after scoring her maiden half-century in her 2nd ODI. © SLC
This isn't new, none of this is new; shunting the wicket-keeper around the batting order is something India have been doing for a while now. Sushma had the fortune of batting in the top six only twice (both came at number six in ODIs) and all other her innings came at positions 7 to 10. Having a well-defined role for the wicketkeeper-batter could alter the balance of India's sides in both formats, for that batters need to be trusted to have a bat in their hand. They have the option of choosing occasional/make-shift keepers with better batting credentials to do the job, but you don't want to go down that road for an attack that's predominantly based on spin.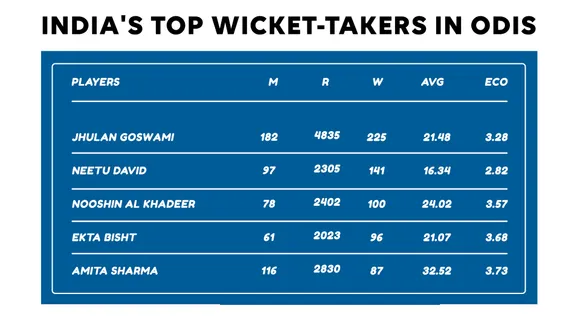 Ekta Bisht is currently at number four in India's all time ODI wicket-takers © Women'sCricZone
India have an array of spinners – tweakers of all kinds – and they can choose any of them for the unique set of skills they bring and base their attack on conditions that suit them. Even on conditions that don't suit them, spinners are almost always the preferred option for India. Left-arm spinner Bisht has an incredible record in ODIs with 96 wickets from 61 matches. She was on course for breaking Cathryn Fitzpatrick's record of fastest to 100 ODI wickets (64 matches). Nearly half of her wickets are (47) of the top four batters. That in itself makes her unique from her peers – she is tiny, she is skiddy, she is adept at opening the bowling as well as bowling at any stage of the innings – and selecting her usually is a way for India to do away with the third seamer, sometimes even the second. India have two left-arm spin option in the current squad with Rajeshwari Gayakwad and Radha Yadav - Gayakwad has been part of the ODI set up, while Yadav is yet to make her ODI debut.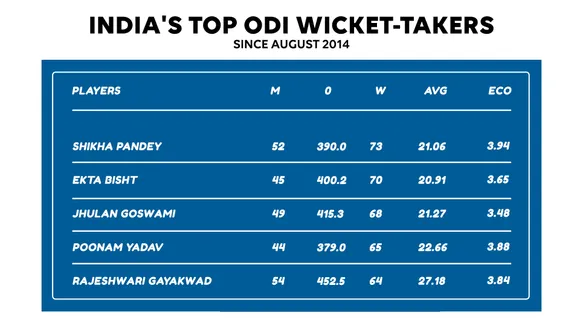 Shikha Pandey tops the list of Indian bowlers in ODIs since her debut © Women'sCricZone
For a long time, Jhulan Goswami has been leading India's seam bowling attack in both the formats before Pandey arrived in 2014 to form a potent attack with her in the ODIs, but Goswami's retirement from the shorter format elevated Pandey to the lead role and she did it remarkably well in the T20 World Cup 2020. She is number one in the list of wicket-takers for India and third in the world in ODIs since her debut. The last time Pandey was dropped during the 2018 edition of the T20 global event, it was Arundhati Reddy, who got the nod as the lone seamer on the slower West Indies tracks. Mansi Joshi, who made her debut in 2017 and has been travelling with the side in many tours without much game time, with 16 wickets from 19 internationals to her name and uncapped left-arm pacer Monica Patel with 24 wickets from 47 List A and T20 matches to her name are the options available for India in Pandey's absence. Reddy and medium-pace allrounder Simran Dil Bahadur are part of the T20I side.
17-year-old
Shafali Verma smashed 124 off 78
balls in a 50-over match against the likes of Sammy-Jo Johnson, Belinda Vakarewa, Tahlia McGrath, Molly Strano, etc during India's A tour of Australia in December 2019 before taking the T20 World Cup by storm with her style of batting. Ever since her debut against South Africa at home in 2019, she has been slotted as a T20 bruiser and is yet to make her ODI debut. The powerful right-hander strikes at 143.79 in her List A career so far and has no peers in domestic cricket. During the 2018-2019 Under-23 One Day League, Shafali scored 543 runs from eight matches at an average of 67.88 and a strike rate of 198.17- including three hundreds and two fifties before she catapulted herself to fame during the Women's T20 Challenge 2019 and subsequent T20I outings.
With the top two sides - Australia and England – constructing sides that are suitable for the rapidly evolving modern game in limited over formats, having an array of pace bowling options to call upon, spinners who can bowl at any stages of the game, and fielding an attacking batting line-up, India need to embrace the modern game or else it won't be long before their strategy of building a side with safe batters and a spin dominant bowling line-up becomes obsolete. Sophie Ecclestone-led England bowling attack and with Jess Jonassen and company in Australia, they may have already caught up in the spin department too, leaving India with little advantage.