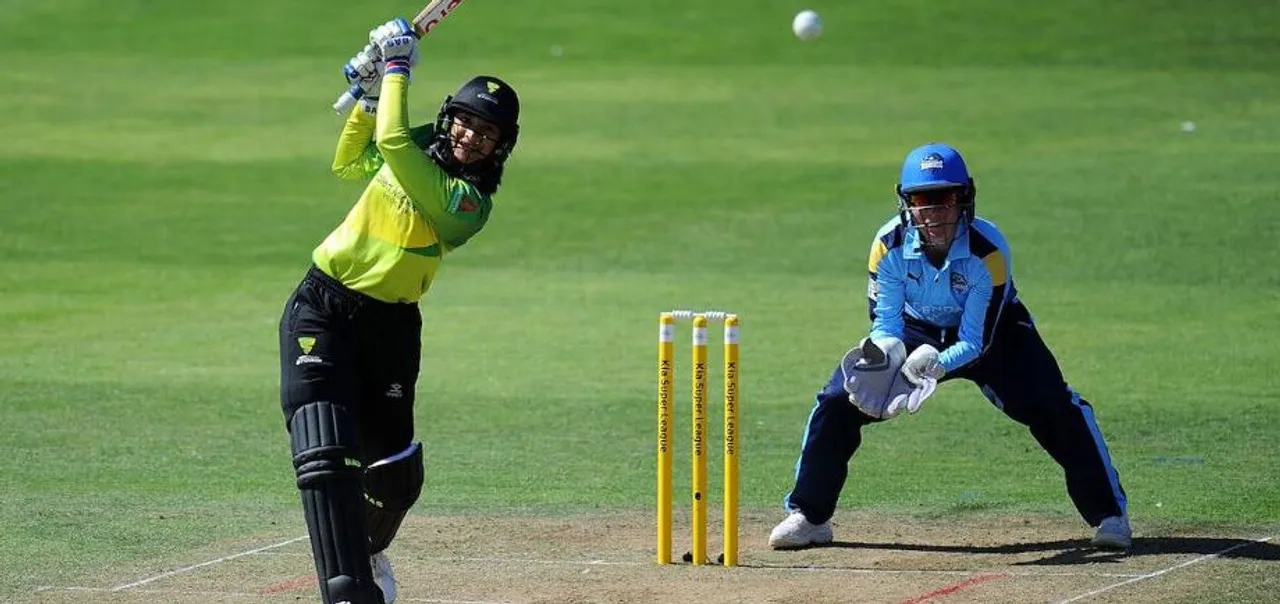 When Smriti Mandhana is full flow it is bad enough for teams, but when Rachel Priest isn't far behind, you are in deep trouble. Western Storm had some luck along the way but their nine-wicket thrashing of Yorkshire Diamonds at  York Cricket Club on Thursday (August 15) - in which the opening pair contributed a 133-run stand - was proof that they have the best opening batters in the 2019 Women's Cricket Super League.
That luck they got came in the form of Katie George. The bowler got her lines wrong in the first over and suddenly Western Storm were away in their chase of 152. What should have been a competitive chase began with an 18-run over from George - a total that included seven wides and a no-ball - and thing only got worse from there. Mandhana found the middle of the bat, and all the bowlers could do was stand and watch as a fielders picked up the ball the wrong side of the rope.
Mandhana was best when hitting straight and she deposited Helen Fenby for two straight fours in consecutive balls. No bowler was safe and the pick of the shots was a straight-six from Katie Levick's first over.
Storm ended the power play 74 without loss and Diamonds were a beaten team - shoulders slumped, bereft of ideas, they clearly didn't understand what had hit them. Mandhana took just 33 balls to bring up her fifty - it included nine boundaries and a six.
Priest saw little of the strike in the first six overs, but when she did she wasted little time. The end of Alice Davidson-Richards' first over Priest belted her for three consecutive fours. It would kick-start her innings after what was a ragged start.
The left-right combination troubled Diamonds' bowlers throughout. The constant rotation of strike meant they were unable to settle into a rhythm, while the aggressive approach meant they had to continually alter their plans.
Amidst all the chaos, with only 19 runs required, Mandhana picked out the fielder at long-on to be dismissed for 70. She was the only wicket to fall with the score on 133 in 13.5 overs.
Following her partner's dismissal, Priest wasted no time, carting Linsey Smith for 18 runs off five deliveries in the 14th over, including two massive sixes. Fittingly, she finished the chase with a sweetly timed slog sweep that went sailing over the fence, as Storm sealed their fifth straight win of the tournament with 31 balls to spare. Priest finished the day with her second half century of the season - an unbeaten 43-ball 72 that included seven fours and two sixes.
Earlier in the day, there was a point when Hollie Armitage and Jemimah Rodrigues were going along nicely for Diamonds. They added 60 from 47 balls for the third wicket. Life was good, the ball wasn't troubling them, and they were making Storm look far from the side that had won every game with such ease.
Armitage, it has to be said, had been threatening to make a telling contribution in her previous few knocks. Rodrigues also started to look like the player that had won her rave reviews. It was just a case of 'wait for the bad balls' and milk the strike in-between. Together they set a solid foundation from which Diamonds could launch, but was resulted was an implosion.
There was a bit of a rebuilding job to do when the pair came together. Alyssa Healy and Lauren Winfield were back in the hut with the score on 47. Healy in fairness was looking to motor on a ground that big runs can be scored. She latched on to short balls from Claire Nicholas hitting two fours through mid-wicket. She tried the same thing later in the bowler's second over she smashed it straight at Deepti Sharma at square-leg - it was more fortune than luck that the catch stuck.
There was an element of luck in the wicket of Winfield as well who, when on 18, charged Sonia Odedra and while she got some bat on it, Priest, behind the stumps, was quick to react and stumped the in-form batter.
Once Rodrigues was out caught by Mandhana to give Anya Shrubsole her first wicket for 28, Diamonds panicked. Keen to get Armitage on strike they had four batters run out going for runs that were never there. Sophie Luff was involved in four of the five-run outs that ended Diamonds' innings.
Ideally, Diamonds should have sailed past 151/9 from their 20 overs. If they had kept their heads, a total of 170 would have been nearer where they should have been. However, when Mandhana and Priest are in that form do you ever have enough runs?
 
Brief Scores: Yorkshire Diamonds 151/9 in 20 overs (Hollie Armitage 59, Jemimah Rodrigues 28) lost to Western Storm 152/1 in 14.5 overs (Rachel Priest 72*, Smriti Mandhana 70) by nine wickets.