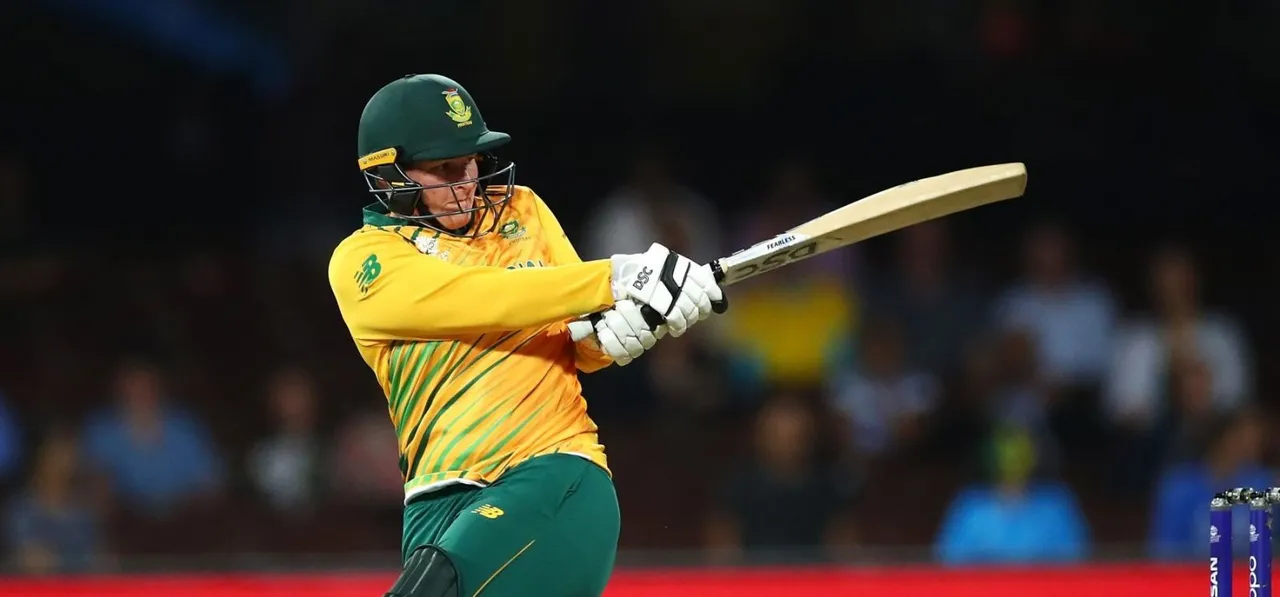 Lizelle Lee came up against Diana Baig for the
first time in ODIs
during the first match between South Africa and Pakistan on Wednesday (January 20). Before this series, she had faced the seamer only once during the T20 World Cup 2020. Just like the first ODI, in that match too, Lee had got out to Baig in the very first over.
In the
second ODI
on Saturday (January 23), something was different. She tentatively left the first delivery, which was outside off-stump, and followed it with a more confident leave off the second. On the third, Lee stamped her authority. She made a small shuffle from her leg-stump guard, planted her front-foot on the middle-stump line and drove through covers for a boundary.
The fourth delivery was a copy of the same one that got rid of Lee in the first game. This time, she defended right in front of her eyes back towards the bowler. Unlike their previous encounter, Lee seemed confident of her off-stump awareness and footwork against the seamer. The stark difference, though, was how she was staying beside the line and not planting the front-foot across as much as she was during the first ODI. In doing so, Lee was able to get the bat down in the line of the ball on time.
ALSO READ: Diana's 'Baig' full of tricks holds Pakistan in good stead
As a result, Baig dragged the length back a bit and moved outside the off-stump. Lee was quick to pounce on the width and cut it to the point boundary. Lee had already gotten ahead of Baig, and she knew that the changes she had made were working.
In the next over of Baig, Lee's confidence showed as the defensive shots became forward pushes. When deemed necessary, she defended with a dead bat. Lee comfortably played out Baig for a maiden.
Unable to break the opening partnership, Pakistan skipper Javeria Khan was forced to bring in the spinners in the eighth over. When Sadia Iqbal was marginally short, Lee rocked back and cut her through covers, and when she overcompensated by being full in the next over, Lee stood tall and lofted Iqbal over her head.
Lee took apart the Pakistan spinners. She smashed Nida Dar off the back-foot over mid-off, cut Iqbal behind point and in front of cover in the same over. Lee was happy to defend, or push back and stay put to deliveries that weren't short or full. She raced to 47 from 48 balls and had faced 27 dots, hitting eight fours in her innings.
ALSO READ: Allround Kapp, Khaka four-fer help South Africa survive Dar-Riaz scare, go 2-0 up
Iqbal then bowled a delivery similar to the one that Lee had cut behind point. This time, while moving back, Lee's back-foot was stuck, and she lost her balance, reaching out for the delivery with just her hands. It took the under-edge of the bat, and Sidra Nawaz completed the catch.
Lee's innings had come to an end. Although she would have wanted to stay longer, the swashbuckling opener had figured a way to negate the Pakistan seamers and provided the hosts with a good start. She had done her job.
It has always been her game. Lee is not an accumulator of runs like Suzie Bates or Meg Lanning. She has scored 40 or more runs 26 times in the 74 innings while opening the batting. That is a 40+ score for every 2.8 innings. It is not a record one needs to worry about.
However, in comparison with her contemporaries, she also gets out for a score between 0-10 more. Lee has got out 24 times for a score equal to or less than 10 while opening. She also shares the record for most ducks as an opener(10 times) with former England batter Charlotte Edwards, who opened in 117 innings.
ALSO READ: Dane van Niekerk, Chloe Tryon's absence opportunity for others to step up: Nadine de Klerk
Whereas, Lee's current opening partner Laura Wolvaardt has scored 40+ runs every two innings and Indian opener Smriti Mandhana's record is the same. Both of them score ten or fewer runs every four innings. That does not make Lee any lesser. It could be just that Lee is a different kind of player.
She might not be the most consistent run-scorer, but Lee is one of the most destructive openers going around. With Wolvaardt, Lee forms a formidable partnership where their game plan complements each other.
On Saturday, against Pakistan, Lee showed what she brings to the table for South Africa as an opener. She is a dynamite, who when explodes, wins the game for her team. And it is not something one could complain about.