Lisa Sthalekar, former Australia allrounder, was inducted in ICC's Hall of Fame on Sunday (August 23). She is the ninth woman and fifth Australian — Belinda Clark, Betty Wilson, Karen Rolton and Cathryn Fitzpatrick the others — to receive the honour. She is now part of an elite group of 93 cricketers, both male and female, to be recognised with this honour.
Sthalekar scored 3913 runs, including three hundreds and 19 fifties and took 229 wickets from 187 international matches in a career spanning 12 years. During that time, she was part of four World Cup wins - two in ODIs (2005 and 2013) and two in T20s (2010 and 2012).  In 2009, the off-spinning allrounder became the first woman to tick off the ODI double of scoring 1000 runs and taking 100 wickets in the format. She dismissed England's Caroline Atkins to reach the mark. She retired as Australia's most successful spinner across formats, a record she still holds.
"I am deeply humbled to receive this honour. Never in my wildest dreams did I believe that I would ever get to join such an illustrious group of players," Sthalekar said, following the announcement.
"I was fortunate enough to learn from the best when I entered the Australia team – Belinda Clark, Karen Rolton and Cathryn Fitzpatrick, all of whom have been inducted into the Hall of Fame, and rightly so. The guidance from them and other teammates along the way kept me focused but also ensured that it was a fun environment. Thanks to all my teammates. "
"It goes without saying that if it wasn't for the support of my family, I wouldn't have been able to achieve what I have."
Having featured in eight Tests, 125 ODIs and 54 T20Is, Sthalekar was one of the most influential players in the team through the second half of the 2000s. She played an integral role in Australia's 2005 World Cup win, scoring a patient 55 in the final against India. The right-hander shared an important 129-run stand with Karen Rolton to set up Australia's 98-run win. Sthalaker went on to score her maiden ODI hundred in her very next ODI - an unbeaten 100 against Ireland.
She also captained Australia in three ODIs in 2006, and won the Belinda Clark medal in 2007 and 2008.
Through the course of her career, Sthalekar topped both the batting and bowling rankings at different times. She spent a total of 934 days (between 2007 and 2010) ranked as ICC's No. 1 allrounder.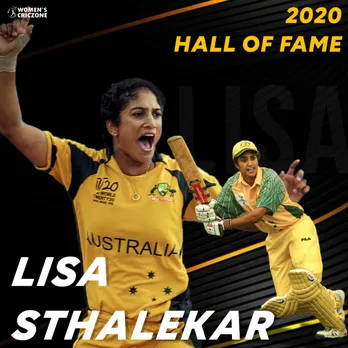 © Women's CricZone
"It's no surprise to anybody involved in the game that this is finally happening," Sthalekar's New South Wales and Australia teammate, Alyssa Healy said in a message of congratulations. "Your contributions both on and off the field so far in your life are pretty remarkable and it's something that's thoroughly well-deserved."
"The impact you had as a player is there for everyone to see in your stats but more importantly the impact you've had on women's cricket as a whole, both when you were playing and when you finished your career is pretty special and should be celebrated."
Since her retirement in 2013 - after another successful World Cup campaign in which she bowled a telling spell in the final (2-20) - Sthalekar has established herself as one of the most popular voices in the game. A well-known commentator, she has covered both men's and women's games around the world, including multiple World Cups and T20 leagues.
The 41-year-old, who has several years of coaching experience, currently holds a mentoring role with Rajasthan Royals.
"Lisa is a legend of Australian and international cricket and this honour from the ICC recognises that," Earl Eddings, Cricket Australia chair, said. "She was a match-winner with both ball and bat and the first woman to achieve the double of 1000 runs and 100 wickets in ODIs. There is no coincidence that the Australian, NSW and Sydney Sixers teams she represented achieved extraordinary levels of success."
"Her work off the field since retirement has been equally inspirational. Herself adopted from an Indian orphanage, Lisa has done incredible work raising awareness around issues related to adoption, as well as raising money for homeless Australians in her role with The Chappell Foundation."