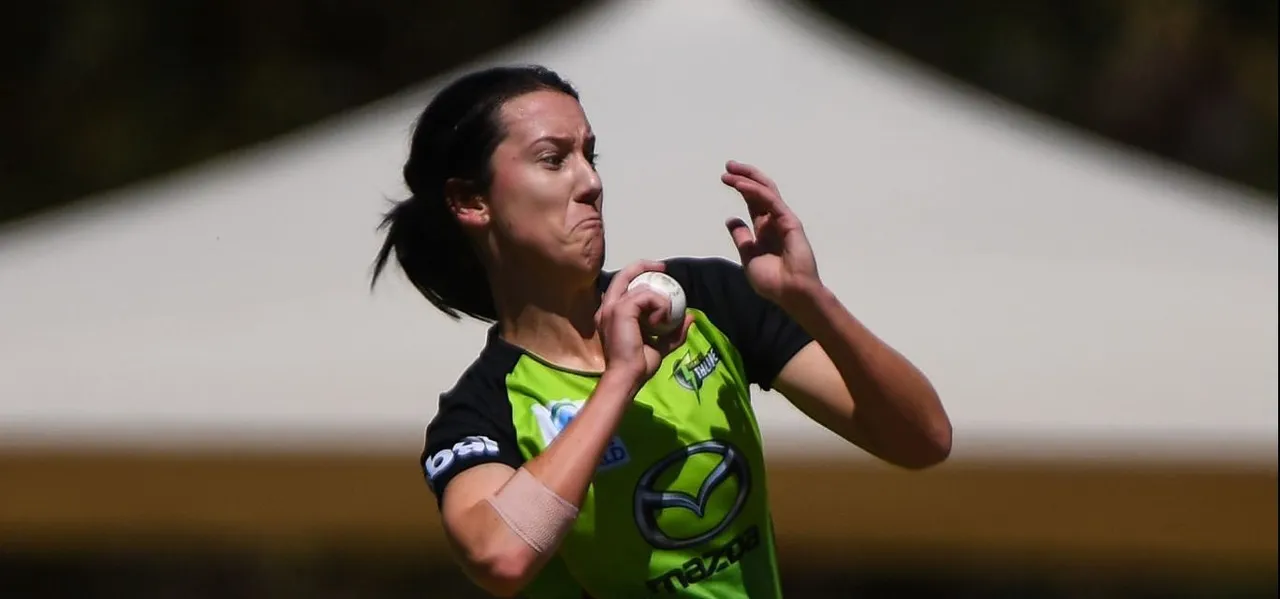 Lisa Griffith, the allrounder, will lead defending champions New South Wales in the first round of the Women's National Cricket League beginning on Sunday (September 22). The 13-member squad that was announced on Thursday (September 19) contains a good blend of youth and experience, with as many as five potential debutantes.
The 27-year-old has been appointed as vice captain of NSW and will step in to lead the side in the absence of Alyssa Healy. Rachael Haynes, Asheligh Gardner and Erin Burns— all part of Australia's squad that toured the West Indies— will also miss out on the first round of the competition.
Having made her debut for NSW eight seasons ago, Griffith is all set to become the state's 29th captain.
Despite missing out on several senior international players, the team has enough depth to boast of four players who have previously played international cricket. The pace trio of Rene Farrell, Sarah Aley, and Lauren Cheatle, and batter Naomi Stalenberg have all represented the country in various formats.
Hayley Silver-Holmes, the 16-year old allrounder, batter Phoebe Litchfield, another 16-year old, and Stella Campbell, a 17-year-old quick, all received their first NSW contracts in May this year. Alongside Saskia Horley, the 19-year-old off-spinner they are four of the five potential debutantes in the squad. Jodie Hicks, the leg-spinner from Sydney Sixers, is the fifth player in line to make her debubt for NSW. She previously turned out for Australian Capital Territory in the WNCL.
Maddy Darke, the 18-year-old wicket-keeper who recently
signed with Sydney Sixers
, also earned her maiden NSW contract, but was ineligible for selection having suffered a stress fracture in her foot.
Dominic Thornely, head coach of NSW, said the tournament provides an opportunity for the young girls to step up to the next level and showcase their talent. He also added that Griffith was appointed as Healy's deputy as part of a 'long-term vision'.
"It is exciting to see the absolute talent that is going to Adelaide, with all the young girls in this group, it represents another evolution for NSW Breakers cricket," said Thornely.
"We definitely understand that there will most likely be a reduction in international players playing WNCL cricket going forward. Both Aley and Farrell have been huge contributors to NSW cricket. We want them to flourish towards the end of their careers and concentrate on what they have done so wonderfully well in the past."
"Lisa has been amazing the last few years in her leadership in and around our group. Her maturity is incredible and she's a very inspirational person. Tactically very aware of the game. Very modern in her preparation," he added.
NSW kick off their campaign against South Australia at the Karen Rolton Oval on Sunday (September 22).
Squad
: Lisa Griffith (c), Sarah Aley, Stella Campbell, Lauren Cheatle, Rene Farrell, Jodie Hicks, Saskia Horley, Phoebe Litchfield, Hayley Silver-Holmes, Lauren Smith, Naomi Stalenberg, Rachel Trenaman, Tahlia Wilson