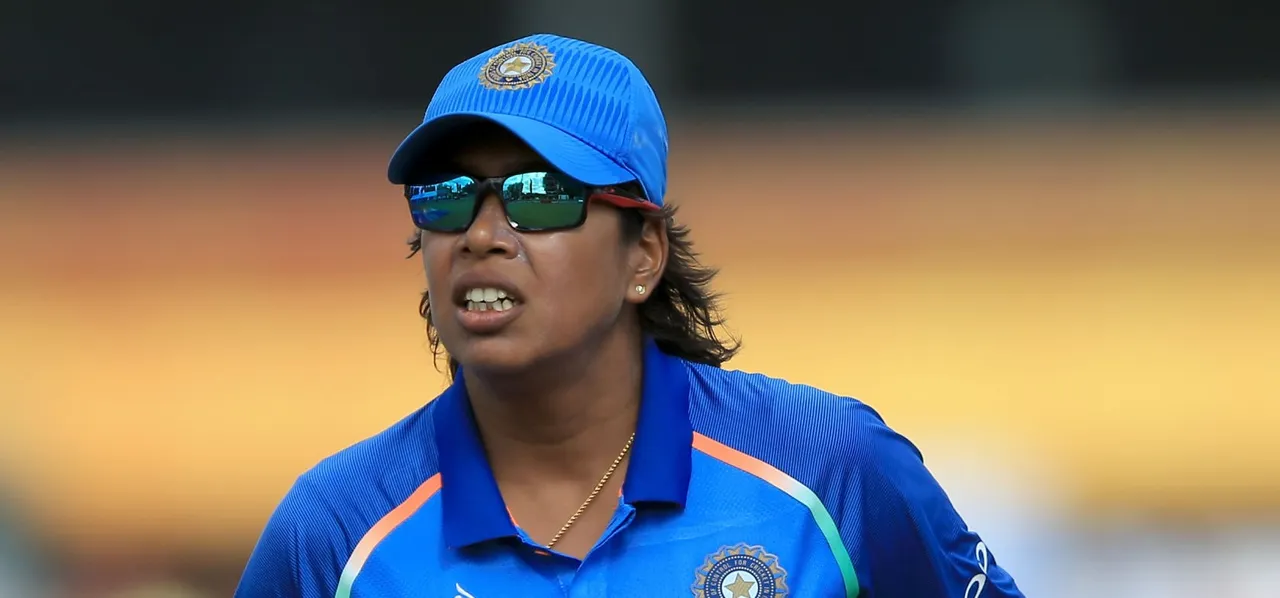 While the debate regarding the International Cricket Council's recommendation of
not using saliva
to polish the ball (to tackle COVID-19) and not allow any artificial material as a substitute still continues to give divided opinions, India's premier pacer Jhulan Goswami feels that letting go of the age-old habit will be challenging for the players.
"Letting go a habit of many years completely is itself a big thing for a player," former skipper Goswami told
Women's CricZone.
"And when it is the saliva used to polish the ball for reverse swing, it will be very very difficult. Although it's not that much effective in white-ball cricket but with the red ball, it will definitely have an impact."
However, she believes some alternatives will soon come up. "Bowlers wait for that 30-over mark after which the ball gets old and use saliva to polish and get that reverse swing. But I think there will be some solution to this and some new art on the part of a bowler will evolve," added the 37-year-old Goswami, the leading wicket-taker in women's cricket.
ALSO READ: Bengal reap rewards of a supremely successful system
"It's like an action-reaction. I think there will be new ways to get a batter out. If you don't get reverse swing, it's fully a batter's game after 35-40 overs. We have to rely on spinners then. Overall, it will be difficult for us to let go of a habit that has been with us since we started playing cricket."
Although the Ministry of Home Affairs has issued guidelines to open sporting complexes and stadiums with no spectators, the BCCI has decided to go slow-and-steady coordinating with state associations to resume training. There is no bar to individual training though. Goswami meanwhile has warned the players not to get overexcited and
be careful
.
https://open.spotify.com/episode/6piGuLzIHGu1bKKHPlbZzm
"Nobody knows when we can get to play again. But first and foremost the players have to focus only on fitness as soon as they start training. It's been three months that we are completely off from any cricketing activities. Honestly speaking, none of us has taken such a long break in all these years. The biggest challenge for us will be how fast we can attain our fitness," said the veteran pacer who is currently at her DumDum Park residence in Kolkata.
ALSO READ: 'No saliva? No problem!' A case for the quick resumption of women's cricket
"During this lockdown, we all are trying to maintain our fitness level in some way or the other. But it's a huge difference compared to what we do on the field. And we have to be very careful that we don't get overexcited and get injured not even a slight niggle. We have to go slow and steady. I think we will take one step at a time scale-wise. We have to take every small step very cautiously."
Time and again Goswami has been described as an umbrella guarding the juniors on the field by several stalwarts of the game. Asked about her role in guiding the youngsters, the 'Chakdaha Express' replied, "My role is very simple, to guide and give these youngsters ideas. I always try to give them a morale boost."
"I guide them about how to switch-off and switch-on, to analyse, chase a big total, and handle pressure situations. A player should feel fresh and open-minded when she goes on the field, and I discuss all these things with everyone not just in the Bengal team but also in the Indian dressing room," she concluded.