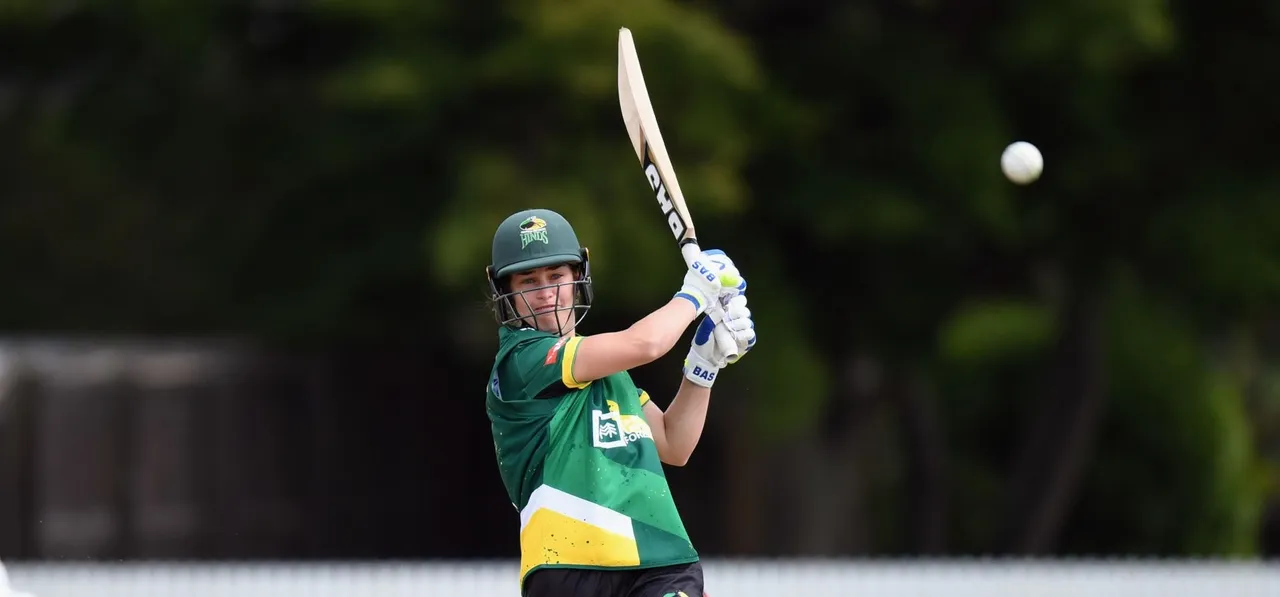 It's a bit of a cliché, but there is something to the idea that lessons learned in primary school can impact children for life.

The direct lessons, of course, involve learning to do things with letters and numbers—to read, write, and count. But it's the indirect ones that become ingrained in us over time; beliefs that we come to live by, ways of being, that we don't even think about.

In his book All I really need to know I learned in Kindergarten, Robert Fulghum explains how one learns many of life's most important lessons at a very young age.

"All I really need to know about how to live and what to do and how to be I learned in kindergarten," Fulghum wrote.

"Take any one of those items and extrapolate it into sophisticated adult terms and apply it to your family life or your work or your government or your world and it holds true and clear and firm."

With that in mind, it wouldn't be far from the truth to say that kindergarten teachers clearly know a thing or two about life. Among this group of very knowledgeable individuals, is Natalie Dodd, primary school teacher and new owner of a New Zealand Cricket national contract.

ALSO READ: Captaincy is something I am interested in, but in no rush at all: Amelia Kerr

"I love working with children," Dodd tells Women's CricZone. "It's very rewarding being able to pass on my knowledge and share stories. It's not just all about the education – the reading and math and that sort of thing – but also sharing those life experiences and working with them to sort of find who they are and what their strengths are."

"I take a lot of lessons (from sport) and share with the kids – the importance of sort of working really hard and having courage in what you do. It's not always going to work out, but it's important they understand the need to be resilient."

Resilience is a quality the wicketkeeper-batter has in spades. Having been thrust into the international setup as a teenager, she was riddled with doubt. In her first international game in 2010, she was dismissed off her very first ball – trapped in front by Ellyse Perry. She travelled with the squad to the West Indies for the 2010 ICC Women's World T20, where New Zealand finished as runners up, and remained in the setup for the next few years, largely running the drinks, rarely getting an opportunity.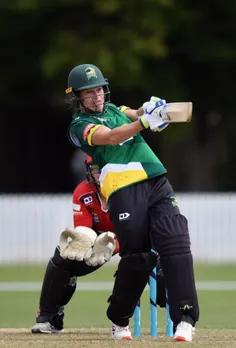 Natalie Dodd has worked on becoming more consistent. © Getty Images
She played only 18 internationals – 12 ODIs and 6 T20Is – over the next eight years, batting predominantly at the top of the order. The pressure of almost constantly having to play for her spot meant the right-hander struggled to find any consistency. She scored a total of 179 runs, including a maiden half-century in what happened to be her last 50-over game in a New Zealand shirt.
"I guess when I first got into the team, everything was new. I sort of didn't really feel like I was good enough to be there, but I was just trying to soak it all up," she says. "As a 17-year-old, I didn't have much success to draw back on, so when I hit a bump, I wasn't sure how to deal with it."
"Of course, some of the tours I went on were very memorable. I got the opportunity to go to the West Indies for a T20 World Cup in 2010 – that was a great experience. And then I also got the opportunity to see what cricket was like in England and even later in India… There were a lot of learnings from those experiences. A big part of the initial experiences was the opportunity to travel, and see the sport in other countries and what that was like. It was all very memorable, and I am certainly better for it now."
ALSO READ: Amy Satterthwaite pleased to be back after more than a year away
Two years since her last international – a T20I against West Indies in Hamilton – Dodd has forced her way back into the New Zealand setup with a truck load of runs. Resilience, remember.
Having made the move from Northern Spirit – a squad which she was part of since 2007 – to Central Hinds in 2018, Dodd dominated the domestic competition. She plundered runs for fun, scoring a Hinds record 652 runs at an astounding average of 108.66, including a career-best 142. Her contributions were vital to the team's
title winning-run
, as they claimed only their second Hallyburton Johnstone Shield that season.
"I have been working really hard on my batting game for sure, but also, I think the wicket-keeping's given me another part of my game," she says of the work that has gone in behind the scenes. "We've been working on developing my shots, and scoring options. The focus has been on becoming a consistent player at the domestic level – scoring as many runs as I can and putting my name back in the hat."
Score runs she did. The 27-year-old followed up the record-breaking year with another solid performance through the
2019-20 one-day competition
where she racked up 385 runs, including three half-centuries in nine matches at an average of over 48. While her T20 returns haven't been quite as prolific – 339 runs in 18 matches – the right-hander had done more than enough to secure a national contract.
ALSO READ: Katie Perkins not in favour of postponing Women's World Cup
"It's been great to get a contract and be back amongst the girls again. I really enjoy the camps – the opportunity to get some quality practice and really challenge yourself to improve is nice."
"Now, I think I know my game a lot more. I've got a little more confidence in my game and know how I play and how I want to play. So, I think, also having success at the domestic level behind me helps to be clear in what I'm trying to do."
She admits that a change in environment (from Spirit to Hinds) not only provided her with an opportunity to wicket-keep full time – something she was keen on doing – but also worked as the perfect reminder to enjoy the game.
Natalie Dodd has scored over 1000 List-A runs in two years. © Getty Images
"The Hinds team environment has been good for me – the coach, Jamie Watkins, has been great. It's a great team and a wonderful team culture and I've thoroughly enjoyed being a part of the squad. It's been really refreshing and I think the main thing is that I am enjoying my cricket – and that's something that's really important to me… That's such an important part of why we play – who we play with. And I'm really enjoying the culture and the opportunities I'm getting there. Those are obviously factors that have contributed to my performance."
Dodd's run glut has been a result of consistent, targeted work. She has juggled the demands of teaching full-time with her career as a cricketer. It's meant long days, a tight schedule, and plenty of frustration along the way. But her determination and courage to go after the dream of returning to the New Zealand side, meant she kept at it.
"It's pretty full on, particularly towards the end of the year when our summer's starting," she chuckles. "It takes a whole lot of planning, a lot of organising my life to be able to fit everything into the day. It's having to plan sessions around the school day and sometimes it's quite taxing. You get home quite late at night, and then have to get back into it the next day!"
ALSO READ: The girls are pretty excited about the prospect of some cricket: Hannah Rowe
"There have been plenty of times when, by the time I've fit in my gym session and then a practice session after school, I only get home around 9 o'clock. And then your weekends are about playing cricket (matches), and then back in school on Monday. It's quite tiring, but it's been rewarding."
"I guess what has been nice is a lot of our domestic cricket is around sort of our Christmas holiday period, so I do get a bit of a chance to just focus on cricket for a bit."
She admits, of course, that she couldn't have done any of it without strong support from school.
"I think one of the main reasons (I've been able to manage) is that I've got a really supportive school and Principal. They are accommodating for when I have got camps or tours and they understand I've got training commitments as well, so they support me with that."
While the
national contract
and playing commitments will now mean that she has to shift her focus to cricket – she's already reduced her teaching time from five days a week to four – Dodd is eager to continue her association with teaching. It is something that has allowed her to stay fresh for when the game needs to take centrestage.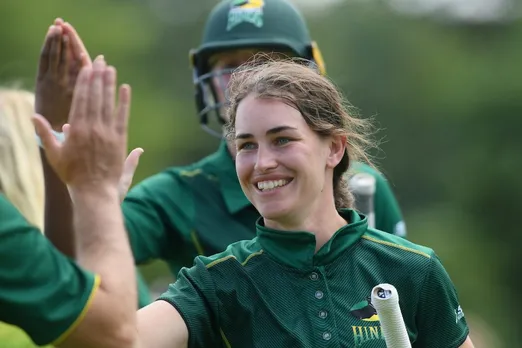 Natalie Dodd says the shift to Central Hinds has reminded her to enjoy the game. © New Zealand Cricket
"In a sport like cricket, it's easy for everything to become about the game. When you're not having a good day, you can get consumed by it, and then the feeling compounds into something bigger. But the chance to teach – something that is completely different to cricket – is really refreshing. I know that even if I haven't had a good day on the field, when I go to school the next day, the kids don't really care how I've gone."
"It's refreshing to have a change of focus and be passionate, and working hard in another area. It gives me balance and that helps my cricket as well."
In the middle of a purple patch – over 1000 runs in two seasons of List-A cricket – Dodd's performances have provided her with an opportunity to grab a place in the New Zealand squad for the home World Cup next year.
ALSO READ: Lea Tahuhu, pace is thy second name
"It's been a goal of mine for a little while now – to make that World Cup side. I'd love to make that team."
"For a bit there I wasn't sure if I would even be in contention, but getting a contract has given me a good opportunity to do so. I'd definitely want to make that side, but if not, my goal is to be part of future tournaments and tours going forward."
Dodd's return to the setup, while not yet a complete success story, is certainly a lesson she can take back with her to the classroom.
"I've had these goals to be in the White Ferns for a while now, and I've often shared with the kids the times I have missed out. What we've figured out together, is how we can respond to those setback and challenges and learn from them. And then of course it's been great that I've got another opportunity to show them that, you know, if you keep working hard that things, more often than not, will turn around for you."
It's a "test of resilience," she says. And that's something Natalie Dodd has in spades.