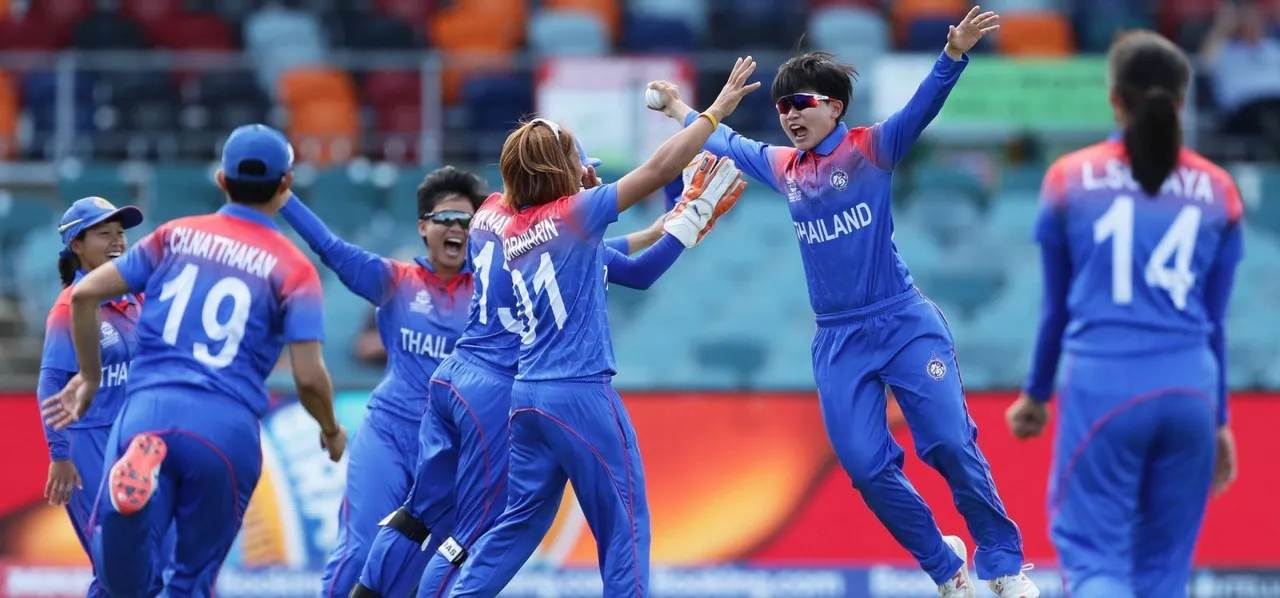 wp:tadv/classic-paragraph
It's mid-November. One half of the world is going gaga over India's latest teenage batting sensation, Shafali Verma, and the other half is drooling over the magnificence (and consistency) of Sophie Devine in the Women's Big Bash League in Australia. Meanwhile, in a western pocket of India, a group of women begin their preparations for their biggest test yet – far away from the attention of the rest of the world. On a pleasant winter morning in Pune, Sornnarin Tippoch and the core group of her Thailand team are hard at work.
Only a couple of months ago the Asian nation had qualified for their first ever World Cup beating Papua New Guinea in the semi-final of the qualifying event in Scotland. While their performances in that tournament and the resulting qualification was likely their biggest moment yet, Harshal Pathak, Thailand head coach, insists that it is only the start for his team – they have only reached base camp.
"I believe this team has the skill and heart to achieve something special," he tells Women's CricZone. "We can compete with the best, but will need to put in the hard yards to do that. Our aim is to try and win one or two games (in the World Cup)."
They are in India for a couple of weeks before they head off to Australia to play some preparatory matches against New South Wales, Queensland and Australian Capital Territory.
ALSO READ: Thailand conquering hearts with smiles & positive intent
Ahead of their first practice game during the preparatory camp, the talk in the dressing room is about "getting the job done." Pathak stresses on the need to simply execute the skills they have practiced over the last couple of years. "Nothing extravagant," he says. "Just the simple things – take the game on."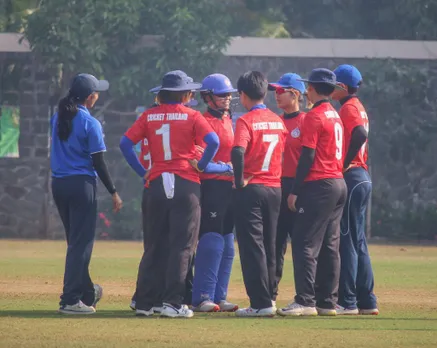 The talk in Thailand's team huddle is about 'getting the job done.' © Women's CricZone
As skipper Sorrnarin Tippoch lays out cones for the warm-up drill, the team excitedly begin their pre-match stretching routine. Their laughter reverberates around the ground. They are happy to be out there – it is an innocent joy.
"We are a happy team – that's a feature of this group. They enjoy every little thing we do. It reflects in the way they play as well. But the best thing about them is that they are incredibly disciplined. They have put in so much work to get here, and they are keen to keep improving."
***
Game One: Thailand vs West Indies
When Thailand took the field in their first match of the ICC Women's T20 World Cup 2020 against West Indies at the WACA in Perth, there was much excitement surrounding their entry. The newest team on the big stage, they came with a mix of energy, innocence and so much passion.
They are laughing, high-fiving, racing to the square and generally enjoying every minute on the field. There is little worry or panic in their movements. Even after a poor showing with the bat – restricted to 78 for 9 – they have come out with belief and a great deal of fight with the ball. The skipper's words are calm and measured in the huddle – she is in charge of the situation.
ALSO READ: Thailand - daring to dream
"Noi (Tippoch's nickname) is a wonderful leader for this group," Pathak gushes. "She understands her players really well and we have formed a good partnership. The best thing is that she is really calm."
https://twitter.com/T20WorldCup/status/1232478376088104961?s=20
Defending a paltry 79, in no time they have West Indies on the ropes at 27 for 3 – almost four down if not for an overturned decision. Naruemol Chaiwai, the diminutive batter, throws down the stumps at the non-striker's end from short-third, before Soraya Lateh, the left-arm spinner, bowls Hayley Matthews – accounting for her maiden T20I wicket – and Suleeporn Laomi's rocket arm catches Deandra Dottin short of the crease. Thailand are well on top – on their World Cup debut at that!
***
"We have all agreed (and believe) that we can be the best fielding side in Australia – that is another aim," Pathak says with conviction as Tippoch nods along. "We've got some wonderful athletes in our side who have great hands and are quick across the ground as well. We have prepared the best way we can."
In the field Thailand are aggressive – their body language, their energy levels and the way they close in on the batters in the inner ring. There is 'intent' in everything they do.
ALSO READ: Laura Wolvaardt's subtle power
As Soraya Lateh and Onnicha Kamchomphu run from one end of the ground to the other – covering the straight boundaries, Pathak points to them and says, "We have specialist fielders for each position. And we've made sure that there is cover for each one of them."
Tippoch patrols the cover region for most of the game, until one of Kamchomphu or Lateh is handed the ball. Then she makes her way to the straight boundary. Laomi, the leg-spinner is outstanding at point, while one of Chaiwai or Nattakan Chantham takes charge of the mid-wicket region.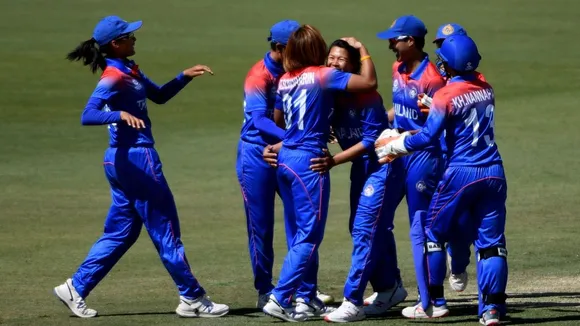 Ratanaporn Padunglerd is congratulated for taking a wicket. © ICC
Their specific roles in the field point to a deep tactical preparedness ahead of the World Cup. Pathak goes on to explain that roles have not only been handed out in the field, but with the bat and ball as well – each member of the squad has been made aware of the part she will be expected to play through the mega event.
"Cricket is as much a mental game as it is about skill," Pathak says. "I am someone who believes that at the international level, a lot of the times, it is the smarter player who comes out on top. That is one of the main reasons I have tried to speak to the girls about mental preparation – that is something we have really worked on since I took over."
ALSO READ: Shikha Pandey: From forgotten to frontline
Mental work aside, Pathak is a wonderful tactician. After every match, he sits with Tippoch understanding why she made the changes she did and explaining to her how she could potentially get better. He has a small board of a cricket field where he practically moves pieces around to give her a clearer idea of what she can do. It is simple, but very effective. Tippoch vigorously nods her head as the coach explains how she could try to curtail a rampaging batter.
https://twitter.com/WomensCricZone/status/1230827649284493313?s=20
"In Australia, we want to be able to out-think teams – that's where we can catch them off guard. That's how we can cause an upset or two," he says with conviction.
There is a belief in Pathak's voice that rings in one's ears long after he has spoken. He is realistic about his side's chances – or lack thereof – but wants them to understand the potential they have.
His work reflects in Tippoch's better understanding of match situations. Through the practice matches in India, she began to identify which batter to squeeze, who her pressure bowlers were, and where she could potentially pick up a wicket. She was improving tactically.
***
Game Two: Thailand vs England
England were expected to steamroll Thailand. Many thought the clash would see Danielle Wyatt return to her run-scoring ways – Thailand should be easy fodder, they said. However, when Tippoch's team took the field, their perfect execution of plans saw the former champions stutter at the start.
Thailand had England on the ropes with two early wickets. © ICC
To kick-off proceedings, Nattaya Boochatham had an advancing Amy Jones stumped off the second ball of the innings, before Lateh had Wyatt caught at cover-point trying to slap one over the off-side. It was a dismissal quite brilliantly choreographed. Almost as if anticipating her movement down the pitch, Lateh bowled one slightly short of a length outside off-stump which meant the England opener had to reach for the ball. Wyatt's habit of creating room to hit over the off-side meant she was too far away from the ball to generate enough power into the shot, and only managed to pop a catch to Wongpaka Liengprasert.
ALSO READ: Heather Knight's love-affair with the Manuka Oval
It was another dream start for Thailand – one that they had worked for.
Although England lost no further wickets, with both Heather Knight and Natalie Sciver dominating the innings with some exceptional strokeplay, again, Thailand had shown a glimpse of what they can achieve on the big-stage if given more time and opportunity.
***
"These games (against the boys) are meant to give them an understanding of what we could potentially face in Australia," Pathak explains. "Playing against the boys will help us understand how the better teams will likely come at us in the World Cup."
"I believe that you learn your cricket in big games, which is why I am keen on them playing against better opposition. It is only when you train at a higher intensity that you actually improve. There is little point in facing lesser skilled opposition just to gain some confidence. We want to keep getting better."
In the first of those matches, against a group of Under-16 boys, Thailand sauntered to a comfortable win – their batters taking them home with ease. In the second, against slightly older (and therefore quicker) boys, they were under the pump for a while. However, there were a few moments that stood out in that game – moments that made Pathak get up from his seat and applaud his charges.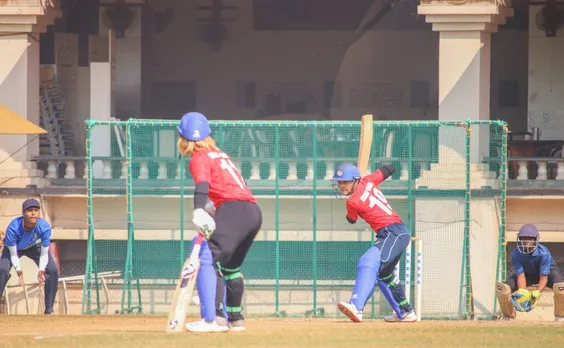 Nattakan Chantham prepares to carve a delivery through the off-side. © Women's CricZone
First Chantham crashed a majestic square drive on the up, and then the left-handed Boochatham – after caressing a beautiful cover drive – pounced on the follow-up short delivery and crunched it over square leg for a one bounce boundary.
Pathak is out of his chair and making his approval heard. "Shot, Fon (Boochatham's nickname)!" he bellows. "Good areas, Jeans (Chantham)!"
ALSO READ: Shafali Verma's rapid development
A few swipes later, the pair are back in the pavilion, sitting dejectedly next to their teammates. While Chantham is quick to cheer up, Boochatham seems to be working out her mode of dismissal in her mind. There is a hint of disappointment, but she is quick to acknowledge a wonderfully judged single between Chanida Sutthiruang and Tippoch.
"I have always told the team that disappointment is not acceptable," he says. "Disappointment is an emotion, and I don't want them to be emotional. I have given them the freedom to fail, so when faced with a difficult situation I expect them to understand what needs to be done – look at your options instead of getting angry or disappointed about it."
***
Game Three: Thailand vs South Africa
In match three of the tournament Thailand were emphatically blown away by South Africa. After Lizelle Lee blasted her maiden T20I century, Shabnim Ismail proceeded to rock their line-up with some seriously quick bowling.
To the fans watching, Thailand were steamrolled by a more accomplished opposition – they were never in the contest. They were shown up, but it was a chance for them to learn.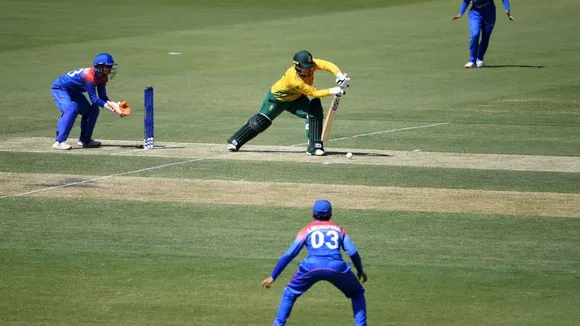 Despite Thailand's struggles against South Africa, they showed glimpses of promise. © ICC
In the post-match press conference, when asked whether her team were intimidated by Ismail's pace, Tippoch said, "We faced this kind of bowling during our practice in India, so we didn't feel intimidated by the pace or anything. It's probably just atmosphere and also the experience coming to a World Cup. So, it's different in practice, different in real life situation."
While no one in the line-up showed the ability to be able to cope with Ismail's pace, they never felt out of their depth – they are a work in progress.
ALSO READ: Radha Yadav revels in support role
Despite their 113-run loss, Thailand finished the game with a smile on their faces. They were not disappointed by their performance, they were instead getting a chance to learn from the best players in the world. They chose right – learning and development over disappointment.
***
During each practice game in Pune, Pathak sits down with his notebook and writes down his observations. He is very meticulous – his observations so different, and specific. His notes are more about execution of practiced skills rather than errors his team are making on the field.
He has spent a lot of time with Sutthiruang working on her 'pick-up' to try and make it easier for her to access both sides of the ground. As she smacks a cover drive, Pathak sets his book aside and rises again in applause. There is a satisfaction in his face that belies the lack of a smile.
"The team has worked really hard over the last few months to get to where we are now. As a coach, that is the most satisfying thing – seeing them succeed after putting in all that work."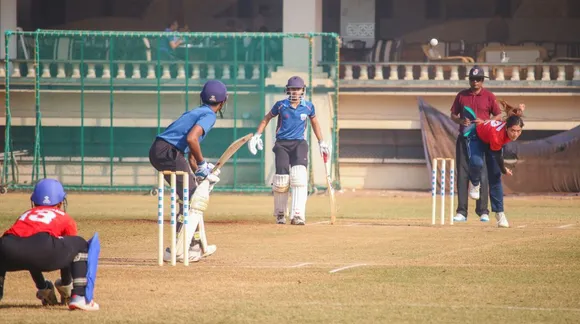 Chanida Sutthiruang bowls in a practice game. © Women's CricZone
Pathak is a task master. When on the field he expects nothing less than 100% effort from his players. It's all about training at "match intensity" and trying to get better each day. Much of the training over the last few months – since their successful run in the ICC Women's T20 World Cup Qualifier 2019 in Scotland – has been about getting used to fast, bouncy pitches and fast bowling.
Most members of the team have traveled to India several times to train in Pune, Pathak's home town, where they worked on facing fast bowling, but also developed tactically, understanding how to construct innings, bowl to attacking batters, what fields to set to different types of players, etc.
All this change though, took a fair bit of time…
When Pathak took up the role as Thailand's head coach in the second half of 2018, he took a while to earn the team's trust.
ALSO READ: Pakistan's own 'Lady Diana' and her tryst with cricket
"Obviously when you are introducing something new or something slightly different to what people are used to, they will resist change," he explains. "I spent my first few days with the team just observing them and figuring out how they work. After that, I began giving small pieces of technical advice. Once they saw that my suggestions were working, they began to trust me, and then things became easier."
"Tactics were going to be the hardest for me, I knew. They had done things a certain way for their entire careers and I was asking them to change that. They were understandably wary of the new (more attacking) approach. But once I convinced them – explaining each decision for them – things became a lot easier. They are now much more willing to adopt any tactics we discuss."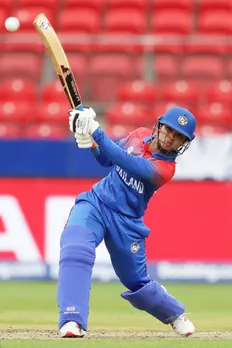 Nattaya Boochatham plays an attacking stroke down the ground. © ICC
Like all developing teams, Thailand started off with a very defensive approach – waiting for the opposition to make mistakes or bowl a loose ball. Any wins were down to showing more patience than the opposition rather than actually out-playing them. It is something that Pathak took a while to root out of them, and quite understandably, it is an art they are still getting the hang of.
Ahead of the World Cup, what Pathak constantly told his team is, "Go out there and smash!"
Known domestically as one of the better batting coaches in the country, Pathak has worked extensively with his team on understanding how they can score runs. He's made each batter aware of where their boundary options are – something that differs for each according to their technique. Additionally, he's taught each one to use the crease in order to access their strong areas.
"At the end of the day, T20 cricket – or cricket in general these days – is about scoring quickly. You need to take the game on at all times and be aggressive," Pathak explains.
"When I took over, Thailand were not naturally an attacking team. They were all used to taking their time – settling in before really taking the attack to the opposition."
ALSO READ: Lea Tahuhu, pace is thy second name
Among the squad selected for the World Cup, Pathak explains that only Chantham, the opening batter, had attacking intentions from the very start. Picked up straight from a softball background, Chantham enjoys swinging for the fences. Notably, her off-side play is her strength – in stark contrast to most developing countries.
She stands tall and swings at anything wide – her high back-lift arching around as she carves the ball through the off-side. It is magical to watch. Some would think Chantham is Thailand's most attacking batter. The statistics suggest she is. However, the coach says there are more within the line-up with unexplored potential.
***
Game Four: Thailand vs Pakistan
https://twitter.com/ICC/status/1234813357997412352?s=20
After struggling their way through the first three matches with the bat, Thailand finally 'took the game on' when they faced Pakistan in their final match of the World Cup. Having failed to cross the 100-run mark in any of their games, come Tuesday (March 3), Chantham and Boochatham's attacking approach caught Pakistan completely off guard.
The pair played some delicious strokes down the ground and through the off-side on their way to a 93-run opening stand. In typical style, Chantham was the first to get off the blocks, plonking her front foot down the pitch to hit delightfully through cover – a shot that has now become her trademark.
While her opening partner took Anam Amin apart, Boochatham, meanwhile, played herself in before letting loose against Aliya Riaz. Once settled, the 33-year-old's strokes were a treat to watch. She played with the flair of a top-class left-hander, nonchalantly lifting over the off-side and hitting straight down the ground, before crunching a couple of powerful sweep shots to showcase her all-round game.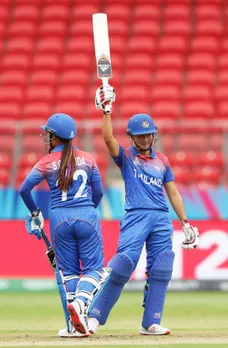 Nattakan Chantham celebrates her half-century against Pakistan. © ICC
Although Boochatham missed out on a well-deserved half-century, Chantham made sure to cross the mark, becoming the first Thai player to score a fifty in a T20 World Cup. Cameos from Nannapat Koncharoenkai and Sutthiruang helped Thailand not only surpass their previous highest score in T20Is – 133 for 8 against Netherlands – but also register a mammoth total of 150 for 3 (only the seventh score of 150 or more this tournament).
ALSO READ: No reserve day? You must be joking!
While rain denied them what could have been a historic victory, Thailand made sure to leave the World Cup with more than just memories of smiles and dances. They had much more to offer.
***
"They are not the same players they were even six months ago," Pathak says as the third practice match comes to an end. "So much has changed – in their attitudes and the way they approach the game. Their discipline has really helped with that. They are an extremely hard working and committed bunch. The important thing is that they are really keen to improve and learn. I can't ask for more as a coach."
As the team completes their cool down there is a buzz amongst them. After a couple of bad days, Lateh has bowled exceedingly well; her teammates are thrilled. To add to the positivity, I tell them that Boochatham is the highest wicket-taker in T20Is in 2019. They are now ecstatic, asking for numbers and who else is on the list. Four of the top five wicket takers are from their team – Tippoch, Laomi, Sutthiruang and Boochatham. There is boundless joy in the group. "Thank you," they repeat several times while bowing with their hands folded.
https://twitter.com/T20WorldCup/status/1234711278674837504?s=20
Before I depart, I wish the team well for the World Cup. "Have a wonderful time, and remind the rest of the teams why it is they are there," I tell Tippoch. She warmly embraces me, the smile never leaving her face. "We will," she says. "We will try our best!"
***
As they prepare to leave the shores of Australia after a winless campaign, Thailand have undoubtedly reminded the world of the simple joys of the game. As Dane van Niekerk mentioned after South Africa walloped them in the group stage, "I'm really stoked for them to be here at this tournament. They've put a lot of smiles on a lot of people's faces, and I know it might not be enough for them, but coming up against a team like that it takes you back to why you started playing and why you actually love the game."
https://twitter.com/T20WorldCup/status/1234653134078857217?s=20
Despite an underwhelming start to the campaign that came to a disappointing end due to the rain, Thailand showcased serious potential, proving that they belong at the world stage, and cricket will do well to expand its wings. While they are certainly still a developing nation, one thing is for sure: they have the raw material to create a team that could really challenge the top sides in the years to come.
As Pathak told ICC, "Even though we've not done well, there's that feeling of 'I can do it' and that's the biggest takeaway."
/wp:tadv/classic-paragraph