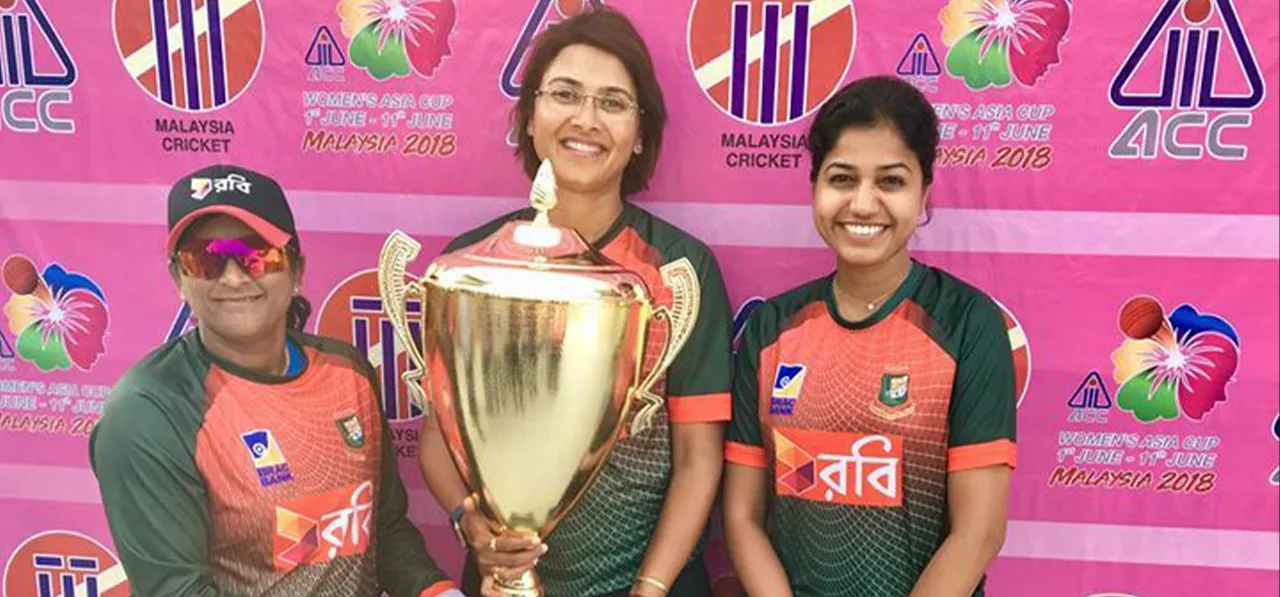 Devieka Palshikar, former India player, has said that Anju Jain, the head coach and herself, the assistant coach, moved on from Bangladesh coaching roles to Baroda after they received no communication from the Bangladesh Cricket Board (BCB) about their contracts. They had a meeting with the BCB's Chief Executive Officer, Nizamuddin Chowdhury, since their contracts ended on March 31, wherein it was decided that they could leave if they got an opportunity somewhere else, which is contrary to reports that have recently emerged saying the board was unaware of their departure.

"Our Bangladesh contract got over on March 31 and we had a meeting with the CEO and they were quite okay with continuing with us. But he said that they hadn't discussed about our future because of the COVID-19 pandemic and the lockdown," Palshikar told Women's CricZone.

"So he couldn't promise us anything about the resumption of cricket and renewal of contracts. He said that if we get an opportunity elsewhere, we could go for that. But if we were to be available then the BCB would have considered us. But since we didn't hear from them, we decided to move on."

Under Jain, Palshikar and co, Bangladesh had a good run – one where they competed fiercely giving teams a run for their money. They had won the Asia Cup in 2018, beating India to the title and then came close to beating New Zealand in the T20 World Cup 2020 before going down narrowly. They had beaten Pakistan in the warm-ups as well.

"Unfortunately, in the last two T20 World Cups, we didn't get a good result. Otherwise we did well in other series. Apart from those tournaments, we did bad only when India A had toured Bangladesh. In the other 10 tournaments we really did well," she said about their stint with Bangladesh.

ALSO READ: Fishing nets, batting, Netflix; Nigar Sultana Joty and her unique lockdown ways

Palshikar has said that the players were happy with how their games have developed under them and how they have evolved as a team. Bangladesh beat Pakistan in a one-off ODI in 2018 before tying the series in 2019.

"We felt that if we are not able to do well on a platform like the World Cup, then if they want to think about someone else, we are okay with it. We talked so openly with the CEO. We told him that they can make those changes since our contract is over anyway."

"But he said that he was not thinking about those things. Actually, he also knew there were a lot of things going around at that time. During the World Cup, everybody tried to get involved. Since language is a barrier, the local heads took advantage. Everybody wants to take credit whenever a team is coming up which was what was happening with Bangladesh."

Palshikar stressed that Chowdhury was very supportive of them and had said that they could have their preferred personnel onboard, in case the contract is extended.

https://open.spotify.com/episode/484PTeQYxjKUMnQdE9PXa6?si=Fj1LT7fIRTOYSef7ykctAQ

"It is the coaches and the support staff, who train players. Others aren't present during camps. Just because you're with the team during a major tournament, you can't take away all the credit," she said about some troublemakers within the setup.

"They probably were under the impression that we didn't learn or understand a word of Bengali during our stint. The officials were keen to continue with us and were happy with our performances."

ALSO READ: Tales of a grandmother's support: Fargana Hoque recounts her early days

It was announced on Wednesday (June 3) that Jain and Palshikar will work with Baroda for the upcoming domestic season. While Jain will be the head coach, Palshikar has been appointed as the bowling and fielding coach.

"They have asked me to look after the bowling and fielding part. Mostly Anju di will take care of batting and wicket-keeping plus she will act as the chief coach. I was with her as assistant coach with Bangladesh and hence everywhere (in the media) it is going as assistant coach," she said, clarifying her role with the side.

"Seeing the current scenario, we thought that we should take a local assignment and stick with an Indian association. Baroda first approached Anju di for the post of head coach. She believes that having her own support staff makes a lot of difference. She asked them for Kavita (Pandya, trainer) also. But since Baroda had their own physio and trainer, they couldn't take Kavita and only me and Anju di got the opportunity."

Palshikar and Jain go back a long way. The duo played together for India as well as Air India. They then worked briefly at a National Cricket Academy (NCA) camp before going on to work together for Bangladesh.

"She was the captain when I joined Air India. As a player I used to admire her. As a coach we always exchanged knowledge and had healthy discussions about our cricketing things and coaching. It's a privilege to work under her," said the leg-spinner, who played 15 ODIs and a Test for India.

"If you see foreign coaches come with their own staff. We still don't have such a culture but Anju di wanted to introduce that culture. Female coaches should have their own staff to rely on and trust."


Palshikar previously coached Goa in the domestic circuit. © Devieka Palshikaar/Facebook
Jain and Palshikar are quite aware of Baroda's players. While Jain was Vidarbha's coach before the stint with Bangladesh, Palshikaar has been in charge of Goa and Mumbai in the past. Moreover, she has worked with the likes of Radha Yadav, Yastika Bhatia and Tarannum Pathan at the Zonal Cricket Academies.
In the domestic season 2019-20, Baroda had made the semi-final of the Women's Senior T20 Trophy, where they lost to
eventual runners-up, Bengal
. They didn't have a great run in the One Day Trophy as they finished fifth in Group A, only winning three of their eight matches. In the season before that as well, they missed out making the final stages of the competitions because of their net run rate.
In the past with Goa, Mumbai and also in case of Bangladesh, Palshikar was working with developing teams. They were sides in the bottom rung, trying to establish themselves in the higher league. But for a change, now with Baroda, who are, in her words, "knocking on the doors of the championship", she has a different unit to work with, one that has its own challenges.
"Baroda need to have trust and confidence in coaches.
What happened last year
wasn't good, but in the year before that also they were always under pressure," said Palshikar, who played for Maharashtra and later Assam before retiring in 2013.
"Our main aim is to build trust and give them confidence apart from fine-tuning their games and working on their techniques. Once you gain the confidence of players, they'll do anything for you. So winning their trust and giving them confidence will be the main important thing."
"Actually, we'll get a deeper idea only once we meet the players in person. Technically we needn't work on them because their performances speak for themselves. But now everything is tactical and mental. The final hurdle is something we have to work on."
With the lockdown yet to fully get lifted in most parts of the country, the
date and the procedure for the resumption
of outdoor training is yet to be finalised. Palshikar estimates it to be somewhere around the end of July or at the start of August that she would get to meet the players in person and start working with them.