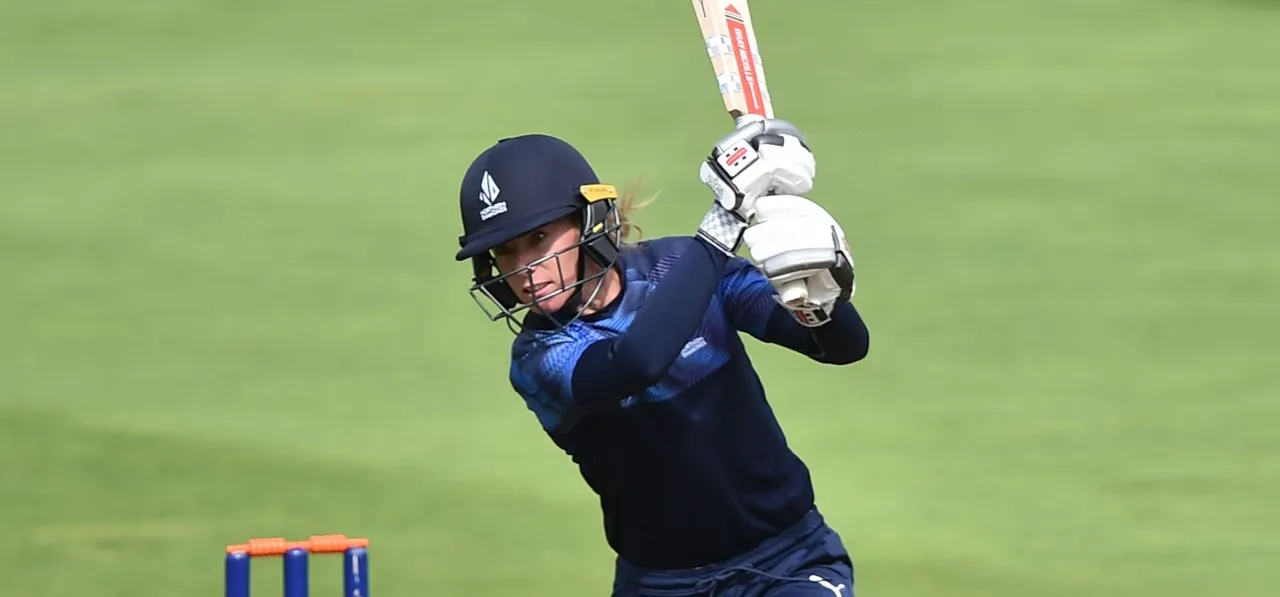 Lauren Winfield-Hill, who
left the England bubble
to captain Northern Diamonds in the
final of the Rachael Heyhoe Flint
trophy in Edgbaston on Sunday (September 27), said she hopes both her team, and domestic cricket in England can continue their upward trajectory going forward.
Despite the disappointment of losing to Southern Vipers by 38 runs in the title clash, the England international said she was encouraged by the standard of play she saw through the tournament. She added that the Diamonds have put together a formidable squad that will hopefully continue to develop in the years to come.
"It's been a good season for us," she was quoted as saying to Yorkshire CCC. "We've recruited well with Jenny Gunn and Sterre Kalis, and then someone like a Phoebe Graham is back up North having played her county cricket down South. A lot of the girls have jobs so have gravitated back to the North because of Covid, living in, and working from, their family homes rather than paying rent in London, for example."
"It's good to get a good group of players together, and hopefully we stick together. That's the main thing. Hopefully we can keep this squad together and keep building."
ALSO READ: Northern Diamonds caught in Charlotte's web
Diamonds, who lost only one game in the group stage - against Central Sparks - made the final on the back of some splendid team performances. In the final, after chasing the game for the first 25 overs of Vipers' innings, Diamonds made a splendid comeback on the back of their spinners, led by Katie Levick.
"At one stage we thought it was a 260 pitch, but in the end they probably got 20 or 30 too many with people down the order chipping in. That proved to be the difference," said Winfield-Hill.
Having managed to restrict Vipers to 231, Diamonds got off to a promising start in their chase. However, they slipped from 74 for 1 to 193 all out. The skipper said she was proud of the character shown by the side in their first major final.
"We didn't bat very well. There were a lot of soft dismissals. A lot of people got themselves out rather than being got out. But we showed a lot of fighting character. Katie Levick typified it at the end. She's put a lot of work into her batting and said, 'We only needed five an over – you never know'."
"I just felt we were always two or three wickets down from where we needed to be to really give it a good go at the back end."
ALSO READ: Georgia Adams all praise for Southern Vipers after their incredible run in the RHF trophy
"We'll learn from that. We just need to be playing in (more of) these finals and find a way to win," she continued. "Look at the Vipers, they've been in these big occasions a lot as a club with the Kia Super League and stuff – more than our girls have. There's certainly lots of learning."
"We need to be up and amongst the best, challenging ourselves under pressure. The more times you do that, the more you'll find a way to win in these big games."
Among the Diamonds squad, the trio of Holly Armitage, Linsey Smith and Beth Langston earned
regional retainer contracts
earlier this year, while all of Winfield-Hill, Katherine Brunt and Natalie Sciver are centrally contracted players. The hope is that, over the next couple of months, two more members of the squad will earn contracts. Winfield-Hill said she hopes that the number will soon double - something that will propel the standard of cricket in England forward.
"I think we want to get to a stage where we have 10 professionals," she added. "Then, from November each winter, the girls are training as dedicated full-time pros."
"That is a big thing, which was shown for us with England. There was significant progression once you didn't have to balance any other part of your life with training and playing commitments."