Ireland last played international cricket during the T20 World Cup Qualifier in 2019 in Scotland where they finished third having failed to qualify for the T20 World Cup 2020 in Australia. They didn't get a chance to return to international cricket since then having their proposed series against Scotland in November last year was called off due to the COVID-19 pandemic.

But Cricket Ireland successfully managed to conduct Super Series with two teams Typhoons and Scorchers competing in eight matches from August 3 to September 27, 2020. Having successfully conducted the tournament last year amidst the global pandemic, Cricket Ireland has planned the Super Series in both formats this year with Ireland set to feature in the ICC Women's T20 World Cup European Qualifier that's scheduled to be held in Scotland between August 24 and 31. They will also be seen in action during the Women's World Cup Qualifier that was postponed to December 2021 scheduled to be played in Sri Lanka.

Super 20 Series in T20 format will be played May 3 to August 15 ahead of the T20 World Cup Qualifier, while the 50-over format started on April 25 with once again Typhoons' led by Laura Delany taking on Scorchers' led by Gaby Lewis. Scorchers started this year's event with a 14-run win over last season's champions Typhoons at Pembroke CC.

Having captained for the first time at the List-A level last time, 20-year-old Lewis started this season confidently with a match-winning fifty.

"It's great to be back playing cricket. It feels like a lifetime since we've been out on the field," Lewis told Women's CricZone after the first game. "Obviously the main one is to win the competition. We had a very competitive competition last year which was brilliant and some close games, hopefully, it can be the same this year and we can come out on top this time!"

"Having the competition with two teams makes the competition more competitive and means that the standard is higher. Having the standard as high as possible is crucial in our preparation as we will come across very strong teams in both formats. Having games is invaluable so having a game nearly every weekend is going to help us hugely for our preparation for the World Cup Qualifiers."

Ireland skipper Delany echoed her national teammate's thoughts when she talked about the competitive nature of the tournament and said the tournament will prepare them well for the international season ahead.

ALSO READ: Rewind: Gaby Lewis' fifty, Isobel Joyce's calm and a record Ireland chase

"It's a good opportunity to see where myself and the team are at performance-wise," Delany told this website. "We've worked as hard as we could have over the last eight or nine months but there's no substitute for time out in the middle. I am confident that as a collective the standard has improved, hopefully that will be evident in this series."

"We were bitterly disappointed that both winter tours were cancelled at such short notice. Unfortunately trying to play international sport during a pandemic has proved incredibly challenging."

"I don't think it's a bad thing that the qualifiers have been pushed back to December. Hopefully this will mean all teams due to compete will be in a position to travel but it also allows us time to play games. We haven't played a game since August, now we have the domestic season here to play and hopefully a good block of international fixtures over the next few months."

Despite the lack of international fixtures, Ireland have been doing all the right things by increasing the funding for women's cricket, awarding and adding more retainer and part-time contracts, including 13 new players into the academy set up.

Super Series 2020 saw many young players doing well - opening batter Leah Paul (Scorchers) and pace bowling allrounder Orla Prendergast (Typhoons) were impressive in particular. Paul finished as the leading run-getter during the season scoring 295 runs at an average of 49.17 and Prendergast took 10 wickets at an average of 18.10 and an economy rate of 3.42. While Prendergast was promoted to part-time professional retainer mid-way during the season, Paul was awarded retainer post the tournament.

"I thoroughly enjoy opening with Leah, hopefully we get the chance to open together in international cricket. So, forming a good opening partnership is crucial (during this season)," Lewis said. "Myself and Leah are still getting used to batting with each other up top but we're starting to understand each other more which is great. Always good having a left-hander."

"I think we played brilliant in some games but struggled in others. Think as a whole we struggled with Orla up top and building partnerships throughout our innings."

ALSO READ: It's an exciting time to be an Irish cricketer: Laura Delany


Orla Prendergast (L) and Laura Delany (R) during Super 50 Series 2020 © Getty Images
Delany is confident of her 18-year-old strike bowler Prendergast's abilities and believes she will be one of the key members of Typhoons. She also picked out another young seaming allrounder, Louise Little, to build on last season and be one of the success stories of this year.
"Orla was outstanding with the ball last Summer, I think Orla's confidence grew with each performance and she will lead our seam attack again this season," Delany said.
"Louise Little, predominantly a seamer but very capable middle-order bat has the potential to score quickly and access different parts of the ground. Looking forward to seeing how she progresses with both the bat and ball this summer."
It's not just the young players that will be seen in action throughout the season, experienced wicket-keeper and vice-captain of Ireland national side, Mary Waldron, is part of Typhoons after missing out last season.
"Delighted to have Mary playing for the Typhoons this season. Mary had a great winter out in Adelaide and apart from the skill that Mary brings with both the bat and behind the stumps, Mary is the vice-captain of the senior side and will play an important role in the team this season. We are looking forward to her return." Delany added.
ALSO READ: Top six ranked teams join England in Commonwealth Games 2022; final team to be determined by a Qualifier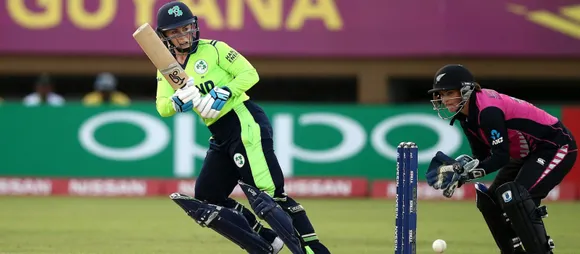 Mary Waldron in action for Ireland. ©ICC
Apart from Waldron, pace bowler Lara Martiz, Ashlee King are additions to the Scorchers' side after not being able to feature in the last edition. Another international Una Raymond-Hoey is also part of the Scorchers squad but is yet to arrive in the country.
"It's brilliant having Lara Maritz back in our side. We also have Ashlee King from Western Australia playing for the Scorchers. They had a great start over the weekend, so I have no doubt that they'll both play a huge role for the Scorchers this season. Hopefully Una can make it home for a few games but at the minute she is still in Melbourne," Lewis said.
In April, Cricket Ireland made another significant move ahead of the season by making
Glenn Querl, current Scorchers' coach, women's performance and pathway coach
. The 32-year-old Querl will support Ireland head coach Ed Joyce with the coaching of the national squad and he will take charge of the Cricket Ireland Academy squad and oversee the girl talent pathway. Both the skippers agreed that having Querl in additional coaching capacity will help Ireland as a haul as they look forward to an important phase in their cricketing history.
"Glenn has been great ever since he stepped into the role as Scorchers' coach. He's been great for all the girls and having him on board with the national team is brilliant," Lewis said.
"Great to have another full-time coach on board, Glenn has been the assistant coach of the senior squad for the last twelve months and is the head coach of the Scorchers. Glenn knows the setup and players very well and hopefully the increased support will have a positive impact on the performance of the national side," Delany added.
28-year-old Delany and young Lewis will be key figures as Ireland look to navigate their sails through a difficult time. They are doing all the right things to reach their destination as they look forward to claiming a berth in upcoming World Cups in both formats.
"It's going to be a challenge but having the Super Series, just starting to get games under our belt will make it a lot easier once we do have international fixtures. We have been training a lot over the winter so we all can't wait to finally play some international cricket whenever that may be," Lewis concluded.
https://open.spotify.com/episode/7fji2PZYGMgkzXoi8QSYcO