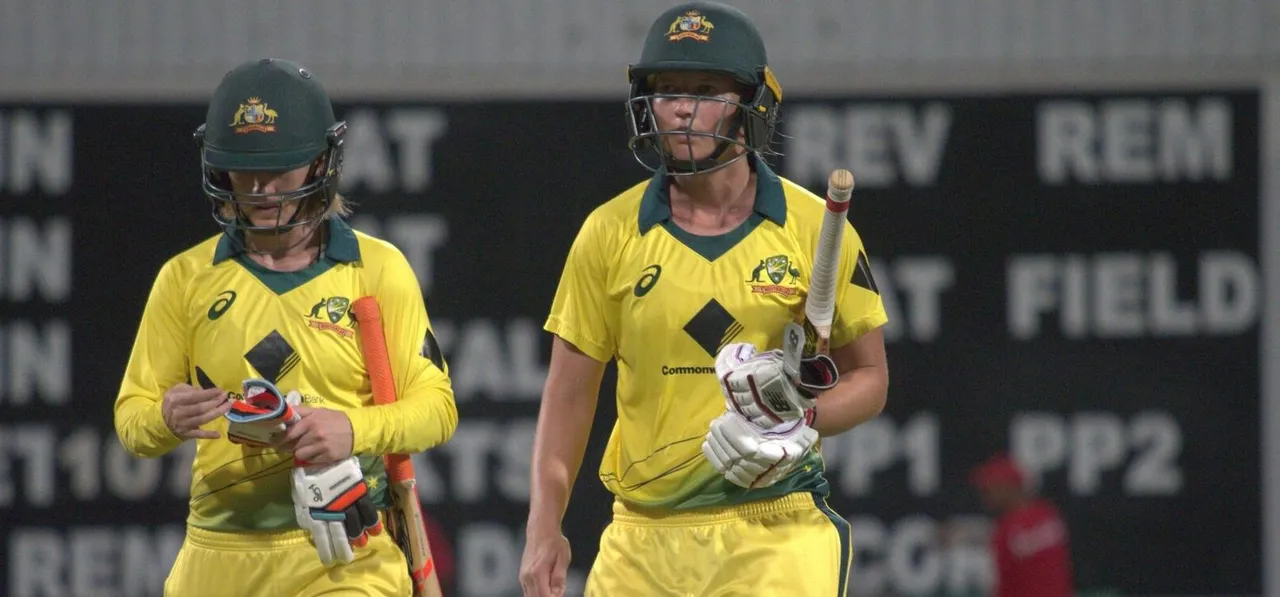 Australian captains, across gender, love to bat. Belinda Clark, Steve Waugh, Ricky Ponting, Karen Rolton and more recently Steve Smith and Meg Lanning have all batted oppositions out of the game numerous times in their career.
Lanning, though, is a tad different from the rest. While others often lifted the bar slightly higher than it was before, Lanning has shattered most records in her sight - and is well on her way to rewrite the books altogether. She has the best batting average now as captain in T20Is (46.34) amongst those who have led in more than 15 matches. Before that, she became the
highest run-scorer across formats for Australia
, overtaking Karen Rolton, during the ODI series against West Indies.
On Saturday (September 14), her unbeaten run-a-ball 54 ensured that
Australia took a 1-0 lead
over the Caribbean side at the Kensington Oval in Barbados in the three-match T20I series. During that innings, she became the second-quickest to go past 2500 T20I runs. She got there in 86 innings. Her counterpart, Stafanie Taylor, had taken just 80.
In the first T20I, Lanning walked in as early as the second over. She watched as Alyssa Healy departed soon after her arrival. She realised that she had to drop anchor and stay till the very end. "It was nice to contribute tonight. Felt like I was batting freely," she said. "Once you get in, in a chase like that it is important for someone to bat through and make sure you see it off till the end."
The pitch was "rock hard with some bare patches of grass". It was expected that batters would have a ball, on a track where there was even bounce and carry. However, it wasn't so.
"The wicket was a little bit poppy at times. It wasn't coming on as good as you'd like as a batter. I found myself overhitting at times or not going hard enough," Lanning said, before adding, "Once you found that mid-range tempo with respect to your bat swing that was when you could get the best contact with the ball."
Australia had to bowl first after West Indies won the toss.
Megan Schutt
struck early. That jolt meant that the Windies couldn't really recover.
"We started off pretty well with the ball. To keep them to 106 is a pretty good effort," reckoned the captain. "Their number three batter (Stafanie Taylor) to bat the innings and not get away was pretty good effort. In general, we bowled pretty well."
Delissa Kimmince's full and away-swinging ball was smashed hard by Chinelle Henry. The ball had FOUR written on it in bold letters. But it had to clear the Lanning-hurdle that it couldn't. The Australian captain timed the jump perfectly to pull off a screamer.
"It nearly took me with it," she admitted. "It just, sort of, kept rising a little bit. So, I jumped up and it was nice enough to stick."
While Lanning was pleased with the end result, the fact that the match went closer than it should have was something she repeated. She was also quick to state that Australia had won despite not being at their very best.
As long as Australia have a captain who loves to bat and score runs, they wouldn't worry much.