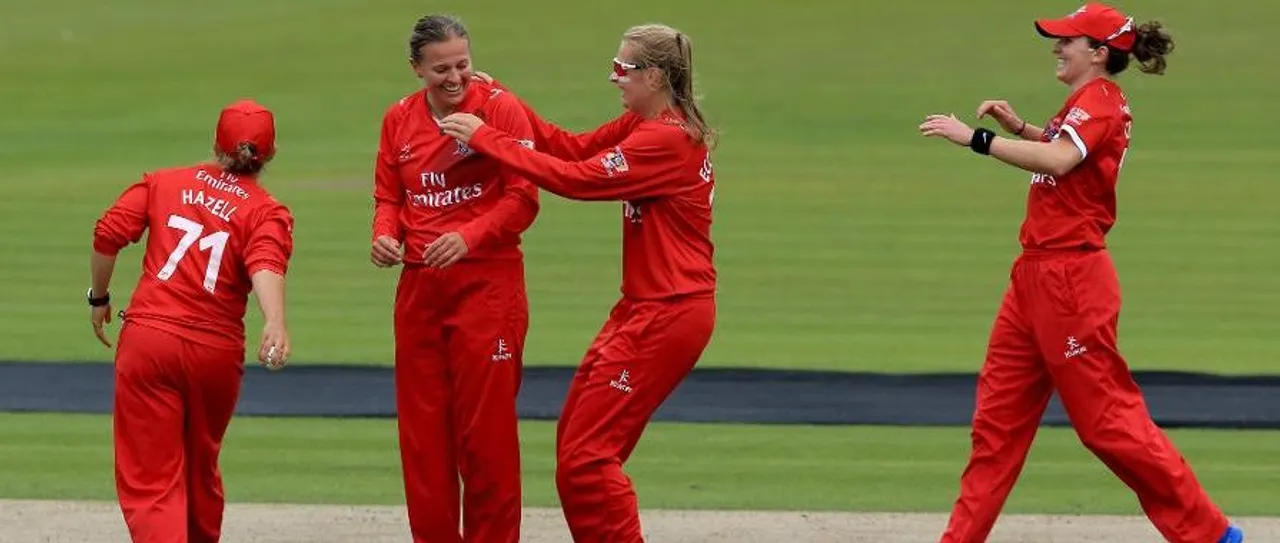 Over the past two seasons of the KSL, Lancashire Thunder have struggled to find any form, finishing bottom on both occasions.

It is a mystery as to how this has happened as the core group of players look competitive on paper. In 2017, the majority of the players were responsible for Lancashire winning the county double, yet the KSL side didn't win a game.

 

The Captain

Danielle Hazell is considered a T20 specialist. An England international of some experience she will bring much of that to her captaincy. Hazell recently took part in the IPL exhibition game.

An off-spinner with tight control who was part of the England team that won the World T20 in 2009, Hazell knows what it means to win a competition of that type of intensity.

 

The Overseas Players

Lancashire Thunder have three exceptional internationals at their disposal, Harmanpreet Kaur, Nicole Bolton and Amy Satterthwaite.

Harmanpreet Kaur is one of the most exciting cricketers in the world to watch. Injury prevented her from joining the Surrey Stars but not before she made an impact on English audiences in the ICC World Cup. The all-rounder times the ball almost to perfection.

Nicole Bolton had a very good WBBL for Perth Scorchers during the winter as well as impressing for Australia. An attacking batter who helps to give real power to the top of the Lancashire Thunder line-up.

The final member of the international trio is Amy Satterthwaite, the all-rounder from New Zealand. Having just finished a tour of the UK and Ireland, Satterthwaite is used to the conditions.

Not long ago she was one of the best batters in the world with a rich run of century scoring. If she regains anywhere near that form, it will be to Lancashire Thunder's benefit.

Also, a useful spin bowler Satterthwaite might have some bowling to do, even though Lancashire Thunder are more than covered in that department with captain Hazell, England bowlers Sophie Ecclestone, Alex Hartley and England academy player Emma Lamb.

 

The England Internationals

Sophie Ecclestone has been impressive since last year's KSL. Having missed out on consideration for last years ICC World Cup because of exams she has not put a foot wrong playing for both England and Lancashire.

Ecclestone is a tall left-arm spinner and has a calmness and maturity that overcomes any inexperience she possesses, it is why she continues to pick up vital wickets.

Lancashire Thunder have signed Alex Hartley the spinner who was replaced by Ecclestone in the England team. Hartley played for Surrey Stars for the first two seasons of the Kia Super League.

She moves to Lancashire Thunder where she also plays her county cricket. A skiddier bowler than Ecclestone, Hartley was one of the players of the tournament at last years ICC World Cup. Hartley may feel she has much to prove. Don't bet against her picking up some very important wickets this year.

Kate Cross has been around the England squad for the last two years without quite making the team on match day. A winter in Australia playing state cricket has done her good and there is a real hunger to succeed.

 

Best of the rest

Emma Lamb, an England Academy all-rounder and top-order batter cannot be far from the full England team. A classy batter who times well and with a decent Kia Super League record, a good season could see her make the trip for the World T20 in the winter.

Natasha Miles was the captain of the Middlesex side that won the county T20 cup only weeks ago. A reliable middle-order batter and with plenty of experience she will be a calming influence on her teammates.

Ellie Threlkeld will be the wicket-keeper and provides good support with the bat down the order. Along with her county captain Eve Jones, they will look to help new members to the squad, Alice Dyson from Derbyshire and Georgie Boyce the Nottinghamshire player who was at Loughborough Lightning last season.

 

Prediction

The only way is up for Lancashire Thunder. Things never got going for them last season. They do have some good players for this format and with twice as many group games it will give every side to not only figure out how to win but build some momentum before it finishes.

They may not make finals day but they will prove to be an exciting team to watch. Expect them to prove some shocks along the way.

 

Squad

Danielle Hazell (c), Nicole Bolton, Georgie Boyce, Natalie Brown, Kate Cross, Rachel Dickinson, Alice Dyson, Sophie Ecclestone, Alex Hartley, Eve Jones, Harmanpreet Kaur, Emma Lamb, Natasha Miles, Amy Satterthwaite, Ellie Threlkeld.