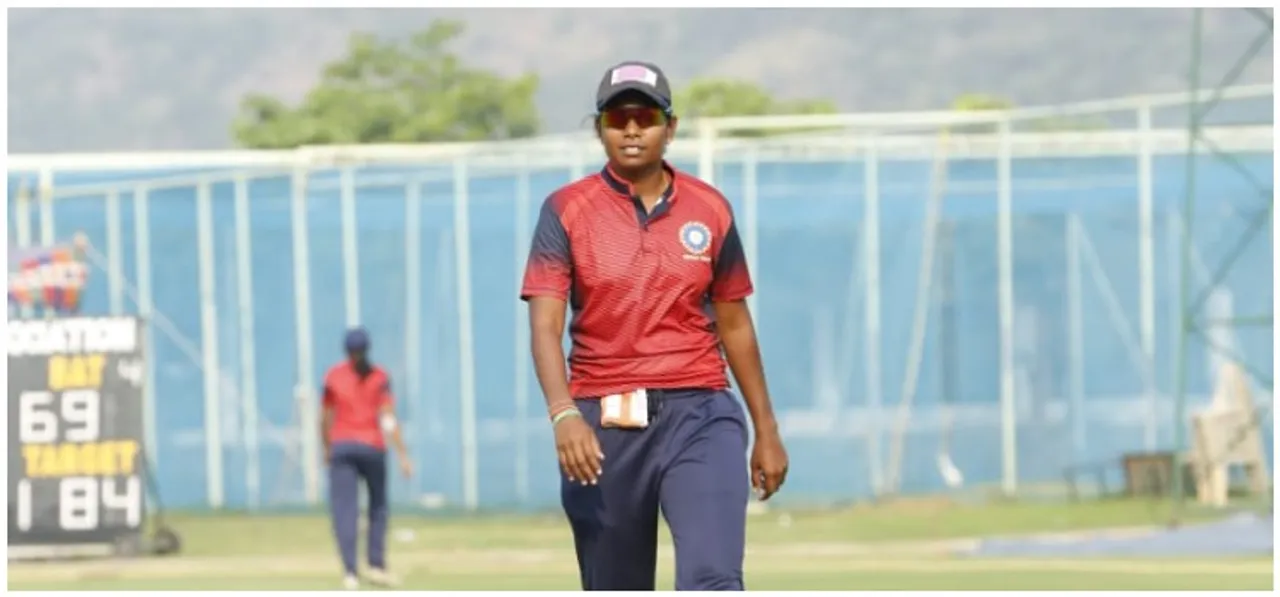 Anil Kumble 10 for 78. Kashvee Gautam  10 for 12. Debashish Mohanty 10 for 46. Rex Singh 10 for 11.
The above figures have one thing in common – all four bowlers achieved the rare feat of picking up 10 wickets in an innings. Komal Zanzad could have been on that list too.
The Vidarbha pacer's figures in the 2017-18 Senior Women's One-day League quarter-final against Haryana read 9.4-5-8-9 at the Jadavpur University Second Campus ground in Kolkata on the morning of December 21, 2017 – one of the fiercest spells Indian cricket has ever seen. Haryana were bowled out for 31 in just 18.4 overs.
"It was a dream spell," Zanzad told
Women's CricZone
on the third anniversary of that extraordinary feat. "The game started early at 8.45 am and the toss was important. Luckily we won the toss and we bowled first."
ALSO READ: Baroda in a fix with uncertainty over availability of coaches Anju Jain, Devika Palshikar
Bowling first, Vidarbha didn't let the opposition settle in on a wicket that helped seamers. Senior-pro Priyanka Acharya gave the initial breakthrough but it was all Zanzad thereafter. "In the first couple of overs I didn't get any break, but after the first wicket which was taken by Priyanka Acharya, I got wickets in every over," she remembered.
According to Zanzad, the moisture in the pitch in the morning helped the ball move both ways. The Haryana batters were clueless when facing up to Zanzad's deliveries as Sheetal Rana, Sonia Khatri, K Hooda and Diksha Sharma saw their timber disturbed.
"I never thought of such figures. It was like a day when everything fell into place, it was like a dream day for me. The wicket was good, grassy and the weather conditions were also good for medium pacers. Fortunately, my line and length were also falling into place and also got the grip," she said.
ALSO READ: ACB secures land for a new state-of-art stadium in Kabul
She also stated that she didn't want to bowl after her initial three wickets giving others a chance but her teammates insisted that she should continue. "After getting three wickets I felt that I should stop now and bring someone else, but my teammates kept telling me to bowl as I was in rhythm," she added. In reply, Vidarbha romped home in 4.5 overs winning by 10 wickets.
Asked about the reaction in the dressing room after the match, Zanzad said, "Everyone was happy, obviously. Our then coach Anju Jain, she said, 'I have played and coached also but I haven't seen such a spell from any bowler.' That was special," the left-arm pacer said.
Although Vidarbha lost to Bengal in the semi-final in the following game, that encounter left a mark in everyone's minds, for positive reasons.
Thereafter, Zanzad has produced several eye-catching performances at the domestic level including a fiery three-wicket burst for Board President's XI against England XI in a practice game in Mumbai the following season. However, her senior India jersey still remains a dream.
With no updates from the BCCI about the women's domestic season, Zanzad is currently training with her state side in order to be ready whenever a call comes and hopes she can unlock the key to the Indian dressing room soon.