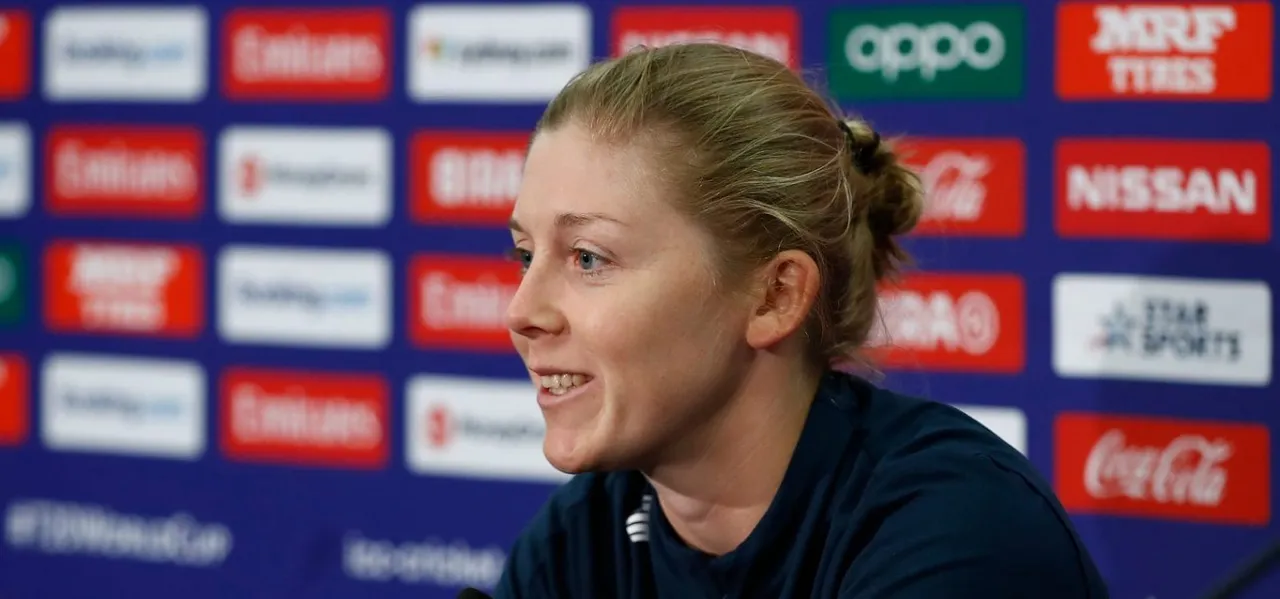 With less than a week to go for the one-off Test match against India, England skipper Heather Knight has said that it would be a real test for the hosts to do well against the tourists, who are playing the longer format for the first time since 2014.

Speaking to the media a day after the squad was announced, Knight said that the team is thrilled to have a packed calendar during the England summer, which was not the case last year. "Obviously, we have got that Test match which is massive for us," she said in the press conference on Wednesday (June 9).

"It doesn't happen very often. It's a real event when it does. To have two big teams coming over India and New Zealand (is huge). India are a very strong side. A team that has been really successful over the last few years and is going to be a real test for us."

Acknowledging that the players are likely to be nervous going into the Test match, Knight said that not playing the format frequently enough makes it difficult for both teams to adapt.

"Captaining also can be tricky when you are so used to playing white-ball cricket," Knight said, adding that the ebbs and flows of the game are going to be different and that she might have to make on-field decisions accordingly.

ALSO READ: 'The last year has taught me to respect life more'

"We will have fans watching (in the ground). We haven't had that for a long time. I think it's going to be a real sense of occasion down at Bristol. I'm sure the Indians will have a few nerves as well, having not played (in the Test format) in seven years."

When asked about the comment from Australia skipper Meg Lanning about the England team's approach during the previous Ashes Test match, Knight was quick to point out the difference between the two series. She said that the Ashes Test was in the middle of the series between the ODIs and T20Is, as a result of which, they had to play in a certain way to make sure they are still in a position to win the series, that is based on the multi-format point system.

Even though the India  series also would follow the same points system, a first outside the Ashes, Knight feels the scenario is unlike that of the Ashes Test in 2019.

"We are going to do as much as we can to win. Sometimes, it's tricky when you play Test cricket so rarely to know exactly what to do in certain situations. We don't play any multi-innings cricket domestically. So, we are finding our feet as we go. We always look to, if we can, and the opportunity is there to go out and win," she said.

ALSO READ: Nervously excited about returning to Test cricket, says Jhulan Goswami

On the selection of Emily Arlott, who has earned her maiden international call-up, the skipper said that she has followed the pacer closely over that past month and was impressed with her performances in the ongoing Rachael Heyhoe Flint Trophy.

"I faced her a few weeks ago at Edgbaston, and she was brilliant. Quick bowlers were tearing in, trying to get me out. Emily really stood out and has done well in the games since. She is obviously a player that has the skills to do well in red-ball cricket," Knight said.

Earlier this week, South East and England allrounder Sophia Dunkley became the first non-white player to be awarded a central contract by the England and Wales Cricket Board. Knight acknowledged the significance of it, adding that the 22-year-old Dunkley 100 per cent deserves the opportunity.

"She has had a rookie contract before, and she has really impressed with how she is going about things in domestic cricket. She has been outstanding and fully deserves the contract. Sophia doesn't see herself a role model, but she massively is. That's really important," said the 30-year-old Knight.



Knight also confirmed that Lauren Winfield-Hill would be opening alongside Tammy Beaumont with wicket-keeper Amy Jones batting in the middle-order while lauding both Jones and Winfield-Hill for their recent batting efforts in the RHF Trophy.

"We want Amy to bat in the middle order as she has done successfully in white-ball cricket. She sees herself now as a middle-order player who can dictate a game and win matches. We have obviously seen her batting at number four for the Central Sparks and doing amazing as well. We are really excited to see what she could do this summer, and Lauren will likely be opening the batting with Tammy," Knight said.

ALSO READ: It's a marathon, not a sprint: Sophia Dunkley not too worried about England selection

"Lauren is a quality player, and she scored a brilliant hundred in the first round of the RHF trophy. She is in good form and in a really good place with her health. She is better than she has ever been, and is a very fit person. (I'm) excited to see how she goes. I'm sure, she will grasp the opportunity."

The last time England won a Test match at home was against Australia in 2005. Since then, they have played seven Test matches in England - lost three and drew four. Knight felt the lack of opportunities to play the longer format and the conditions in the past might have played a role in results not going their way.

"Obviously, we are going into the Test match wanting to win and wanting to perform. I guess, in the previous Test matches, the pitch has been quite important, in terms of what sort of contest or spectacle (it was) and also for the bowlers," she said.

ALSO READ: Confident, focussed and unfazed Indrani Roy, a step closer to her international dream

Knight also added that they would be using the Kookaburra ball in the upcoming fixture as it would help them prepare for the Ashes series in Australia early next year. However, she seemed interested in exploring the idea of using the Dukes ball in Test cricket.

"It is no secret that this Test match is a huge part of our preparation going into the Ashes series away from home. Whether it's worth looking at using Dukes ball in women's Test cricket around the world? I think it is definitely worth looking into. Obviously, we want to use Kookaburra this summer because that is the best preparation we can have leading into the Ashes," Knight added.

On the impact of the RHF Trophy and the domestic professional contracts in grooming players for international cricket, Knight said that this had provided the athletes with an opportunity to train professionally throughout the year, adding, "which I think is the biggest difference. To work on all aspects of their game and be more ready if they get that England call-up. Emily is one of the first to do that. But I think there is many more to come."

"What we really want as a team is to have that competition and the players below really pushing the players who are in the team to go to new heights as individuals and as a team. Hopefully, it is going to be a great thing for England cricket," she concluded.