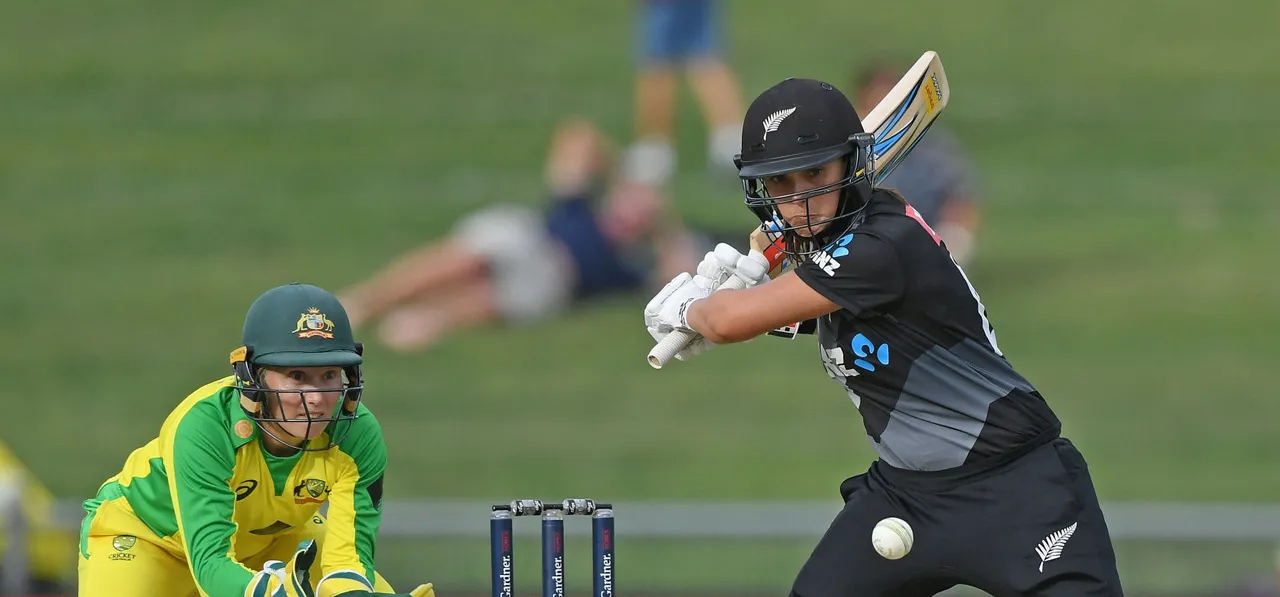 Allrounder Amelia Kerr has opted out of New Zealand's tour of England to look after her mental health. Pacer Claudia Green and wicket-keeper Jessica McFadyen have been called up to the 16-member squad for the first time for the series – comprising of three T20Is and five ODIs – starting on September 2. Veteran Suzie Bates returns to the squad after long injury lay-off and rehabilitation post her shoulder surgery.
"I love representing New Zealand and playing for the White Ferns. However, after plenty of consultation with my support network, putting my mental health and well-being first is my number one priority," Kerr said. "I've not taken this decision lightly - I feel this is best for me at the current time."
Skipper Sophie Devine, who missed part of the home series against Australia earlier this year due to fatigue, and coach Bob Carter supported Kerr and her decision to pull out of the tournament. They said although they are going to miss her as a cricketer, personal well-being as a person is the most important thing.
"We're obviously going to miss Melie in England. As a cricketer she offers plenty in all three aspects of the game and is great fun to have around off the park," Devine said.
"It's important we talk openly about it because it can get tough and we need to ensure our players, teammates and friends are looked after. We're all wrapping around Melie and know she'll make a comeback when she's ready."
"Every individual knows how tough the environment is at the moment with COVID-19; time away from family, living in a bio-bubble or quarantine periods. We're really fortunate we have great support around us from both New Zealand Cricket and the CPA."
ALSO READ: Fit and fine Suzie Bates looking forward to England tour
Carter seconded Devine's words and said player welfare is paramount and it's important that they are allowed to make that decision.
"Player welfare is paramount, particularly in today's environment. It's important to respect the needs of the athletes," Carter said. "Amelia has shown a lot of courage in making this decision and I look forward to her return to the White Ferns when she decides the time is right."
29-year-old McFadyen recently earned a
central contract
with New Zealand Cricket for 2021-22 season. The wicketkeeper-batter from Wellington Blaze was the third leading-run getter in HBJ Shield in 2020-21 season scoring 397 runs at an average of 49.62 from ten matches – most for Blaze in the competition.
Green was part of New Zealand XI that took on England in a warm-up match ahead of the home series and had a five-wicket haul against the visitors. The 23-year-old took nine wickets at an average of 20.11 for Central Districts in HBJ Shield.
"This is a really exciting time for both Jess and Claudia. Both have impressed at domestic cricket and thoroughly deserve their chance at the next level," Carter said.
"Jess has an outstanding work ethic and we want cricketers who are determined and willing to work hard. If she gets her chance over in England, I know she'll be ready."
ALSO READ: Brooke Halliday is a left-hander and has a New Zealand central contract
"Claudia showed what she can do against England last summer for the New Zealand XI against a quality English batting line up. She swings the ball and can cause trouble at the top of an innings. This tour represents a chance to work on her game and experience new conditions, and I know she'll be pushing hard for a spot in the eleven."
New Zealand Squad:
Sophie Devine (c), Amy Satterthwaite, Suzie Bates, Lauren Down, Claudia Green, Maddy Green, Brooke Halliday, Hayley Jensen, Jess Kerr, Katey Martin (wk), Leigh Kasperek, Rosemary Mair, Jessica McFadyen (wk), Thamsyn Newton, Hannah Rowe, Lea Tahuhu