When Chaya Mughal's UAE were about to host Hong Kong for a four-match T20I series at home in April (2022), the tourists were touted to give a tough fight to the hosts. But no one thought that the UAE would go on to vanquish Kary Chan's side 4-0. 

The hosts were ruthless in their approach, and someone who led the surge for them upfront was their opening batter Kavisha Egodage. Egodage amassed 143 runs in the series at a remarkable average of 71.50, including two half-centuries. Her sublime batting display at the top allowed the other batters to breathe easy and eventually helped Mughal's side decimate the visitors.

In a chat with Women's CricZone, Egodage talks about her cricketing journey, her family's contribution, her cricketing role model, and playing alongside several international names at the ongoing Fairbreak Invitational 2022 tournament.

Excerpts:

Q: What are your earliest memories as a cricketer?

Cricket always ran in our family. Being Sri Lankans, we always go out to parks, and we always play around. My earliest memory would be playing cricket in parks. At the age of nine, I started my professional career. But I had just started it as a hobby to keep myself fit and for the love of the sport. It slowly transformed into the professional field. 

When I was just 11, one of my dad's colleagues informed him that there is a women's camp going on at the Sharjah Cricket Stadium. He said, 'So why don't you take her to the trials?' I was fortunate enough as I got selected in the trials and got the opportunity to represent UAE on their tour to Oman in 2014 and have been representing UAE since then.

Q: Tell us something about your upbringing?

I am the only child. I was born and brought up in Dubai. Both my parents are from Sri Lanka, and they moved to UAE 30 years ago. I am of Sri Lankan origin.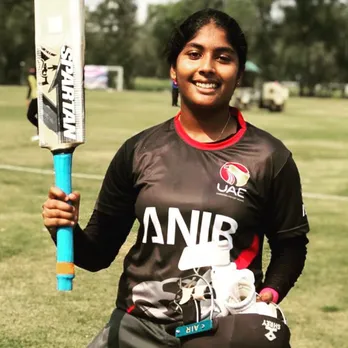 Kavisha Egodage © Kavisha Egodage/Instagram
Q: How was the feeling like when you made your debut for UAE?
I was just a kid back then, so I didn't have much knowledge about the sport, but I was super excited. Getting the opportunity to tour alone made me really happy. I just played one game on my debut tour, and that was the finals. I still remember to this day that only one ball came to me while I was fielding at third man.
I just picked the ball and threw it to the wicket-keeper, and my job was done. So that's the only memory I have from my debut. It was a mind-blowing experience. There was a case where my visa got rejected. I had a baby picture in my passport because in Sri Lanka, every ten years, you get the passport renewed, so I had a toothless picture (giggles). 
The people at the immigration told me that we can't allow you to go alone without a parent or a guardian. So my parents drove me from UAE to Oman, and that's like a memory for me. While coming back, they allowed me to hop on to the plane. So it's always like you need to have a cool debut tour story. Hence I always tell people that my visa had got rejected, and I went on a road trip.
Q: Talk us through some of the standout performances that helped you represent UAE?
Back then, I was just 11. So I was quite a good fielder, you know. The selectors saw my talent, and I was quite a good technical player for my age. I was tiny and didn't have the strength to clear the boundary ropes. I am sure the selectors thought of me as a player for the future.
In the middle of my career, I scored a fair amount of runs in the domestic circuit, scoring half-centuries and being the top run-getter in some of the competitions, and that's where my batting actually picked up. Before that, I was a good off-spinner.
Q: How has your family contributed to your cricketing journey thus far?
They have been amazing. My parents have been my sole supporters, especially my dad. When it was about my practice, he was always there. Two hours, three hours in the heat, he would always be there, letting me know the mistakes I was making.
Then after the training sessions, there would be nets freed up in the academy. He would then get a bucket of balls, give me throwdowns for certain shots, help me with fielding drills, or just do spot bowling. He never missed a game of mine. He has always supported me. My mom took care of my food and nutrition, and my dad took care of my practice.
Q: What motivated you to take up cricket as a professional career?
It happened all of a sudden. I went for the trials. I got selected, and then I took it like a mini job from there onwards. I was just a kid; I was like, this is my part-time job or a mini-job. So I kept working hard and tried to improve my skills wherever I lacked. 
I just wanted to be the better version of myself. Every season, every month, I just kept on working hard, improving my technique, fitness, and everything.
Q: Since you started playing at a relatively young age, how did you manage to balance your academics and cricketing career?
I had very good academic scholars from the beginning. And also, I have always been good at time management. After getting done with school, I would reach home by 3 PM, and then 3 to 6 or 6:30 PM would be my study hours. I would finish all of my homework within that period. And then after 6:30, I would go for practice for like two hours, come back, and if I had any leftovers like homework or anything, I would complete it at night. I dedicated my weekends solely to cricket. 
Q: Who is your cricketing role model?
There was hardly any women's cricket on TV when I was young. I started following TM Dilshan. He was my favourite cricketer growing up, like the go-to batter and all, and his role in the team was similar to mine, an opening batter and bowling off-spin.
So he pretty much set the tone for me, and his agility on the field was just fantastic.
ALSO READ: Hurley Gala: Teen fast bowling prodigy from Mumbai

Q: You use a lot of motivational quotes as captions for the pictures you post on Instagram, and it seems you enjoy photography a lot. Can you talk us through both of those things?
I'm more of a positive and a jovial person. I like to spread motivation around. So when people are down, I would go up to them and crack a few jokes to lift their spirits.
I got into photography because of one of our coaches during the 2017 Asia Qualifiers for the World T20 in Thailand. He would always carry a DSLR camera. So whenever I would be having an off time or bad time, I would just take his camera and click pictures. And that's how I fell in love with photography.
After that, I bought my own camera and started exploring around. Once you have that picture, there's a lot you can see through and remember just with the capture of that moment. 
Kavisha Egodage © Kavisha Egodage/Instagram
Q: You were the highest run-getter in the recently culminated four-match T20I series against Hong Kong at home. What do you think worked for you as a batter?
I mean, nothing much, just keeping it simple. It works for me as long as I break down what I want and keep it super simple.
So I like to play to the merit of the ball, and whatever loose balls are given, just try and score on that. I respect the ones needed to be respected, and others I just convert to singles and doubles, and it falls into place for me.
Q: Do you think the fact that the UAE does not get to play against some of the more prominent oppositions quite often acts as a roadblock in the growth of the players and affects their game?
Yes, it can be a roadblock for players because we can't get to showcase our talent. UAE has a great bunch of talent, and we would love to have more series like the one we recently had against Hong Kong. The Hong Kong series was very good for us because we got to show the world who we are, and it was broadcasted live.
Once we have more matches or series, it will help us showcase who we are, and the world will get to know that UAE is a very good team as well.
ALSO READ: Alyssa Healy, pacesetter on and off the field

Q: Tell us about the experience you have gained while playing in the Fairbreak Invitational 2022?
It's been very exciting. I never thought I would be in this position when I was a kid — getting the opportunity to open with D (Deandra Dottin) and, you know, getting to share the dressing room with Heather Knight and Laura (Wolvaardt). 
So it's always a dream come true for any cricketer you ask because we see these people on TV and are always in awe of them. I watched the India vs South Africa series in 2021 and never thought that I would be sharing a dressing room with Laura Wolvaardt. So it's like a big dream come true for me. I am taking all the experience I can gather from them and having a wonderful time.
Q: Do you have a specific message for the young girls out there who aspire to take up cricket as a professional career?
Regardless of whatever happens in life, it's always part of the procedure of making you a stronger player.
So just because one stone is thrown at you doesn't mean you have to stop playing. Make sure you work hard and get back stronger. The harder you work, the stronger you become, and you get more results.
The main thing is to enjoy. It doesn't matter how much of a bad time you're having. Try to find a tiny spark in those bad times. That's what's going to help you get through it. Follow your passion. If you're passionate, you have a future ahead.