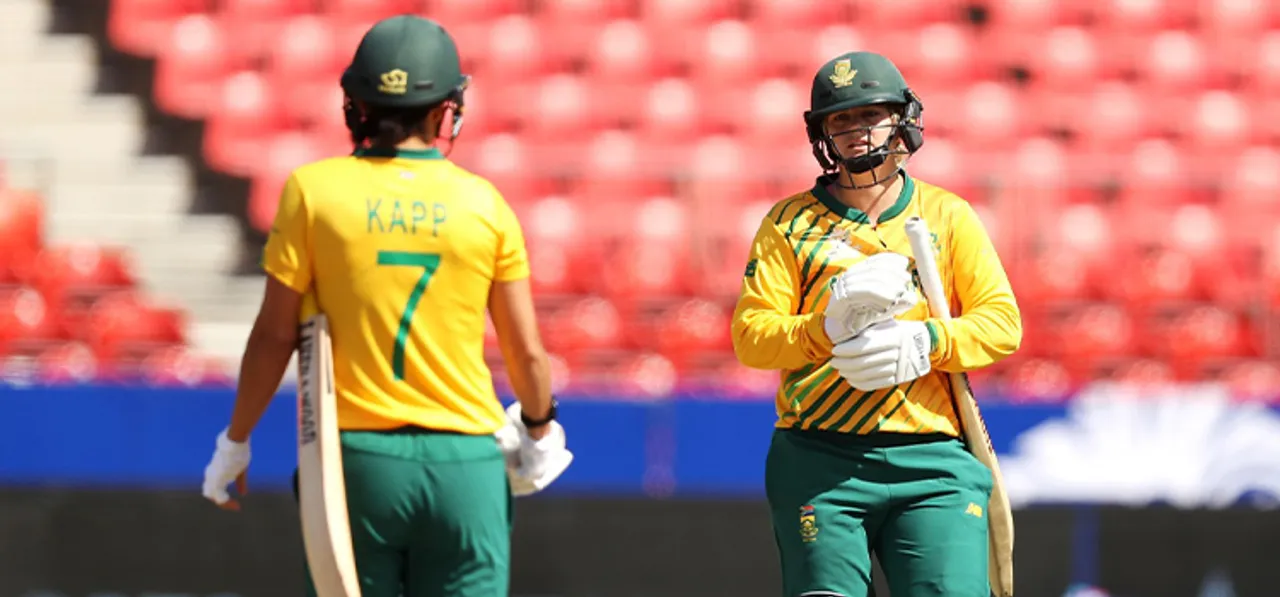 With over two thousand ODI runs and 134 wickets,
Marizanne Kapp
is arguably the best allrounder that has played for South Africa and one of the best the game has seen in recent times. She will be one of the key members for the Rainbow Nation in the
World Cup
.
Born in the Eastern Cape in Port Elizabeth, Kapp was a part of the Under-13 boys team growing up and never shied away from any challenge that was tossed her way. Having played in the days when they were only paid per tour. Like all her South African teammates, she now has a provincial contract and is a familiar figure in all the franchise leagues around the world.
Her stature as an allrounder has risen to unprecedented heights, and that is the reason why she is one of the most sought after players in the leagues all across the world and has become a household name. She has earned plenty of acclaim and accolades as a player by the sheer weight of her performances, but an ICC silverware is still something that eludes the Protea.
In an engaging chat with Women's CricZone, she talks about South Africa's preparations leading into the World Cup,
Dane Van Niekerk's absence
from the World Cup, Suné Luus' leadership, life inside a COVID-19 bubble and plenty more.
Excerpts:Q: What and how are your World Cup preparations going on?
Honestly, it's a bit up and down with the news that Dané (Dané Van Niekerk) won't be there. Obviously, missing out on her skill is massive. But her captaincy for me is personally the thing I am gonna miss the most because she is such a good leader. This specific
World Cup
is something we have been working towards for the past four to five years. A lot of our senior players are at the peak of their game now. It is something we have been working very hard towards. It will be difficult, as is any World Cup, but I definitely think we have the players to get the job done.
Q: How do you reflect on the year 2021 from South Africa's perspective?
Look, we would have liked to play England and Australia as well (apart from India and the West Indies) because I think that's how ultimately you measure your team. But look, we have been playing some good cricket. Our big names are still performing but a lot of the younger players are putting their hands up and I think ultimately that's what you need to win a World Cup. It can't just be the brilliance of one or two players; there has to be a complete team effort.
Q: Is this the most dominant side that South Africa is going to field in a World Cup till now?
It's hard to say (chuckles). Like I mentioned, Dané is a massive loss for us, but the rest of us (senior players) are at the peak of our careers, I believe. So yes, it is probably the best group of players we are taking over (to New Zealand) in the sense that now all of us have grown a lot more since we played the last ODI World Cup in England (2017). I think the plan and the thinking will be so much better.
Q: South Africa have a potent pace bowling attack. Do you think the conditions in New Zealand are more suited to you?
We have been playing and bowling together for many years, especially Aya (Ayabonga Khaka), Shubby (Shabnim Ismail) and I. But ultimately, it's performances that have to speak.
Hopefully, we hit our straps when we get over to New Zealand. We enjoyed bowling there the last time we toured there. We really enjoyed the conditions. But yeah, look, you can have the best attack on paper, but at the end of the day, it's what you do on the day, especially at World Cups.
ALSO READ: Marizanne Kapp and othersQ: Your batting has improved drastically in the last few years, and you have done really well at whatever position you have been asked to bat for the Proteas. Talk us through that.
Look, I've always enjoyed my batting, to be honest. I started off as a bit of a batting allrounder for South Africa but then obviously, with workloads and stuff, it got a bit tough to bat at three and open the bowling as well. I really enjoy number five and six in the batting line-up. I feel like I have a lot to offer.
But I think the main thing is that I have been so much more confident in my abilities, and I am starting to back myself a bit more. Also, I have worked on a few other shots to not be just one-dimensional because in the women's game, you have to just keep on going because the players are just getting better and better. I have a lot of confidence in my batting at the moment.
Q: Do you consider yourself a batting allrounder or a bowling allrounder?
I probably will still say a bowling allrounder, but I feel like I have a lot more to offer with the bat. Especially in ODI cricket because it suits my style of batting a lot more, and yeah, if I get the opportunity, hopefully, I'll use it.
Q: A lot has changed from the loss against England in the semi-finals of the 2017 World Cup to 2022. Talk us through the development of South African cricket during the last five years.
Look, you have to mention something like 'resources'. I think England and Australia have always been ahead of all the other playing countries because of the resources, facilities, coaching that they receive. And I think the provincial contracts we have received now, had these been given to us 15 years ago, who knows where we would have been now. So I am really proud of the girls in our team in terms of what we have achieved with what we have gotten, but luckily now I think our performances speak for ourselves.
With the backing of the sponsors and CSA (Cricket South Africa) now the girls can finally just focus on cricket. And in saying that, I think that the 2017 World Cup and the leagues thereafter that followed for some of our players just gave them the confidence to back themselves a bit more. When I grew up, you kind of idolised the Australians and the English. But now, as you get the same resources, you see we are just as good as them. In fact, some of our players are even better. So yeah really excited for this World Cup. Like I said, we have grown a lot individually and as a team, and hopefully, our performance will speak for itself.
Q: How big a loss is Dané Van Niekerk, both as a leader and as a player?
I am not gonna lie. Personally, it's a massive loss, like I told you. You don't only think of her skill (as a player); you also think of her captaincy. We saw in the Hundred, and I believe we won it just because of her captaincy and her performances. She always leads from the front.
I have always said that when Dané pulls on the South African jersey, she is just a different player. She will really be missed. But I feel like there's enough of us seniors left. In tournaments like these, you need your seniors to perform, and hopefully, we can put up our hands and perform and make Dané and our country proud.
Q: Now that Dané has been ruled out of the World Cup due to her injury, your responsibilities as an on-field leader and player have increased.
Yes, definitely. I am not gonna lie. It definitely puts a bit more pressure on you. Like I already feel the pressure even though I am not at the World Cup as yet. But I think I have been playing for the last 12 to 13 years, and over the years, you learn to deal with different situations, and this is just one of them. Yes, it's gonna be hard but I think if we are mentally strong enough and everyone just backs themselves and play to 80 per cent of their ability, then we'll have a very good World Cup.
Q: How do you see the impact of the bubble life on the players?
It's very difficult. Last year we were in the bubble for six months straight and did about sixty days of hard quarantine in hotels. So definitely it's mentally tough. I am not someone that does well with the bubbles or the bubble life. It makes you think of retirement. I am not gonna lie because it is something that can't be sustained. I think it's time we figure something else out because this can't go for much longer. Mentally it's taking a toll on me.
Q: What do you make of Suné Luus, the leader?
I think she has done well. We have a lot of seniors, and that's the key to her doing so well. Players have been giving their inputs constantly, and we are a side that's settled. We have been playing together for quite a few years. Yes, we have made changes in between, but the core group has been the same and luckily, that has helped us in the absence of Dané. And we can do the same thing in this World Cup as well.
Q: How does the idea of your first World Cup win fascinate you?
Well, ultimately, it's any cricketer's dream to win a World Cup. I was so disappointed when I couldn't play in that semi-final (ICC World T20 2020) in Australia. I remember telling my coach just get me to that World Cup semi-final and Final because it is especially two grounds (Sydney and Melbourne) were I usually bowl well at. So I think the key for us is to perform really well throughout the group stages because I know that if we get to the semi-finals and final, we'll put up a good fight. We've been playing together for a few years, and I think now is definitely our time, but in saying that it is a world event, it will be tough, and we have to perform.