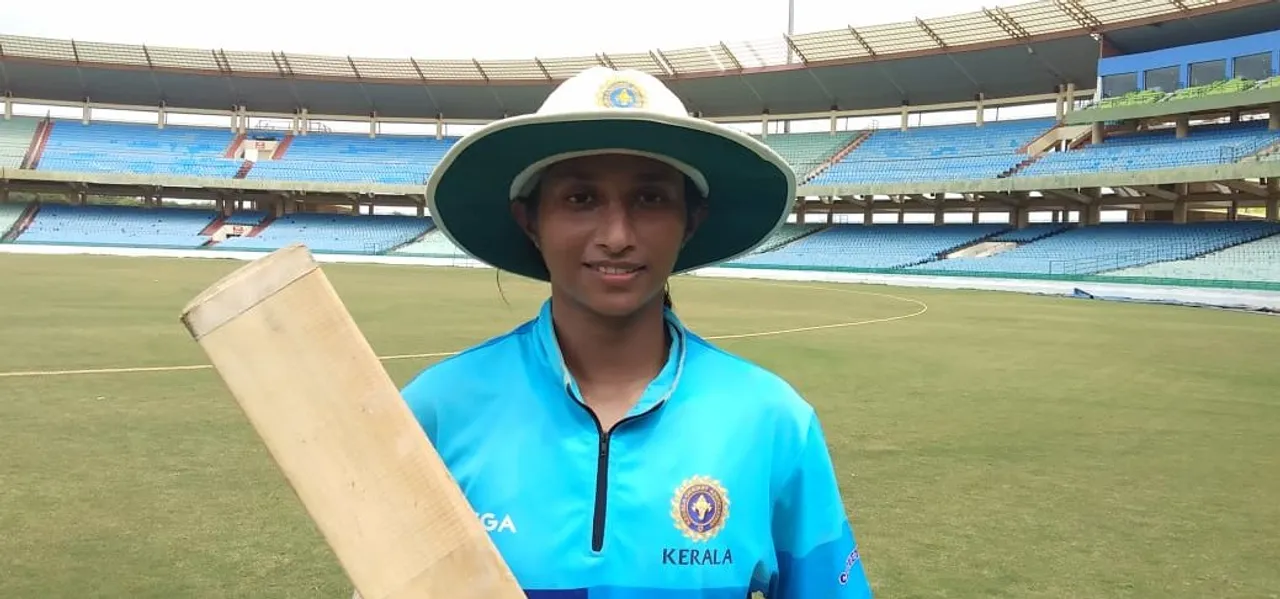 Kerala's opener Jincy George became the latest centurion in this year's Women's Senior T20 Trophy, after Niranjana Nagarajan and Shivali Shinde. Courtesy that, Jincy moved to third in the list of top run-scorers in the tournament – which is continued to be led by Nagarajan – with 185 runs.
Jincy's 108 runs came in 67 balls and enabled Kerala to post 199 for the loss of three wickets in Cuttack. That proved more than just enough for Manipur, who could muster up just 59 for the loss of five wickets to lose the match by a huge 140 runs.
Meanwhile, Tamil Nadu's Keerthana Balakrishnan continued her good form with the ball, picking up yet another three-fer to follow one in her last outing. Her three wickets came at the expense of just seven runs, pushing her to be the joint-leading wicket-taker in the competition.
However, her spell wasn't good enough to ensure a win for her team, which was dismissed for a mere 72. Bengal overhauled the total with five wickets left as Rumeli Dhar finished unbeaten on 31. That win meant Bengal topped Group E.
Maharashtra, also placed in Group E, also continued their winning run in the competition, beating Saurashtra by four wickets. Mizoram had posted 102 for six in their 20 overs. In what turned out to be a last-ball finish, Maharashtra got home, despite Reena Mota picking three wickets for just 20 runs.
In Raipur, Priyanka Malik's 38-ball 48 helped Punjab post 126 runs on the board in a game reduced to 17 overs-a-side. In reply, Uttarakhand could just reach 73 for four in their quota of overs. With a game to go, Punjab were placed third in Group D at the end of the clash.
Brief Scores:
Group A (Guntur)
Andhra Pradesh 119/5 in 20 overs (Anusha Neeruggatti 46; Vandana Mahajan 2-22, Pinky Chanda 2-25) beat Meghalaya 27 in 18.1 overs (Padmaja Ellutia 3-2) by 92 runs.
Gujarat 81/5 in 12 overs (Bhavana Goplani 22) lost to Madhya Pradesh 82/3 in 11.1 overs (Deeksha Singh 48) by seven wickets.
Assam versus Bihar – No result.
Group C (Mumbai)
Pondicherry 43/5 in 12 overs (Karuna Jain 24*; Sravanthi Naidu 2-3, Chitra Maheshwari 2-11) lost to Hyderabad 44/0 in 3.2 overs (S Naidu 27*) by ten wickets.
Baroda versus Tripura – No result.
Nagaland 31/2 in 8 overs (Rupsena Khatun 14*; Pratyusha Challaru 1-1) lost to Karnataka 34/0 in 3.2 overs (Vanitha Vellaswamy 26*) by ten wickets.
Group D (Cuttack)
Chhattisgarh 56/7 in 15 overs (Yashi Pandey 20; Nikita Chauhan 2-14) lost to Himachal Pradesh 59/4 in 11.1 overs (Urmila Harina 3-12) by six wickets via VJD Method.
Kerala 199/3 in 20 overs (Jincy George 108, Shani T 43) beat Manipur 59/5 in 20 overs (Ganga Devi Waikhom 24*) by 140 runs.
Group D (Raipur)
Punjab 126/4 in 17 overs (Priyanka Malik 48) beat Uttarakhand 73/4 in 17 overs (Mehak Kesar 2-16) by 53 runs.
Chandigarh versus Uttar Pradesh – No result.
Group E (Rajkot)
Arunachal Pradesh 102/6 in 20 overs (Jyoti Yadav 26; Apurwa Bhardwaj 2-17) lost to Mizoram 103/3 in 14.4 overs (Prajakta Shirwadkar 37*) by seven wickets.
Delhi 126/5 in 20 overs (Umesh Yadav 61) beat Goa (Shreya Parab 58; Lalita Sharma 4-11) by 31 runs.
Group E (Secunderabad)
Saurashtra 102/6 in 20 overs (Riddhi Ruparel 23; Anuja Patil 3-22) lost to Maharashtra 103/6 in 20 overs (Mukta Magre 31; Reena Mota 3-20) by four wickets.
Tamil Nadu 72/10 in 18 overs (Shrayosi Aich 2-11, Rumeli Dhar 2-15) lost to Bengal 73/5 in 16.4 overs (R Dhar 31*; Keerthana Balakrishnan 3-7) by five wickets.