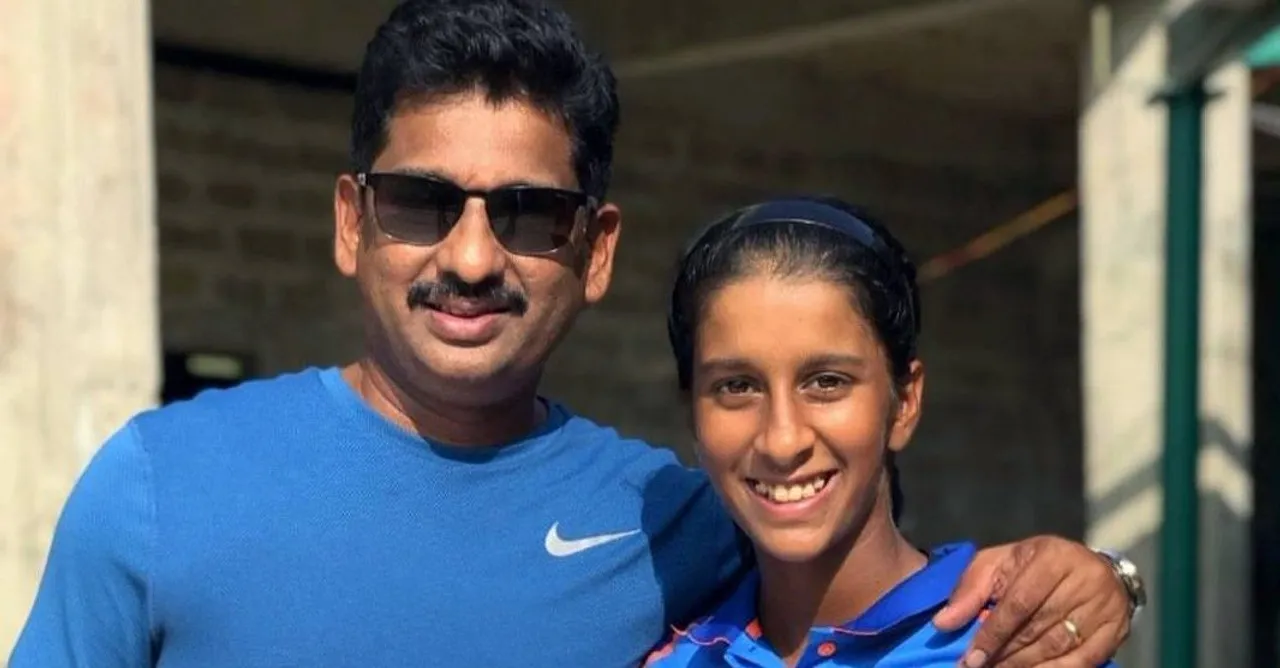 Ivan Rodrigues's dream of seeing his daughter becoming "the most attacking batter or the fastest bowler in the world that has ever produced" is finally coming true.  Not even a year into international cricket, Jemimah Rodrigues has established that she has the ability to be the "most attacking and reliable batter" in the world.
Ivan Rodrigues, also Jemimah's personal coach, meanwhile has expanded his horizon. He is set to launch a cricket academy for girls and boys in Mumbai soon.
"It is mainly for the girls but if boys are there, I don't mind coaching them. My main focus is girls because girls mostly don't get the facility, boys do. I had faced this problem when Jemimah was small," Ivan tells Women's CricZone. "The main thing in cricket is the technicality, guidance and support and I have faced all these with Jemimah, to make her play with the boys to get that ambience was very difficult."
The idea germinated while Ivan had gone to a cricket store to buy a bat for Jemimah. At the same time, Vishal Karya was also visiting the store to buy the same bat. The two did not have a conversation, but when Ivan returned to the store as he had forgotten something the shopkeeper introduced the two of them. Karya requested Ivan to teach cricket to her niece, and after a few days invited him to see a cricket ground, which belonged to him. Karya also offered the ground for Jemimah's practice, and it proved to be a blessing for Ivan, who was on the lookout for a facility to train her daughter in the rainy season. He could not use the school ground too because it had a concrete pitch.
As Karya's ground was big and had a centre pitch that Jemimah could use, it suited Ivan's requirement. "Since it's a private ground, we can use it during the rainy season," Ivan, who is currently the cricket coach at Jemimah's school, says. "Marriages and other functions take place there often and there are a few facilities; like there is a shed where even in rains the practice can take place at the ground. Also, it has a place where one can practice individually."
Rain was not the only challenge that Jemimah faced. There were many other hindrances that Ivan does not want other girls to face. "Challenges, there are a lot. I have taught Jemimah under street lights, in my home in an area which is just maybe 120-140 sq. ft. Then ultimately I got a school where she practised for the last six years, on the concrete grounds.
One day when Nasser Hussain, the former England captain, came to Jemimah's school to interview both her and Ivan for a feature for SKY TV, he was shocked to see that a promising youngster did not have a basic turf pitch to practice on. "He reached school early and the moment he saw me, his first question was: 'How can this girl playing on a concrete pitch go on to play for India? I expected her school to have four-five grass pitches, but I am surprised to see Jemimah playing on a concrete pitch and play for India.' So you can imagine taking my child and playing on a concrete pitch or a footpath or a street light means I can go to any extent."
Apart from school, Jemimah also practices at the MIG Club in Bandra, but those facilities became accessible only after she started making waves. "When she was small, no one used to help. People's approach was not right at that time. They used to think she is a girl and can't do much," adds Ivan, who is confident that her daughter is now "an inspiration to other girls."
With the academy set to attract good mileage, Ivan is confident that it won't divide the attention he pays to Jemimah's game.
"I don't think it should clash with my timing. Because I am always free in the evening. Mostly it will be having at 4:30 pm to 6:30-7pm under floodlights. Still, if I have a problem with timing, I  can go a little later also," he adds. "Friday, Saturday and Sunday in the evening we are planning to take. Another facility is floodlight so it wouldn't hamper the continuation of the practice.
"Right now, I am not planning to give it to any outside coach, I want to personally train. This is my academy and I will look after it. I will be present there unless or until I go out with Jemimah for matches," he continues. "My sons are equally talented and they will be playing a part. I will involve my family there to help me out if required."
Ivan's eye for talent is well known in the local circuit, and he wants to give it a definite shape.
"Children often come to see Jemimah when she practices but two-three girls always come there on a regular basis and I have seen them progressing much more than the other girls," he says.  "I don't call everybody but I ask them to come. Not to practice with her because for Jemimah, in school, everything is done by the bowling machine, but to see her batting or bowling. They have some special talent and they can reach Mumbai or reach India.
"I want the children to represent Mumbai and India. This is my main goal. Even I have told my school children too that if you want to do time pass then please don't come. I am not interested in coaching you," he shares his vision. "If you are anyway interested in playing for Mumbai or your country, then only come. I have taken it for passion, not for the time pass."
The initial response has been good, and Ivan hopes the academy will take flight fast and help him achieve his bigger aspirations.
For enquiries, please contact: +91 9769630222.