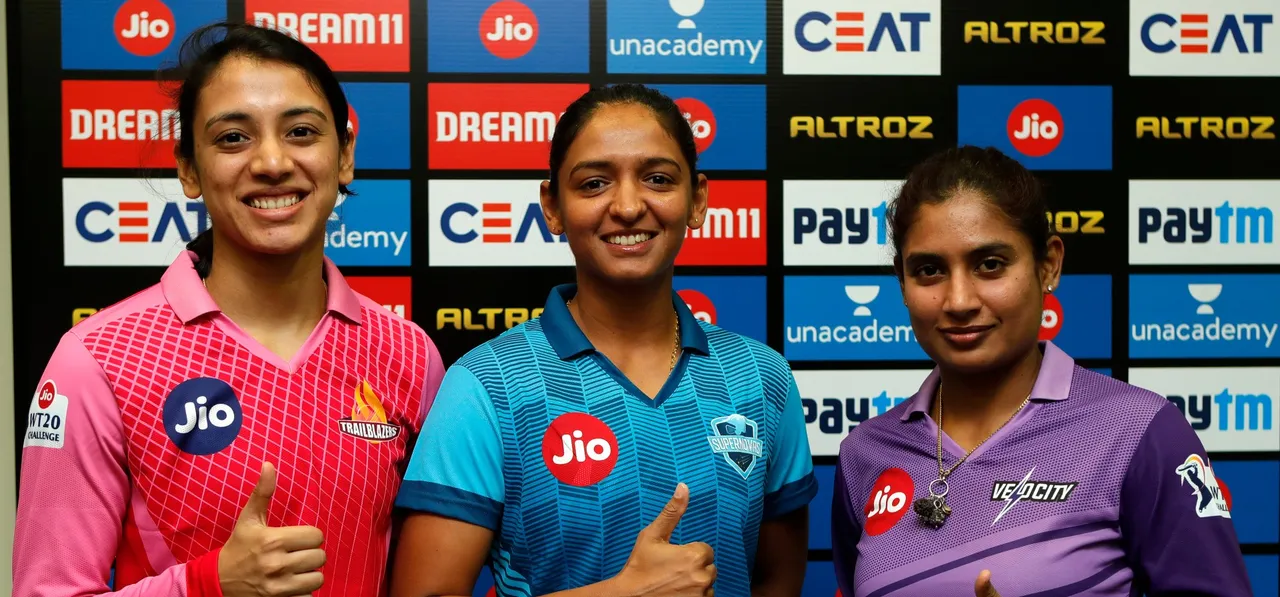 It's been close to eight months since the world has seen Smriti Mandhana glide the ball elegantly past point, or caress it through or over cover. When the left-hander finally takes the field in Trailblazer's opening game of the Women's T20 Challenge against Velocity at the Sharjah Cricket Stadium on Thursday (November 5), the high of the World Cup will probably feel like a lifetime ago. But despite the long layoff, Mandhana said she is not nervous about her impending return.
"Not yet. I don't think much," Mandhana said, when about about the nerves of returning after a lengthy break. "Whenever I will step out to bat, that time I might feel something, but this is too soon for me to think about it."
"I think everyone is more excited than being nervous because we are going to go out there after seven months. I think it's a time for us to celebrate that we are going to start playing some important matches again."
ALSO READ: Plan was to take the match till the end, says Ekta Bisht
Given the format of the tournament, with teams playing only two league games before the top two make the final, Mandhana admitted that it would be a challenge for the teams to hit the ground running.
"Given the conditions we are in - we haven't played a match for seven months, and we are just going to get two league matches, it's going to be tough. You have to fire from the first match because you don't have a lot of matches to come back or something of that sort. So it's going to be important to start firing from the first match and mostly all the top-order batters and bowlers need to fire because we just have two matches to get to the finals," the Trailblazers skipper said.
With as many as four opening options in their line-up - Mandhana, Harleen Deol, Deandra Dottin and Nattakan Chantham - Trailblazers have plenty of thinking to do as far as their batting order is concerned. However, Mandhana insisted that the week of practice ahead of the tournament, has given them an idea of who is going to bat where.
"I think we had a 7-8 practice sessions before going into tomorrow's match which
we are quite settled now. We have a settled batting order in our head, so we know what our opening combination and our middle order is going to look like."

The 24-year-old heaped praise on left-arm spinner Sophie Ecclestone, saying she was thrilled to be re-united with her in this year's T20 Challenge.

"Sophie was amazing for us in last year's edition. She bowled a really crucial 19th over in the first match (against Supernovas) which won us the game. I am happy to have her on my side and I don't have to face her because she's one of the best bowlers going around."

ALSO READ: Sushma Verma, Sune Luus combine to take Velocity home in a thriller

On first-timer Chantham, Mandhana said she is excited to be able to play alongside the Thailand batter, and is looking forward to exchanging ideas with her.

"Having Nattakan it's quite exciting because I think in the World Cup I had seen a lot of footage of the Thailand team - how they went about their cricket and how they enjoyed themselves in the whole tournament," she said. "It was good to just share the experience, just talk about cricket a bit - how they go about it and how we go about it."

"I think tournaments like this are going to help women's cricket immensely going forward because we will get to share the dressing room and share experiences from both ends. We might be able to contribute a bit and we will be able to get a lot out of them as well," she concluded.