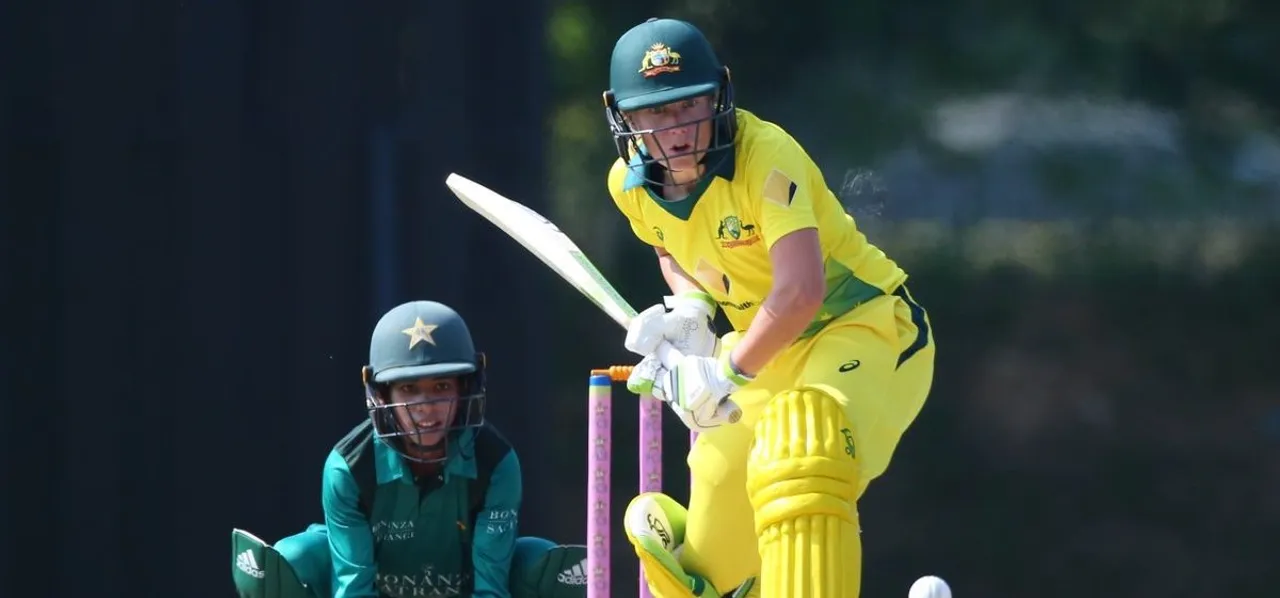 Australian opener Alyssa Healy has been in ominous form in the Twenty-20 format. Her half-century in today's match against Pakistan has taken her to three consecutive fifties in the shortest format. This is a positive sign for Australia, especially with the World Twenty-20 looming. There is no doubt about the fact that Healy's contribution will be vital to her team's success.
Speaking to cricket.com.au, Healy commented on how her team is shaping up for the Twenty-20 series against Pakistan first, then the World Twenty-20. She said, "I think the team's looking pretty good. We've got the same squad for the Twenty-20's that we've had for the one-dayers. The team will take confidence out of a pretty dominant one-day performance. To clean sweep, the series is pretty hard to do in the international game at the moment. So, for us to be able to do that (is good). We've got some batters in form and some bowlers performing really well. I think the team's in really good shape."
The series with Pakistan serves as an opportunity for Australia to fine-tune their strategies and work out what works best for them. This is the last international exposure they get before flying straight to the Caribbean for the marquee tournament. "Momentum is crucial in Twenty-20 cricket," said Healy. "Once you get on a roll and things are going well, it seems to carry on to the next game. For us, playing New Zealand and having a good series against them and hopefully, a really good series against Pakistan, leading into the World Cup is really important. We play Pakistan first up in the Twenty-20 World Cup as well, so to have games against them in the Twenty-20 format will be a good test for us. I think the squad's in a really good place and enjoying the way we play our cricket. Hopefully, that will carry on through."
"I've been happy with my batting so far" said Healy about her personal form, ahead of the Twenty-20's. "I think I've been hitting the ball really well and taking the right risk when need be. That's sort of paying off. I was able to put that together in that last game (ODI- where Healy scored a 97). Hopefully, I can carry that through the Twenty-20's. It's all about risk and reward in Twenty-20 cricket and taking the right risk when need be. Hopefully, I can do that and get the team off to a good start and hopefully, we can build some big totals."
The ODI series between Pakistan and Australia saw three rising Australian talents debut. Seamer
Tayla Vlaeminck
, leg-spinner Georgia Wareham and all-rounder Sophie Molineux all earned their maiden ODI caps during the series. About the performance of Molineux, who had a particularly good series, taking six wickets across three matches, Healy said, "Soph's been amazing. To see the level of maturity in a young player, coming straight into the squad and doing it like she has... it's unbelievable for a young player first coming into the squad and doing that role for us that JJ (Jess Jonassen) has been doing for a long time. Very impressive and no doubt, Soph will have a very long career in the green-and-gold. She's exciting."
Speaking of debutants, on Vlaeminck, Healy commented, "It was great to see Tayla get an opportunity." Vlaeminck has been brought into the side for the genuine pace that she brings. And
Alyssa Healy
knows just how fast she bowls, with Vlaeminck being guilty of breaking Healy's favourite bat during net practice, due to her pace. "She's been on the sidelines for the last two series and chomping at the bit to get out there. We sort of unleashed her in the last game with the new ball. She shaped it nicely and bowled with good pace. She games back in the middle overs and bowled with some aggression and some short stuff. That was really exciting and something we know that she can do. I know she was very keen to get out there and it was great to see her get her first wicket. Hopefully, many more to come."
The Australian team has great batting depth.
Ellyse Perry
, the top-ranked ODI batter, comes in at number seven for Australia in Twenty-20's. After her, comes Molineux, who opens the batting for her state Victoria. This shows the amount of depth Australia possess. On it, Healy said, "It's a really exciting squad that we've got. It's a squad we can use in any format of the game."
"Everyone's performing and playing their role with the bat and with the ball, which is really exciting. Someone like Junior (Elyse Villani), who seems to have dominated Pakistan over the last few years, to not get a run in the one-dayers shows the strength of our batting line-up.
Sana Mir
said it herself at the dinner that, Junior enjoys the Pakistani attack and hopefully, we can see her unleash in the Twenty-20's. I think our batting line-up is just so strong at the moment and whoever is sitting on the sidelines should be a bit disappointed to miss out. But, in saying that, it's great to see the depth we've got in our squad. I've got no doubts that throughout the World Cup and the Twenty-20 series, we'll be calling on all 15 here."