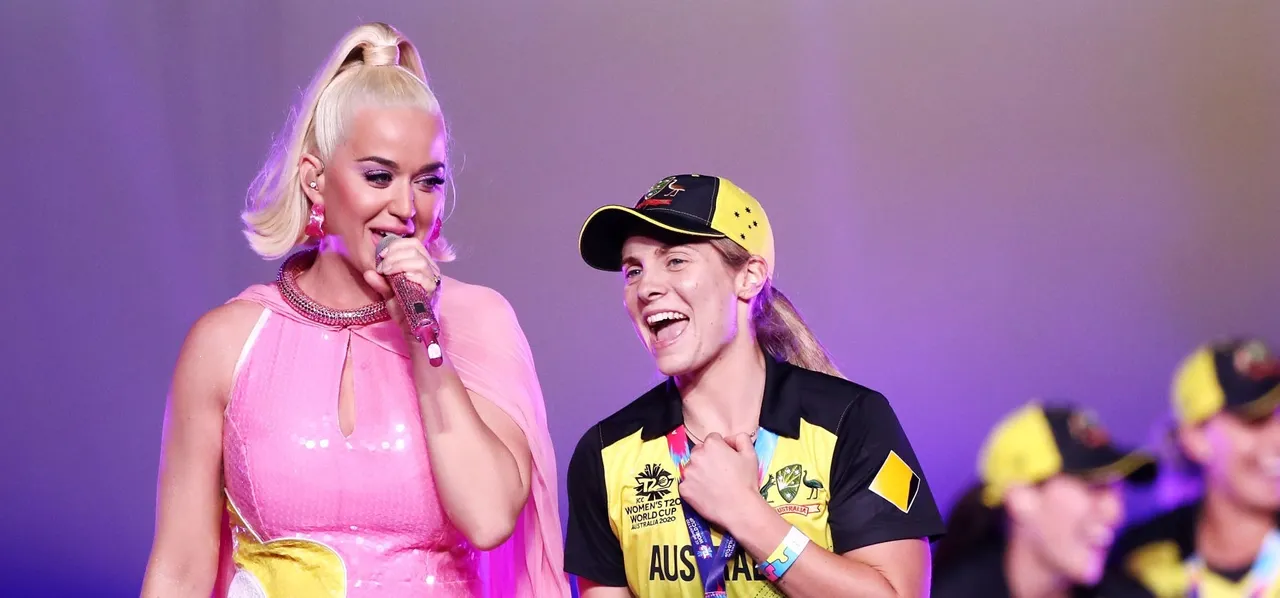 One of the images of the ICC Women's T20 World Cup 2020 is a jubilant Sophie Molienux "shuffling" down the stage while Katy Perry belts out her hit song 'Firework'. Only hours before, the 21-year-old had played an important role in helping Australia clinch their
fifth T20 World Cup title
in front of a crowd of 86,174 people. With her first ball of the night, the left-arm spinner dismissed her nemesis, Smriti Mandhana, caught at mid-off, to all but seal India's fate in a massive chase.
After Australia got their hands on the title, the celebrations were "epic". Cue the viral videos of Molineux, Molly Strano and Erin Burns geeing up an already excited crowd with some exquisite dance moves.
"It's funny, I sort of still have no idea what happened," Molineux said of the night. "I don't mind the odd dance, but probably not in front of 45,000 people with Katy Perry alongside. I couldn't have imagined that, but I was very lucky (that) I had two great dancers up there with me in Erin Burns and Molly Strano. That definitely helped me with a bit of confidence."
ALSO READ: As long as we are not taking too big a hit, I'm okay with it: Megan Schutt
"Molly and I have definitely had our fair share of routines on a dance floor at different times over the last few years, so that sort of shook the nerves a little bit. It's amazing when you just get out there, and to be honest my body just took over, and I suppose the rest is history. It was very special!"
https://twitter.com/cricketcomau/status/1236879736233549824?s=20
For Molineux it was almost the perfect way to top off what had been a difficult 12 months.
Having established herself as Australia's premier spinner in T20Is by the end of the 2018 T20 World Cup, Molineux was living the dream. However, when 2019 rolled in, the left-arm spinner suffered a
shoulder dislocation
, underwent surgery and after a
short stint back
playing cricket, chose to take an
indefinite break
from the game.
While she admits its been a tough road for her, she said she wouldn't change a thing.
"I suppose it wasn't the 12 months that I thought would play out, but everyone goes through their injuries," Molineux said during a video conference on Tuesday (May 19). "I suppose (with) that shoulder reconstruction, it was a few months sort of racing against the clock to get right for the Ashes."
ALSO READ: Alyssa Healy urges CA to maintain investment in women's cricket
"I've got some amazing memories of going over there (to England) and playing in that Test match at Taunton. Winning the Ashes - that was really special."
"And then spending another couple of months, doing a bit of rehab and missing out a few tours like that. But to finish off the season in front of 86,000 people at the MCG - it's definitely something that 12 months ago I probably had never dreamt of or thought would happen. So, it's been a very difficult few months, but I wouldn't change any of it."
Having had time to reflect on the team's achievements and how far the women's game has come over the past few years, Molineux said there's no telling what's next for the global game.
"The sky's the limit! Coming off that World Cup final and sort of walking away and having a bit of time to reflect on that, I never thought I'd play in front of nearly 90,000 people at the MCG."
https://open.spotify.com/episode/1F2gXFppJQGyM0JCxJGJQe
"That was off the back of not just the last 12 months or not just the last two-three years of building up to that moment, it was the result of years and years of teams of past cricketers and women that have sort of paved the way for a moment like that to happen. It's amazing to think that a day like that could potentially kick things on even more."
In stark contrast to the scenes two months ago, recent
discussions regarding women's cricket
have been about the potential
cuts in tournaments
and matches that could happen at both domestic and international level. Alyssa Healy, Australia wicket-keeper and member of the Australian Cricketers' Association,
spoke passionately
about the need to continue to invest in the women's game. Healy suggested domestic cricket needed to be closely monitored and the players taken care of to make sure the gulf between domestic and international level does not increase.
ALSO READ: Ruthless & competitive: Meg Lanning's Australia
"The domestic setup right now compared to the Aussie girls... The domestic girls are still part-time and don't have the access to training and the hours that the Australian contracted girls do," Molineux said on the topic. "Naturally there's going to be a gap there. And I suppose that's what that gap is in any sport - domestic v international level."
"I suppose (if) you cut games, people aren't going to get game experience and be able to improve and develop. As sportspeople you sort of want to be out there in the thick of it as well."
"I have every confidence in the people that are making those decisions that they will keep women's cricket and its best interests at heart."
If anything, over the last few years, it is players like Molineux, Ashleigh Gardner, Georgia Wareham and Tayla Vlaeminck who are prime examples of
the strength
of the Australian domestic system.
Having been part of the WBBL since its inception, and within the setup in Victoria several years before that, Molineux is quick to point out that Australia has a strong system that is well worth investing in.
"I think being involved in the WBBL over the last five-six years, we've seen how far that's come over the time. It would be pretty silly to take a step back from that and stop the momentum, but I'm sure that won't happen."
ALSO READ: CA mulling over the possibility of a shortened WBBL
"I suppose that's definitely had a massive impact on the Australian level and being able to perform at World Cups over the last couple of years. Just the success that team has had on the international stage - that has definitely come from our domestic setup and the resourcing and everything that's gone into that over the last couple of years."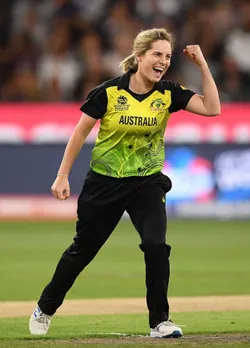 Sophie Molineux snares the important wicket of Smriti Mandhana. © ICC
Coming off a period of annual leave that happened to be a bit of an extended break due to the lockdown, the left-arm spinner said she is keen to get back to training although no one is quite sure what that looks like at the moment.
With restrictions slowly being lifted in Australia, the country-born Victorian, who spent weeks locked up in her home in Melbourne, said she can't wait to get outdoors.
"It's been a couple of months since the World Cup final. That's probably the last time I picked up a cricket bat or cricket ball. So, I'm definitely ready to start getting into that (training) now. I think we're all probably pretty keen to get stuck in."
"Over the last couple of weeks there's been a little bit of communication about how we're going to sort of approach the next couple of months," she said. "Obviously, there's still a lot up in the air and the state governments are continually changing things and taking restrictions off. So, it's a bit tricky at the moment to be able to get us all on a playing schedule across our states. But we've all got sessions put in that we're starting off doing this week."
ALSO READ: Tahlia McGrath earns surprise contract
With Cricket Australia having only recently announced a list of
15-contracted players
for the 2020-21 season, Molineux, who retained her place in the group is hoping to continue her good work at the international level. Shawn Flegler, chief selector of the women's panel,
suggested
that with the current group having so many allrounders in the mix, Molineux could potentially find herself batting higher up the order – something she does regularly in domestic cricket for Melbourne Renegades and Victoria. The left-hander, however, said she was happy to play whatever role the team needed her to, and is more focused on improving her all-round game and being more consistent.
"Look, I sort of haven't really thought about that too much at the moment," Molineux said of the possibility of batting higher up the order. "At the same time, I'm happy to play any role in any team – it's a bit of a cliché. I actually really don't mind sort of being in the Australian team as a bowler, but at the same time, (at) domestic level, have roles with the bat as well."
"I just want to keep getting better and hopefully the opportunities could arise with the bat at Australian level. But you know, if not, hopefully we've got a setup that's going to let us keep winning and everything like that. Whatever happens, happens there. I'm just going to put my best foot forward, and hopefully improve over the next couple of months and see where that goes," she concluded.