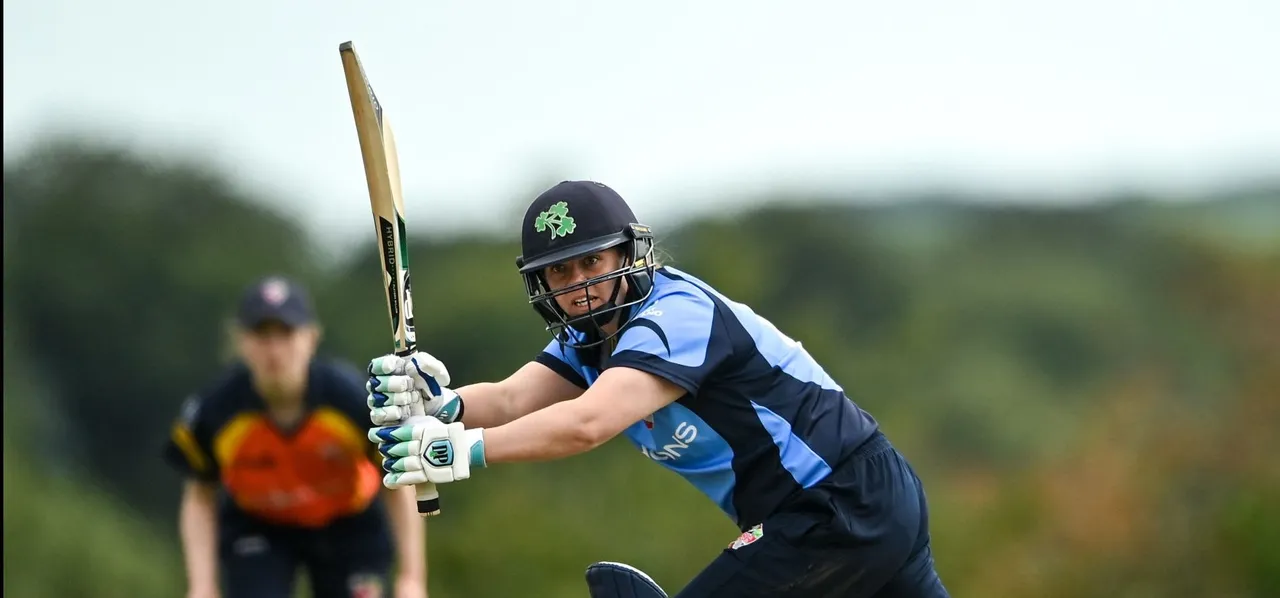 Ireland didn't make it to the T20 World Cup in Australia in March. They were hoping to overcome the disappointment of
failing to qualify
for the marquee event with the World Cup Qualifier's in July. But with COVID-19 wreaking havoc with cricket schedules, and International Cricket Council (ICC)
postponing the Qualifier
and the 2021 World Cup, the situation looked grim for Ireland as their hope of playing any cricket in the year 2020 quickly diminished.
It was an admirable effort on the part of Cricket Ireland (CI) when they managed to salvage the domestic season and
conduct the Super 50 series
, albeit, with two teams, something even some of the top-tier cricket nations struggled to do. Scorchers, led by Gaby Lewis, and Typhoons, led by Ireland skipper Laura Delany, played eight 50-over matches between August 3 and September 27.
"We were all delighted to get back out onto the pitch. There was a lot of doubt at the start of the summer as to how this season would pan out," Delany told
Women's CricZone
. "We have been very fortunate to have played eight domestic games, in what turned out to be quite a competitive series."
Although domestic cricket is often seen as a stepping-stone to international cricket and the focus is always on building the blocks for the future, Delany insists the competition itself is something the players take great pride in.
"The super series is our domestic league, the next step would be playing at
international level. Whilst this is an important platform for players to showcase their skills it is also a competition in itself," said Delany. "As a group, it's vital that we try and make this competition as competitive as possible as this should increase the level of our national side."

"In saying that it is also an opportunity for players to put their hand up for international selection. Our selectors attend every game, so if you put in a good performance you know it will be noted."

ALSO READ : Challenge is motivation enough, says Ireland head coach Ed Joyce

The series results were in agreement with Delany's assessment - it was a closely fought tournament. Although Typhoons managed to win the first match on the back of the allround heroics of Delany (2 for 19 and 68*), Scorchers looked to be in the driving seat when they won three consecutive games.

https://open.spotify.com/episode/7fji2PZYGMgkzXoi8QSYcO?si=IWFMw141SYGBepqySDqvTg

"We have a young side and it took us a few games to find our feet. We would put in a good performance in one innings and found it hard to back it up in the second," explained Delany as she talked through Typhoons' performance.

Typhoons came back from 2-4 down to win the last two matches convincingly to level the scores 4-4 and win their maiden Super-series title based on superior net run-rate. They chased down the target of 235 in the final match to win by seven wickets and take the title.

"Once we got halfway through the season players started to find form and ultimately the confidence in the team started to grow. We started to put complete performances together and I think we started to play our best cricket as a group towards the back end of the series. Clare Shillington (Typhoons' head coach and former Ireland international) played a huge role in the team's comeback and success on the pitch."

"To come back and win the trophy having been 4-2 down was incredibly pleasing. We could have let our heads drop, but the team showed a lot of character to come back the way we did."

27-year-old Delany skippered the young side admirably, leading by example and letting the younger players express themselves on the field. Delany finished the tournament with 219 runs at an average of 43.80 while also taking seven wickets with her bowling.

"I really enjoyed captaining and working alongside Clare, and whilst we have both won the trophy representing different teams, it was brilliant to be a part of the first series win for the Typhoons."

Delany, who has played 99 international matches for Ireland so far, was given a part-time retainer contract along with five other players when CI introduced professional contracts in 2019. Eleven other players received non-retainer contracts in July 2020. Allrounder Kim Garth relinquished her contract to move to Perth in Australia and penned a two-year deal with Cricket Victoria.

"We were disappointed to lose Kim but we respect Kim's decision and wish her every success with her journey. We have a young side but there is a huge amount of potential within the group," she said.

ALSO READ: Visa issues behind her, Kim Garth prepares to embark on a new journey

The global pandemic also meant some of the Ireland international players were stuck in Australia and some others were unavailable for the Super 50 owing to personal commitments. But it provided younger players an opportunity to play and compete with the Ireland internationals.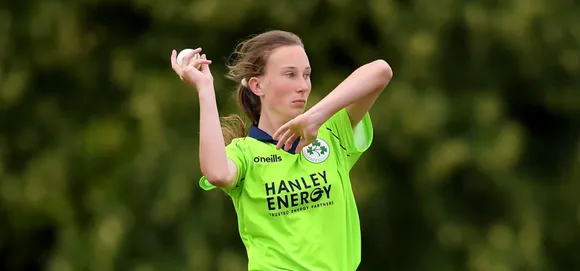 Orla Prendergast was one of the standout bowlers in the competition, said Delany. © Getty Images

"I think it gave some players who may not ordinarily play at this level an opportunity to play at a higher standard. It also allowed other players to take on more responsibility within their side."

"From an international point of view, it was a great opportunity to see and play alongside some of the upcoming younger players. It's pleasing to see individuals put up big scores and there were some very impressive bowling spells at different stages."

"I was very impressed with some of the younger players coming through from both sides which bodes well for the future of Irish women's cricket."

"I'm going to be slightly biased in picking a Typhoon player but I was very impressed with Georgina Dempsey. This was Georgina's first year playing 50 over cricket although many would be surprised to hear that as Georgina bowled her ten overs in a lot of the games. Very athletic in the field and a lot of potential with the bat, so it will be exciting to see how her game progresses over the next eight months."

18-year-old Orla Prendergast was one of the beneficiaries of Ireland's decision to re-invest the funding that was freed up on Garth's decision to let go of the contract. Prendergast, who has already played eight T20Is for Ireland, was promoted to a part-time professional retainer midway through the tournament. She finished third on the highest wicket-takers in the tournament accounting for 10 wickets at an average of 18.10 and an economy rate of 3.42. Her match-winning haul of 4 for 10 in the penultimate match was instrumental in Typhoons' comeback in the series.

"For me, Orla was the standout bowler of the tournament," said Delany.

"The swing and control that Orla exhibits in the power play proved to be decisive. It was no surprise that Orla earned a part-time contract. Her performances improved as the tournament progressed and will play a key role in the bowling attack for Ireland."

The revamped contract that got Prendergast a part-time retainer also saw three international players in Delany, Lewis, and Celeste Raack receiving an increased deal until the end of 2020.

ALSO READ: Gaby Lewis lauds Cricket Ireland for having more support staff and training facilities

"I think it's an exciting time to be an Irish cricketer. The introduction of part-time contracts is a step forward in the women's game. It allows for more contact time with our coaches. There are six part-time contracts which hopefully will increase."

Rebecca Stokell, who played a crucial knock in the final match, finished as the top run-getter for Typhoons, scoring 244 runs from seven innings. Only Scorchers' opening pair of Leah Paul and Lewis scored more runs than her. Leg-spinner Raack took 12 wickets at an average of 17 and an economy rate of 3.29 to finish as the highest wicket-taker in the tournament. Four out of the five top wicket-takers were from the victorious Typhoons.

"It's great to see our international players put in good performances, not only to increase the standard but to also show younger players coming through what's expected. Rebecca and Celeste both had great individual performances at different stages throughout the series," said the Irish skipper.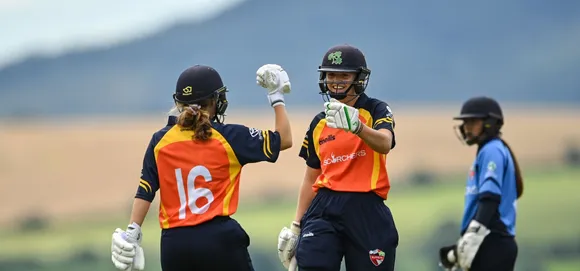 Leah Paul (16) & Gaby Lewis were in prolific form through the tournament. © Getty Images

"From an international point of view, it was a great opportunity to see and play alongside some of the upcoming younger players. It's pleasing to see individuals put up big scores and there were some very impressive bowling spells at different stages."

Delany sounded optimistic and pleased with the way Ireland cricket is progressing despite the disappointment of missing out on the T20 World Cup berth and she is hopeful of a better future as Ireland waits to return to international cricket. She believes even the postponement of the World Cup Qualifier won't deter the progress they are making and they will be in a better space when the tournament eventually goes ahead.

"Whilst we were very disappointed at the time (about the postponement of Qualifier) I think it might be a positive for the group. We would have been going into a very important tournament having not played international cricket for over eight months," she added.

"Like a lot of other teams, we haven't played international cricket in over a year so this will be a challenge, but one all other teams are facing. Hopefully, the quality of the Super Series will put us in a good position leading into this winter."

"Thankfully we don't have any players on the verge of retirement as most of the squad are in school or college. The extra twelve months gives us more time to prepare and work on different aspects of our game as we know it's going to be a tough tournament."

"We are building towards the Women's ODI Qualifiers in Sri Lanka next July and for the first time we have an opportunity to qualify for the ICC Women's Championship should we remain in the top ten after the qualifiers. So, there is a lot to play for in the next twelve months," she concluded.