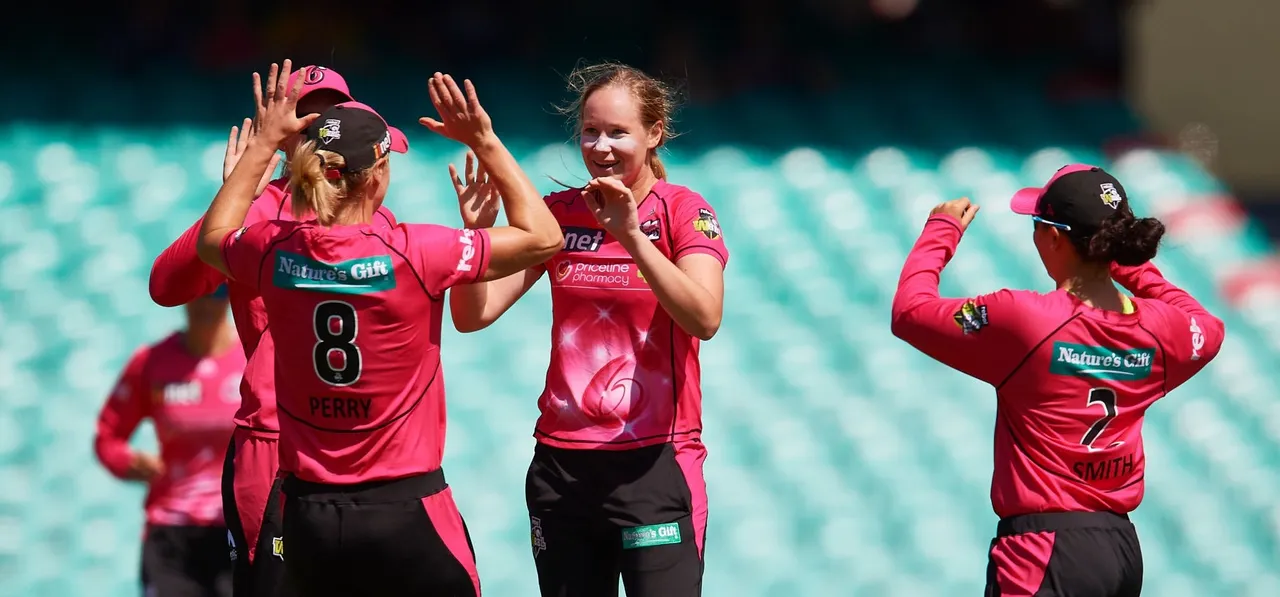 Pace bowler Lauren Cheatle will return to cricket after what has been a prolonged absence from the game due to injury, when Sydney Sixers face Brisbane Heat in the Women's Big Bash League (WBBL) encounter at the Sydney Showground Stadium on Tuesday (November 17).
22-year-old Cheatle just played two matches during the 2019-20 season for New South Wales and missed Sixers' campaign during the fifth season of WBBL due to a shoulder injury and subsequent surgery.
"It's been a long time since I played for the Sixers obviously, and even playing a game of cricket in general. So,
really keen to play tomorrow," Cheatle said at a media interaction. "It feels like I'm playing for the first time. I'm really, really nervous. I'm also extremely excited. But it feels like I'm debuting again."

"It's really hard to put into words what I'm feeling. I just couldn't be more grateful to have the opportunity to play for the Sixers again. I'm hoping I can stay calm and not get too sweaty hands, but I'm looking forward to it."

ALSO READ: Dane van Niekerk confident Sydney Sixers can get their campaign back on track

Cheatle, who has played 11 matches for Australia, had an unfortunate run of injuries and has been on the sidelines for a large part of the last two years. In 2017, she had a right shoulder reconstruction before suffering a back injury. She also had her left shoulder reconstructed in November 2019 and later had a bicep operation.

"It put me out of a lot of cricket over the last 18 to 24 months. But I'm really glad it's back on track and really keen to get out there in the next couple of days," she said.

"The work outside of the normal team hours is probably the most difficult part that I found over the last couple of months and the amount of work on the little stuff that you kind of forget when you're flying. So, yeah, it's probably hoping that I can carry that into my cricket, the little one percenters and those little things."

"I've spent a lot of my time with our S&C (strength & conditioning coach) and our physio, Sean and Katie, over the last two years. I'm really grateful for all the work that they've done for me and my body. Along with those who have obviously , our coach and my bowling coach, he's been there the whole time and literally all the girls, I couldn't be more grateful for the teammates that I have."



Cheatle's skipper at the Sixers, Ellyse Perry, recently returned from an injury induced lay-off having undergone hamstring surgery for the injury she sustained during the 2020 T20 World Cup. The young pacer said they haven't talked much about their injuries, but the Australia allrounder has been of great help during the final rehabilitation period.

"I've tried to stay away from the injury chat with Pez. She's been there to help me through this last little bit. And I think she kind of emphasizes on those one percenters and doing the little things right. To have her in this last little bit is huge. Obviously, she's down in Melbourne now. So, to have her back in Sydney and playing alongside her is really exciting," Cheatle added.

Sixers succumbed to their fourth consecutive loss when they went down by 14 runs against Adelaide Strikers on Sunday (November 15). They will take on Heat and Sydney Thunder on November 17 and November 18 respectively.

"We've spoken about forgetting what just happened and focusing on these next four games. The team that wins the next four games is probably going to be in those finals and we want to be that team. So, doing everything we can to prepare best for those next four games and hopefully produce some really good cricket and get us into the finals," Cheatle concluded.