When a reporter asked Meg Lanning about her thoughts on emulating the 21-match winning streak of Australia's men's team had in 2003, after the women had just registered a
four-wicket win
over New Zealand in Brisbane, the Australia skipper kept it simple. "It's a nice thing to be in a position to do that, but we haven't really spoken about it as a group. We want to win every game that we can. And that's the attitude we'll take into Wednesday. If that means we equal the record, then so be it," Lanning said during the
post-match media interaction
.
The men's team won 21 matches on the bounce between January and May in 2003 - 20 of them under Ricky Ponting's leadership. It was during this period they also won the World Cup in South Africa. His team dominated the one-day format for the next four years including a World Cup defence in 2007. Likewise, Lanning's Australian team has been on the top in ODIs over the past few years. They too are on a 20-match winning streak and have not lost a match since October 2017. Have the Australia women's team replicated the kind of success that the men did in the early 2000s?
Women's CricZone
takes a closer look at their records to give a clearer picture.
Lanning took over in June 2014 as ODI skipper after Jodie Fields announced retirement from international cricket. In the six years, three months and 23 days that followed, Australia played 60 ODIs and won in 52 of those with a win-loss ratio of 7.428. Because Ponting's captaincy career extended for nine years, the same number of days since he became skipper is taken into account for comparison.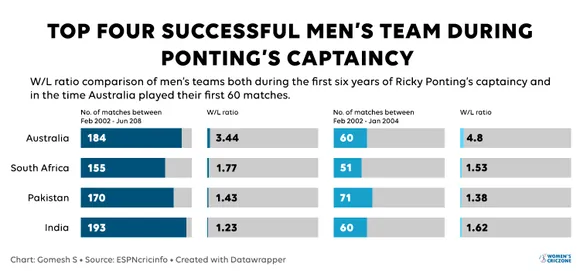 Between February 2002 and June 2008, the Australian men played 184 matches and won 134 with a win-loss ratio of 3.435. Now, one might argue that there is a notable difference in the number of games played for the comparison to be made. For the same number of matches, their win-loss ratio increases to 4.8. However, among the win-loss ratio of other teams, the difference is not vast. Also, given that it is not the fault of women that they did not get to play that many matches, their record in the respective number days are considered for comparison.
ALSO READ: All hail Meg the Mighty!
Clearly, Lanning's Australia has a better win-loss ratio than that of Ponting. The Australia women have been twice as successful as that of their men from the past. There could be another argument that the quality of other teams also has to be taken into consideration. There too the countries that follow Australia women in the table have a better win-loss ratio than the men.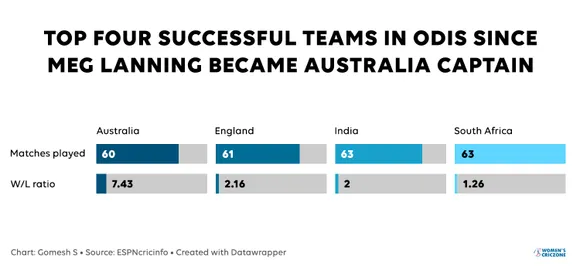 Indian women have a win-loss ratio of 2.00 while their male counterparts from the past had 1.234 during the period that is accounted for comparison. Hence, the argument that the opponents could be weaker cannot hold good. If anything, over the years, the sport has become more competitive than in the past - both the women's and men's.
When it comes to series wins, Lanning's team is yet to lose a bilateral series. Their last bilateral defeat came in the 2013-14 Women's Ashes. Under Ponting, Australia won 20 bilateral/tri-nation series, lost five and drew three of them between February 2002 and June 2008.
ALSO READ: New Zealand's death by dot balls, Meg Lanning
The other stand out quality of Lanning's team is their success while chasing targets. Since June 2014, Australia has fielded first in 30 matches under her and lost only four of them. Their win-loss ratio goes up to nine while chasing. Their last defeat in a chase came against England in October 2017.
On the other hand, despite their dominance, Ponting's team did not have an exemplary record while fielding first. In the 68 matches that they chased under him, Australia tasted victory in 49 with a win-loss ratio of 3.5. Even in the first sixty matches of his captaincy, the record remains the same. Again, one might argue that teams have got better with chasing over the last decade. However, for a team that was almost invincible in that era, their chasing record did not stand out.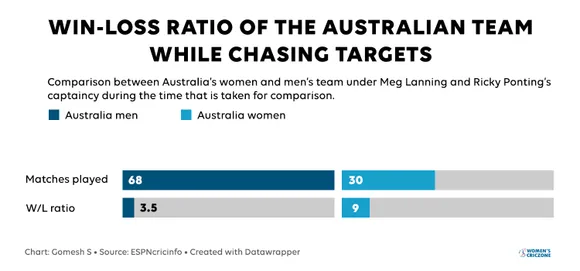 Nevertheless, there is one thing that makes Ricky Ponting's team an all-time great. In the compared period, they went through two ODI World Cups without a defeat, defending the title twice - in 2003 and 2007. They also won the ICC Champion's trophy in 2006.
ALSO READ: Ruthless and competitive: Meg Lanning's Australia
Lanning's team has played only one World Cup since she took over, and they reached the semifinal of the tournament against India only to be outclassed by a brilliant Harmanpreet Kaur. With the next World Cup postponed to 2022, Lanning might have ample time to rectify that record from her end.
A lot would depend on how Lanning takes her team forward. One of the significant differences is that by December 2008, Ponting's age was already 34. And from there, to the day Ponting left captaincy in 2011, Australia's win-loss ratio came down to 2.280. Whereas Lanning is still 28, and she might just have enough time to better their record in ICC tournaments.
There could be various other factors like the players who are available and at their disposal, support of team management, etc. However, purely on the basis of the team's overall record so far, Lanning's Australian side have performed equally well, if not better than that of Ponting's team when it comes to bilateral series so far.
As far as their World Cup record is concerned, there is still time left for Lanning to leave a legacy that is hard to match.