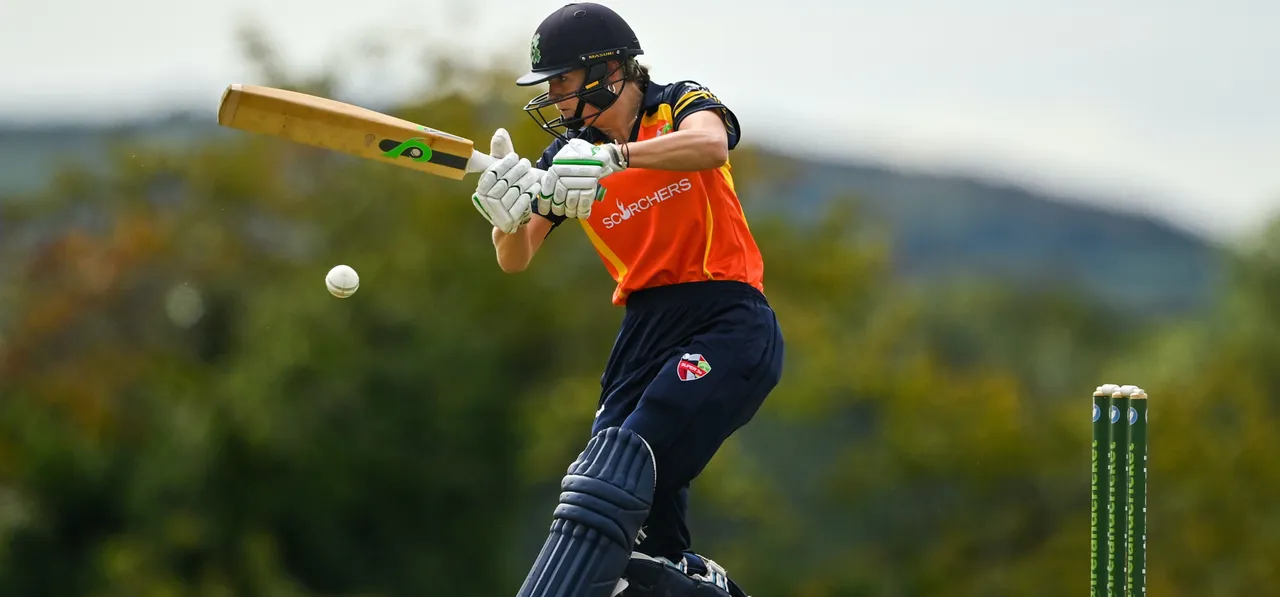 The 2022 Super Series will begin on Sunday (1 May 2022), with the Typhoons taking on the Scorchers, in the first match of the Super Series 50 Cup (50-over competition) at Merrion Cricket Club.
The Scorchers dominated the competition in 2022 under the leadership of Gaby Lewis, winning both the Super Series 50 Cup and Super Series T20 Trophy.
After two years of reducing the competition to a two-team affair due to the pandemic, 2022 will see a third side – the Dragons. The Dragons, led by captain Leah Paul, will feature a Northern Irish-based coach (James Cameron-Dow) and up to eight players from clubs across the Northern Cricket Union and North West Cricket Union.
Earlier this week, Paul Davidge
was announced
as the new Typhoons Head Coach.
Glenn Querl is back as head coach of the Scorchers, who will look to back up their title wins of 2021. Captain Gaby Lewis will miss the first two weeks of the competition due to the Fairbreak Invitational in Dubai. Lewis was the pick of the batters in the 50-over competition in 2021, scoring 325 runs. She was ably assisted by Shauna Kavanagh (151), Lara Maritz (144) and Sophie McMahon (131). Cara Murray was the team's top bowler, taking 10 wickets. In the T20 Trophy, Leah Paul was their top batter, scoring 150 runs, while Eimear Richardson was superb with the ball, taking 11 wickets. Paul has moved to the Dragons for the 2022 season and will captain them.
ALSO READ: Rewind: Gaby Lewis' fifty, Isobel Joyce's calm and a record Ireland chase
Coach Querl sounded confident ahead of the new season and was happy with the strength of the squad.
"The team are very much looking forward to the new season and building on what they achieved last year. We're looking to playing an attacking brand of cricket, but also to keep pushing the boundaries to keep improving and building a real positive enjoyable environment for players to play their best cricket. Aimee Maguire has joined the squad this year with her left arm spin and I'm really looking forward to seeing how she gets on in the competition."
Captain Lewis was excited about the addition of a third team and felt that the competition would be tougher this year.
"Obviously last year we had a very successful season as a team, so we'll try to replicate that, knowing that it won't be easy. The team will have to work extra hard, as we've lost a few players so different players will have to step up, which makes it exciting.
"With the introduction of the third super series team it means more players and more competition for spots, which is brilliant. The more competition means a higher standard so there is a bit more added pressure but I'm really looking forward to it."
Scorchers:
 Gaby Lewis (c), Christina Coulter Reilly, Rachel Delaney, Shauna Kavanagh, Anna Kerrison, Hannah Little, Sophie MacMahon, Niamh MacNulty, Aimee Maguire, Jane Maguire, Lara Maritz, Ellie McGee, Eimear Richardson, Jenny Sparrow, Siúin Woods
Head coach:
 Glenn Querl
The Typhoons have a new coach in Englishman Paul Davidge and they will be led by Ireland Women's captain Laura Delany, with fellow internationals Rebecca Stokell, Tess Maritz, Celeste Raack and Mary Waldron in the squad. Delany, however, will miss the matches in May due to injury, and they will be without Celeste Raack in the opening couple of weekends due to her taking part in the Fairbreak Invitational in Dubai.
ALSO READ: Laura Delany and Ireland's quest to become an ODI side to be reckoned with
Captain Delany said that the focus for the team will be to improve their results from last year under a new coach and captain.
"It will be very interesting to see how the teams match up against one another. The more competitive cricket that we can play the better. Not only will it give individuals the opportunity to improve their own game, but from a team point of view it will mix things up. We obviously played against the Scorchers in every game last year, so that was tough going. It will be nice to play against a third team and given the fact that the third team is a Northern team it will be great to see the quality of players that they have based up North. It also allows more players to be involved in an elite set up."
"We're really looking forward to working with Paul, he seems to have a lot of experience working within the women's game. He's highly respected in county cricket. From a team point of view we can learn a lot from him. Clare Shillington did a brilliant job last year that probably wasn't reflected in the results throughout the season. However, we're looking forward to having Paul on board.
While ruing the little time he got with the team ahead of the season, Davidge said that his focus as coach would be to keep things simple and focus on the fundamentals.
"I can't wait to get started, I'm delighted to be part of the Typhoons and Cricket Ireland. Obviously with the Super Series being expanded to three teams this season it increases the competitive opportunities for the players.
"We're going to try and create a challenging culture for the girls where they can try to play without fear, give them a sense of playing with freedom. Fearless cricketers embrace challenges. Above all of that is just have some enjoyment and have some fun while we're out there. If you're in an enjoyable environment where you're prepared to challenge yourself that to me is a recipe for success and consistent performances.
"In terms of the season itself, coming into a team two days before the first game is less than ideal but to actually go straight in with a competitive element is something I'm actually really looking forward to. We're going to have a very basic game plan which we're going to try and execute and see how that comes off." 
Typhoons:
 Laura Delany (c), Ava Canning, Sarah Condron, Georgina Dempsey, Rebecca Gough, Maria Kerrison, Robyn Lewis, Louise Little, Joanna Loughran, Tess Maritz, Lara McBride, Celeste Raack, Freya Sargent, Rebecca Stokell, Mary Waldron
Head coach:
 Paul Davidge
ALSO READ: Ireland announce full-time contracts; to host South Africa, Australia, Pakistan in June – July 2022
Former Irish international James Cameron-Dow will coach the returning Dragons side, with Paul named captain after leaving the all-conquering Scorchers. Head coach Cameron-Dow believes they will be very competitive, especially with the experience of Paul, Cara Murray, Orla Prendergast and the hugely talented 16 year-old international Amy Hunter.
"We're all incredibly excited to get things up and running. We have some incredible talent within the squad, a lot of which is unknown to the island - so I am excited for the players to show that off.
Cameron-Dow also felt that  having a North-based team will benefit the game in the country and also widen the player pool as a lot of people will be encouraged to take up the sport.
"Having that Northern based team is massively important for so many reasons. The unions have ramped up their support of women's cricket massively over the last few years and now their efforts have been rewarded, hopefully this encourages that to continue. It's hugely important and hopefully something that will take the women's and girls' game to the next level up North."
Paul was also enthused about the prospect of captaining a team which did not feature in the previous two editions.
"I was delighted to be asked to captain the Dragons in 2022. Taking on a new challenge like this will be exciting. The Arachas Super Series gets better in standard each year, and I'm looking forward to seeing how far this squad can go in what will undoubtedly be another highly competitive series."
Dragons:
 Leah Paul (c), Amy Caulfield, Alison Cowan, Zara Craig, Alana Dalzell, Mollie Devine, Sarah Forbes, Abbi Harrison, Amy Hunter, Charlotte Lyons, Kia McCartney, Kate McEvoy, Cara Murray, Orla Prendergast, Jemma Rankin
Head coach:
 James Cameron-Dow