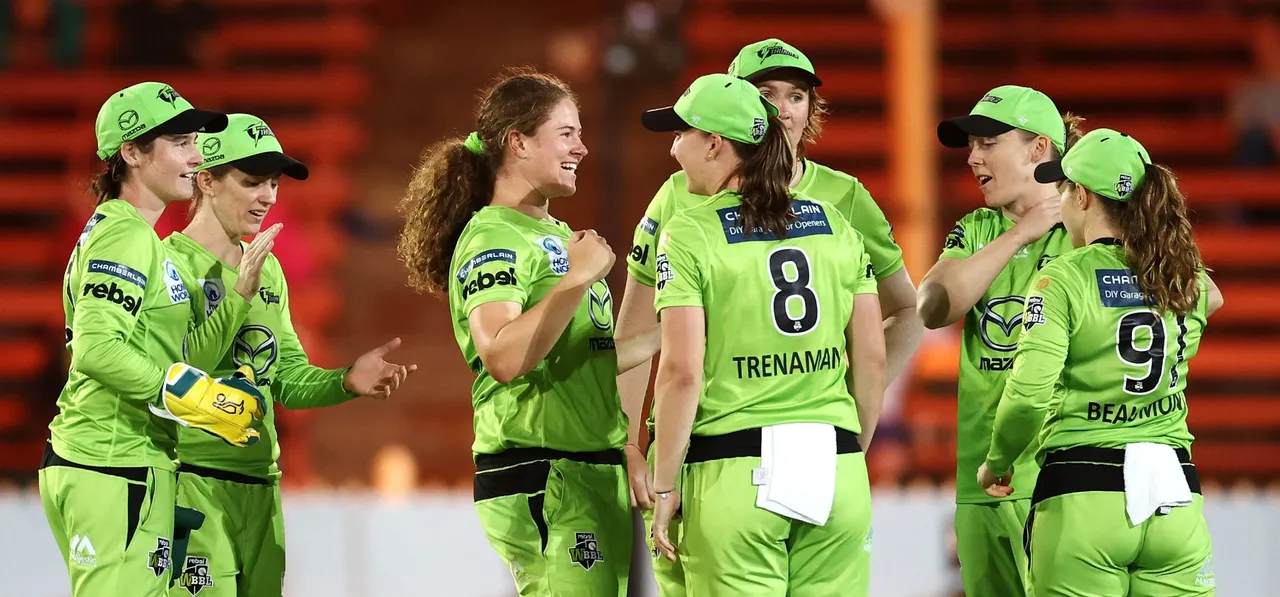 Sydney Thunder were winners of the first edition of Women's Big Bash League (WBBL) in 2015-16 season and they will have another shot at the title when they face Melbourne Stars in the final of WBBL06 at the North Sydney Oval on Saturday (November 28).
Since their triumph in the inaugural season Thunder have gone through a sea of changes with Rachael Haynes and Samantha Bates being the only remaining members from that squad.
Skipper Haynes says the experience of last season has helped the younger players in the squad to grow and play fearlessly this year to have an impact in their run to the finals.
"We didn't have a choice. We lost quite a few of our, for want of a better word, maybe middle tier players a couple of years ago and we had to really invest in youth," Haynes said during the media interaction on Friday (November 27).
"The experience of last year and then getting an opportunity at this level, understanding how they could use their game to be successful is obviously paying dividends now."
"When you're a little bit younger, there's probably an element of fearlessness to how you go about playing and taking on those big moments."
ALSO READ: Depth of Stars has been crucial to their success, says upbeat Meg Lanning
Brisbane Heat were cruising to victory in the second semi-final needing only 26 from the last five overs with six wickets in hand. But Thunder came back from behind to
snatch victory
from the defending champions taking those six wickets just for 12 runs.
"The back end of this tournament, it turned into a tournament play for us where we had to keep winning to make the finals. And now to get through and claw our way back in the game last night and have the opportunity to play off in the finals," Haynes said.
"We had a similar game against the Hurricanes as well during the round matches where we had to rally and get back in it and we're able to do it. So, in a bigger moment where there's more pressure and obviously more on the line, to be able to do the same was really pleasing."
"It's one thing to tell players to stay in the contest and to hang in there, but for them to do it for themselves and see how important it is and how you can turn a game. It was pretty special that I would experience that last night."
Hannah Darlington, who was named
Young Gun of WBBL05
, has been one of the key performers Thunder in WBBL06 with 18 wickets from 13 matches at an average of 13.61. It was the young pacer's spell of 3 for 19 that was at the centre of Thunder's incredible come back in the semi-final.
ALSO READ: Jess Jonassen admits to not having any clear plan against Hannah Darlington
"Hannah Darlington has been amazing for us, not just this year, but last year as well. She's probably one of the best death bowlers in the competition even though she is probably only a couple of years into a career at this level. She had showed, a lot of composure last night and got the game back in our favor, which is awesome," Haynes added.
"They've (the younger players) made the most of the situation. You can tell they're just in really good spirits and also a little bit worried about that. But they've certainly taken me by surprise how much they've just absolutely absorbed what it's all about. I think our senior players have probably helped with that to making sure that we stay positive."
33-year-old Haynes also lauded Heather Knight, the highest run getter for Thunder with 420 runs from 15 matches in the season, for her contribution not just with the bat, but for her leadership skills in guiding the younger players.
"She's had an outstanding season with the bat, and we definitely had that in mind in terms of getting some more senior players around our junior, up and coming players. She's done a fantastic job not into not only in terms of the run she's scored, but obviously the attributes she brings to a team.
"I think Sammy-Jo Johnson as well, she's been incredible. Yeah. I think we've found that really nice blend of youth and experience, which is really positive," Haynes concluded.