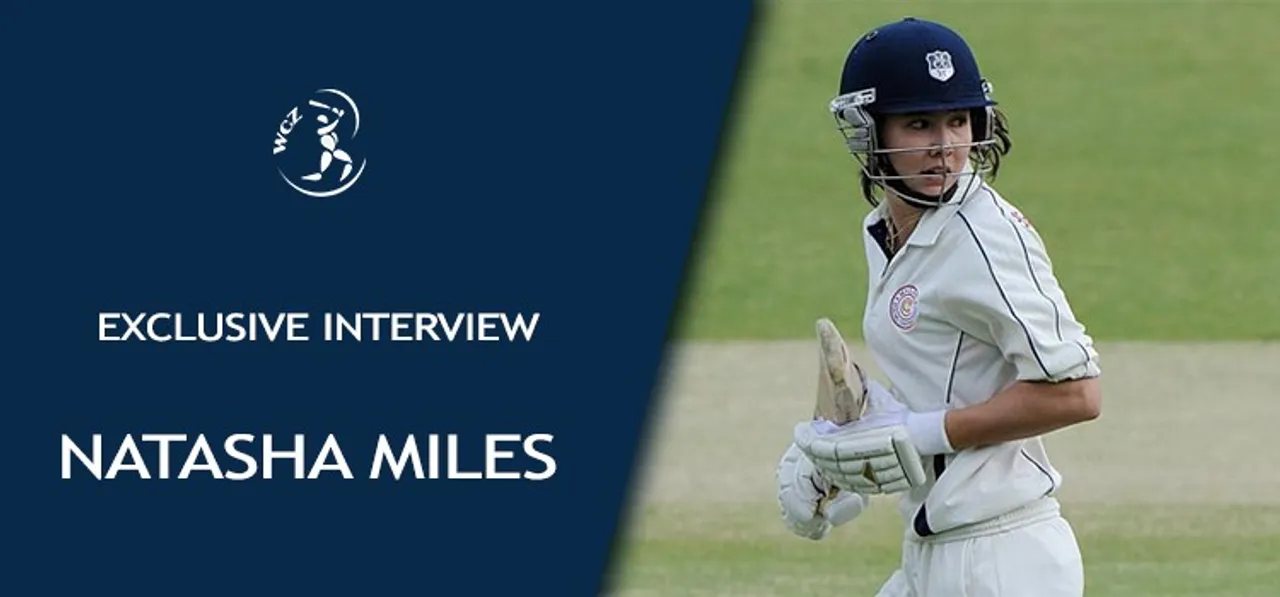 The Royal London Women's One Day Cup started at the weekend. We caught up with Natasha Miles at Middlesex Media Day; before the start of the season and days before Middlesex played their historic T-20 game at the Lord's.
Miles is the Middlesex T-20 captain and as part of that role, she captained her side to a win against an MCC side that included some very good players. A former Hong Kong international who has played in New Zealand for Otago as well as the Kia Super League for Lancashire Thunder.
We spoke to miles about a number of issues including playing at Lord's, captaining Middlesex and playing in the Kia Super League. 
How excited are you that the new season is about to start?
I cannot wait to get out there, it has been a long hard training winter, so it is nice to take everything we have done over the winter and get out there on the ground with everyone. 
What are your expectations for the season?
I'd imagine we'll do quite well we have a really young squad. A few new faces in the team. It will be great to see how they perform and how they put their skills out on the field and show us what they have got. I don't want to say where we will end up, but I want to think we will put a good foot forward. 
Do you hope to be as competitive in the T20 as you were last year?
We would like to go one better than we did last year, we came second so I think all of us are itching to go to number one. We are going to have to work as hard as we did last year. 
You will be the first Middlesex captain to lead a side out at Lord's, how does that feel?
I don't think it has sunk in yet. I'm excited of course to be out there with the girls. It's the first time Middlesex have got to play out there, so to lead that is an incredible honour, but I don't think the nerves have sunk in yet. 
Apparently when the England Women first played at Lord's Rachael Heyhoe Flint chose to field first so that England could be the first team on the ground. Does that become a factor or will you assess the conditions on the day?
I think we'll see on the day, that's not a bad way to look at it. Ultimately, we want to win, so we want to do what will put us in the best spot to do that. 
You will also be playing against a decent side.
So I've heard, luckily I know a few of the girls. 
You found out fairly late last year you would be t20 captain, a year on how does it feel?
Less of a shock than it was last year, we are both more settled in the role, Naomi (Dattani) and I work closely together in what we want to achieve as a team and in our plans. It feels good and nice to be on the spot and enjoying it. 
Who are the Middlesex players we should be looking out for this summer?
There are a lot of them because there are so many young girls coming through. Gayatri Gole is one of our opening bowlers who will be really good this year, Emily Thorpe is a leg-spinner who has played really well in our T20s, I'm looking forward to seeing how she progresses in the one-day stuff and continues with her form. 
How about the players you will be facing? Do you have any plans?
We tend to play similar counties every year, so we will be picking out the girls we know and looking back at how we were successful against them in previous years and having to think on our feet a bit for the girls we have never played against. 
How competitive do you feel women's county cricket is now?
It gets more competitive every year, as the game develops, and more and more girls come in and fight for places everyone is playing at a high level, it's definitely getting more competitive. 
How much of a difference has the Kia Super League made to that?
A huge difference, after the first year when we came back and played county the following year everyone's skill levels had gone up. There was a lot learnt from the overseas players because they are such a wealth of international experience. Both homegrown and overseas playing that league and are learning from everyone and passing it on to everyone else. 
How did you find playing in the Kia Super League?
I loved it, I was really lucky to be put in a squad with a few girls that I know from academy, so to play alongside them where I don't normally for county, and to meet international players of such a high calibre and to learn from them is super fun, and I'll take away everything form that.
The main hub of the Lancashire Thunder side was the same as the team that made up the Lancashire side that won the other domestic trophies why did they struggle so much in the Kia Super League?
They had a core group of players that were the county champions, we had internationals come in as well. We all gelled together really well as a team on and off the pitch, but we just didn't get the results consistently. 
Will the expansion of games both home and away this season help?
I think that will definitely be better for some of the teams that have not put their best foot forward. There is an opportunity for them to get into their groove. It was a short tournament before, if you get off on the right foot it is easy to take that momentum if you get off on the wrong foot like we did a couple of times it got quite hard to make it up. Home and away is going to make it much more competitive. 
Today is an important day in women's cricket with the announcement with Wisden. How does that help raise the profile of women's cricket?
It will do a huge amount. A lot of the readership of
Wisden
has historically been male readers, so to have three girls in a group of five is going to raise the profile of the game. The girls are competing on the world stage and doing so well. 
Does the way that the game is being promoted and for people to join in evident?
The
ECB
has done a lot especially with All-Stars Cricket, a lot of the England girls go down and help promote this. That is an amazing thing to get those girls go down and show those girls this is what you can inspire to be and that has really raised the profile with all of the coverage they received this year has been amazing.