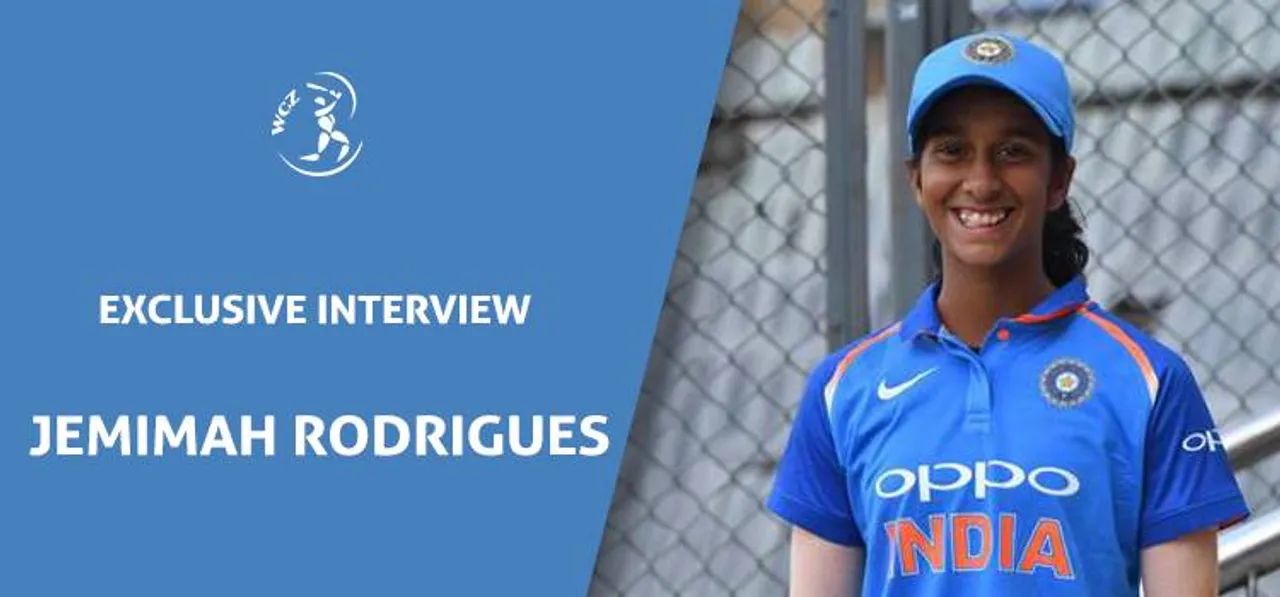 "Positive", that's how she describes herself in one word. When she's not hitting double centuries with the flick of a bat, and debuting for India at the age of 17, Jemimah Rodrigues is busy representing her state in hockey, honing her musical skills, and dreaming of leading India to a World Cup victory. With Cricket, Hockey, Football, Basketball, Studies and Guitar as part of her resume; as a teenager, she has already excelled at more than most people can do in a lifetime.

Just like her role-model Rohit Sharma, this young girl from Bandra is a classy batswoman leading Mumbai at the domestic level, in all formats of the game. A calm head, both on and off the field, Rodrigues is highly inspired by her parents' hard work, and considers God as her biggest strength, which she chronicles from a Bible verse, "For God's grace is all we need, for his strength is made perfect in our weaknesses".

Born and brought-up in Bhandup, Jemimah along with her brothers, Enoch and Eli moved to Bandra at a young age to get better sporting facilities. Her father, Ivan Rodrigues, coaches girls at Jemimah's school in Bandra, and also at an academy. She hails the contribution of her parents and marks them as her biggest inspiration. Jemimah's father, Ivan, who has been coaching her since the very beginning, started the girls' cricket team at her school which in the first year itself went to the finals, which they lost (laughs Rodrigues, remembering the unique way they were defeated). There was a good chance that Ivan Rodrigues could have left the school coaching after Jemimah finished her education there, for better financial opportunities, but he didn't, as he always saw that the young girls had the potential to represent the national team, remembers Jemimah, feeling proud of her Dad to whom she fondly calls "Dadda".


Jemimah is the youngest amongst her siblings. ©Jemimah Rodrigues
Her mom, Lavita, who is another sports lover, takes care of all the nutrition and diet and is continuously on work when Jemimah is back home, making sure her daughter stands tall wherever she goes. It was her mother who forced her dad to fly to South Africa when their daughter was debuting for India, as she doubled up her responsibilities in Mumbai. (Jemimah exchanges a smile with her "Mumma" remembering the incident).
The South African Tour was not the first time that the youngest of the Rodrigues family displayed her brilliance with the bat. She debuted for Mumbai U-19 at the age of 13 and has been the top-scorer for the past 2 seasons. This young girl scored 2 centuries while totalling 665 runs in 10 innings in 2016/17 season, only to be bettered by scoring 1013 runs in 10 innings this season, with 5 centuries and a double ton in Aurangabad, which put the limelight on her. Feeling elated after becoming only the second woman (after Smriti Mandhana) to hit a double century in India Under-19, she remembers, "The double century. I was receiving calls after calls until the next day. We had to win against Maharashtra the next day. I had to finally tell my manager to handle the calls. Media organisations were sending their cameraman post the game and to cover the next game. It was the turning point. I thank God because without him it wouldn't have been possible."
What followed, is something Jemimah Rodrigues will savour for a lifetime. She was included in the India A team, led by Anuja Patil against the touring Bangladesh A, followed by opening the batting with Punam Raut for the India Green at the Challengers Trophy, where she emerged as the third top run-getter after Raut and India Blue skipper Smriti Mandhana. But the icing on the cake arrived when the young Mumbaikar received her maiden call-up for both the ODI and T20I teams for the tour of South Africa.
Jemimah Rodrigues in India A jersey. ©Jemimah Rodrigues
The youngest among the squad, along with then-fellow debutants, Taniya Bhatia and Pooja Vastrakar, Rodrigues was made comfortable in the team by Veda Krishnamurthy and Mona Meshram and her now best friend–cum-roomie Smriti Mandhana, in the short camp, they had in Mumbai before flying out to take down the Proteas. Although she couldn't get a game in the ODIs, she made an instant impact after scoring a crucial 37 in her first T20I, batting alongside the legendary Mithali Raj. When asked how she felt during the game, Rodrigues replied, "This was the moment I was waiting for, any youngster does, playing for India! All the flashbacks were running through my mind. The efforts, struggles of my family, everything was playing on my mind. My dad was there when I was receiving my debut cap. I was nervous initially and got settled down since we were fielding first. There were back to back wickets of Smriti and Harman, so it was important for me to settle. Mithali Di instructed me to build the partnership. I became fine after facing the first ball. We did chase it comfortably."
Rodrigues receiving her debut cap from India T20 Captain Harmanpreet Kaur. ©Jemimah Rodrigues
Excerpts from the exclusive interview:
Yash Lahoti (Y.L.): How did you compose yourself, going into the game?
Jemimah Rodrigues (J.R.): Initially I was nervous. But then I just tried to keep it simple. Play it according to the merit of the ball. You don't understand anything when you are at the crease, it's the same bat and ball.
Y.L.: There is a stat flowing across Twitter, that you made your debut at 17 y and 172 d whereas your batting partner at the other end was playing International Cricket for 18 y 243 d. How did it feel batting alongside Mithali Raj after the consecutive wickets of Kaur and Mandhana?
J.R.: It was a privilege. I was a bit relaxed and she was guiding (me) between the overs and we had a good 60+ run partnership.
Y.L.: You have batted at No. 4 in 3 games and No. 3 in the final one. Does this new position excite you or you wish to open for India?
J.R.: I would love to open. But at the same time, it's more important for me to contribute and see where the team needs me.
Y.L.: How does it feel sharing the dressing room with Mithali Raj, Jhulan Goswami, Harmanpreet Kaur?
J.R.: It was very exciting at the start, but at the same time, I was very nervous. These are all legends. I got to see with my own eyes how they work and prepare themselves for the game or while practicing. I didn't talk much on the first day of the camp but coming to 3rd-4th day, things settled.
Y.L.: Coming from legends to another legend, how was it meeting with the Master, Sachin Tendulkar and how has his advice helped you in South Africa?
J.R.: We went to his home when he couldn't make it to BKC (the place of our national camp) because of some meeting. Straightaway, he asked me if I was nervous. I nodded saying this was my first away tour. He told me that means you care about the performance. The tracks are nicely minced for the batsmen as the ball comes at the perfect position, he continued, asking me to side-line the negative thoughts and approach the tour positively. I was very blessed to have a chat with him. He gave me a lot of confidence. He is a legend but at the same time, is a very humble person and a genuine human being. Spending time with him gave me a lot of positivity.
Y.L.: What are your pre-match routines, do you follow any superstitions?
J.R.: I don't have superstitions. I read the Bible and I pray. I pack my bag the previous day so that I can pray and head towards the ground for the practice or the match.
Y.L.: You are an all-rounder but haven't bowled in Internationals yet. Can we expect you to bowl in the upcoming series since it's the subcontinental pitches?
J.R.: I need to work more on my bowling, need to improve a lot. So yes when the time comes, (I) would be bowling.
Y.L.: With the T20 World Cup in the near future, how does it put an additional pressure on you?
J.R.: More than pressure, it's a motivation to work harder to pursue my dreams and take the World Cup in my hands. I have started preparing. That's the goal right now.
Y.L.: Goals for the next 5 years?
J.R.: Not thought about 5 years (giggles). Every season I have particular goals. How better I can bat, give my best on the field, and contribute as much as possible to the success of the team.
Y.L.: How much do you miss playing hockey?
J.R.: I miss it a lot. Even today, if I get a hockey stick I would go and play. I got selected in hockey before cricket. I thought I would pursue hockey and then my sudden escalation in cricket got me into cricket, and I finally chose it as a career.
Y.L.: If not a sportsperson, what would you be?
J.R.: Musician, Guitarist.
Y.L.: Are there any restrictions placed on you because of cricket? Anything you love to eat but aren't allowed to? Or something you love to do, but don't have the time to?
J.R.: Food! I am not allowed any types of junk food, ice-cream, cold drinks, cakes, sweets. But that's part of my diet. I miss cakes and ice-creams a lot. I would also love to sleep more, but time doesn't permit. (shares a smile with her Mom)
Y.L.: What's your diet schedule?
J.R.: As of now, I have a very simple diet. There is not much cut out except junk food. I need to have more proteins, and I have 4-5 meals a day. I eat something every 3-4 hours.
Y.L.: What's your daily schedule like, how many hours do you train?
J.R.: 8 AM in the gym, 9 at BKC for Mumbai practice, go home for lunch and rest, go to practice with dad and then go to church at 8 PM, play guitar. Come at 10 and then sleep. It's hectic.
Y.L.: As depicted in your Instagram posts, you seem to be a very religious person. Tell us something about that.
J.R.: This is something that has been put in from my childhood by my parents. It was a rule before; without pray, no play. After prayers and blessings, we were allowed to play. Now, it's no more a rule, but it comes from within. God and Bible give me a lot of strength and I think have helped me a lot in my cricketing career.
There is a verse in the Bible, "For God's grace is all we need, for his strength is made perfect in our weaknesses" which I meditate before batting. The more I understand about my weaknesses, God's strength helps me get better. I'm not alone, God is always there with me.
Y.L.: We have heard that in such a short career, you went through a rough patch of 2-3 years. Tell us something more about it.
J.R.: My career began at a young age. I used to score 50+ in every game, and we used to win. Same case for Mumbai, and I began very well for West Zone too. I got selected for the India U19 camp. I was doing well in the match simulations. And then nothing started happening, a lot of pressure was getting built on me. I went through a bad phase, but I got to learn a lot. This situation made me stronger. My mom and dad encouraged me by reading the scriptures in the Bible saying God still has plans for you. And during this time, I started working double, getting new shots, improving my gaps. Focused twice more on my batting. It was a struggle that time; but Anju Jain, who was our coach during the West Zone U19 camp, helped with a bit of improvement in my batting, and helped me with my technique. It suited, and finally, I got out of that phase. And then the consistency began with the U19 Zonals, where I captained the West Zone team and then onwards, a good patch began.
Y.L.: As per reports, there are going to be exhibition games for Women's IPL during the men's playoffs this year. How do you see this growth?
J.R.: I think the BCCI is doing a great job with this. The more quality matches we play, it boosts our confidence and helps us prepare well. The people from abroad will be coming and sharing the dressing room, and learning from the best around the world would certainly help Indian cricket.
Y.L.: With your hectic work schedule, how do you plan to manage your studies & which subject interests you?
J.R.: (Missed the 12th boards, because of South Africa tour) English is my favourite because it is the easiest. I had studied but couldn't give the exams because of the South Africa tour. My mom and dad always tell me that you earn respect if you study. So, I have been doing both, not leaving study behind (for cricket).
Y.L.: You gel pretty well with Smriti Mandhana, how did you become friends so quickly? Your thoughts on Mandhana as a potential India skipper?
J.R.: Because she was my room partner, and she is just 4 years older to me, we gel like the youngsters in the team do. She is a very good person. A movie addict; Throughout the day, she watches movies. She shows that she is very serious on the field, and looks studious because of the specs she wears, but then when I got to know her, she is pretty chilled out and loves to have fun. Got to learn a lot about how she balances her life. It's not just cricket, she enjoys her life in other things too. She helped me a lot on my debut. I respect her a lot as a person because she is very focused when it comes to cricket, her contribution, very hardworking. She had an injury last year (during WBBL in January) and her dream of playing the World Cup was put on the shelf. But as she explains that after the injury, life changed for her. She was grateful for the second chance and understood the value of playing cricket. She changed as a person and has worked on her fitness a lot. (Laughs, recalling a room partner catch connection; Both Mandhana and Jemimah had displayed sensational fielding skills on the boundary during the South Africa T20Is). When we have team meetings, her involvement is equal to that of the captain and the coach. She gives her inputs on what needs to be done and strategy planning; is very intelligent and has great knowledge about the game. She is going to be a very good leader and someone who leads from the front with her performances.
Y.L.: You and Devika Vaidya have been involved in some music gigs. Plans for the music industry too?
J.R.: Haven't thought about it, but it's a good plan, I'll think about it (Laughs)
Y.L.: Best piece of advice anyone has ever given you?
J.R.: My mom and Dad – playing cricket is one part but people will respect you more with your behaviour off the field, stay humble.
Y.L.: How do you handle pressure at such a young age? Advice to the youngsters (young girls) taking up the game? 
J.R.: Handling pressure is all about being in the moment. Being calm and composed, you can handle it better. Biju sir always says there is more time in cricket than you actually think there is.
For all the young girls, start dreaming to play for India someday, about lifting the World Cup. In studies too, start dreaming to top. When you dream, start chasing them and you will be able to get better. It will be tough. At that moment, you won't realize but keep dreaming because dreams do come true.
Rapid Fire – 
Favourite food - Chicken Lollipop
Favourite Book – I hardly read any books
Yourself in one word – Positive
Favourite pastime – Guitar
Most memorable moment of life – Getting the debut cap
Best Friend in the Indian team – Smriti Mandhana
Describe these Cricketers in one word – 
Mithali Raj – Consistent
Harmanpreet Kaur – Aggressive
Shikha Pandey – Knowledge
Veda Krishnamurthy – Bindaas
Jhulan Goswami – Hardworking
Punam Raut – Fun to be around
Smriti Mandhana – Movie addict