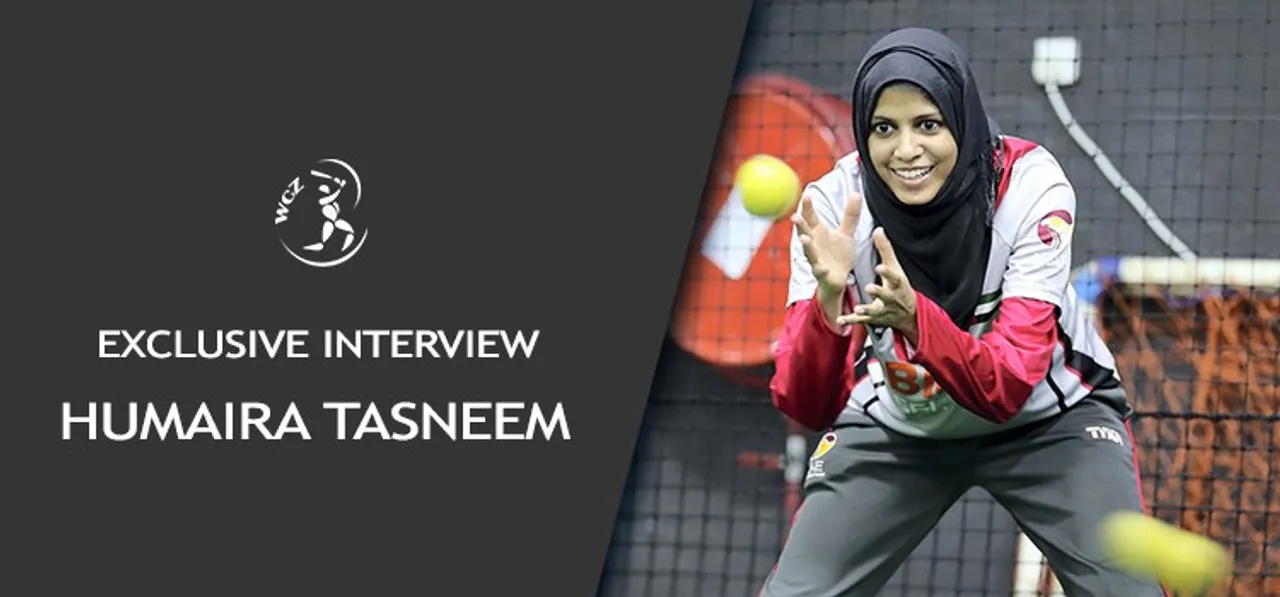 Have you ever seen any cricketer playing with a hijab? Surely, there are only a handful of them. Humaira Tasneem, the UAE captain, is one of them. Being deeply religious has not stopped her from following her dreams.
Having started by playing gully cricket with her siblings, she made her international debut at the age of 13. At 23, she is UAE's youngest captain. She followed Suresh Raina and MS Dhoni while growing up, and loves to play basketball along with cricket. Drawing is her hobby.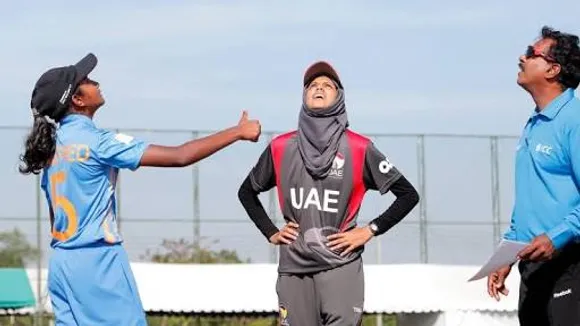 The UAE captain at the toss before a match. ©Humaira Tasneem
Born in Al Ain in the UAE, Tasneem "moved around quite a bit," living in Abu Dhabi, of many places and is now settled in Sharjah.
She developed an interest for cricket playing with her siblings, Mubashir, Akram and Sarah after school and during summer vacations. She credits them for helping her discover her love for the sport during their gully games where their father was the coach. "I wouldn't have gained an interest in cricket if I hadn't played with my siblings and my dad playing coach during our gully games," Tasneem told 
Women's CricZone
.
For Tasneem, her father, Mohammad Hamid, was not only her first coach but also her biggest supporter, signing her up for try-outs, driving her from one game to another, waking her up early and "always giving tips and suggestions" so that she was "learning about cricket almost constantly."
Her mother, Amina Anjum, has also played an important role in her life. Tasneem claims nobody gives life advice as good as her mother. Anjum taught Tasneem "the diplomacy required to captain a team." Tasneem says she "wouldn't have made it this far" without her family's support.
With such strong support from her family, Tasneem was able to pursue her dream and rose quickly among the ranks, debuting for her country at the age of 13. (Yes, you read that correctly!) She recounts feeling "mostly excited" as she got the opportunity to travel to Thailand and play cricket professionally. At that time, she had only been playing for a year and was recommended by the cricket coach at her school, where she used to play, to the UAE coach, for a spot in the team for the 2008 Asia Cup in Thailand.
The next struggle was about finding the right balance between studies and cricket, which Tasneem admits was "hard initially." The fact that she also played basketball did not make things easier. But, with assistance from her friends and a little extra hard work, things became easier and she found her new routine.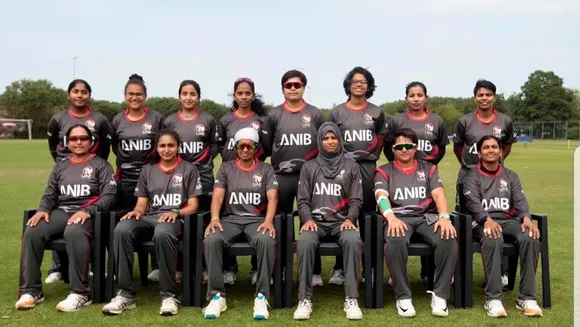 UAE Cricket Team. ©Humaira Tasneem
Now with ten years of international experience under her belt, Tasneem has acquired a lot of wisdom. However, her journey has come with it's fair share of struggles; for starters, Yorkers. She said she wasn't "particularly experienced" with them but "practised them enough to understand the few different ways you can play them." Skills training sessions with Indian spinner R Ashwin - who she met recently- were certainly helpful, as were the tips he gave that "helped her improve her game."
All these activities though came at a cost: sleep! While she said she is "fortunate enough" to not have had to make "a big sacrifice to achieve her dream" because of how "supportive and cooperative" her family and friends were, "they have made things a lot easier for me."
Struggles and sacrifices aside, like any other captain; it is an "honour" for Tasneem to represent her country. What means more to her, however, is hearing from young girls that her captaincy is "inspiring them to join sports teams." Back when she started her career, it was difficult to "find enough players to fill the team," but, with the landscape of women's cricket now "improving," it acts as motivation for Tasneem to "keep working hard."
"It has always helped me perform better. I think the pressure helps me become a better player." Talking about being a captain helps to perform better or it becomes a pressure," Tasneem replied. As a captain, she follows Dhoni's philosophy. "MS Dhoni's captaincy has always been my inspiration. The tactics that he uses and the way he changes the situation in a game has helped me to believe in my guts and make that risky decision," she says. "Because if you don't take calculative risks as a captain, then you are not doing it right. I have also seen a lot of his interviews and understood that people will always do what is convenient. Most people enjoy a post-mortem session after you lose a match but if you win, people hardly have complaints."
Similarly, she is in awe of Raina's fielding and batting. "Also, I love that he is a team player and you can see that in the way he celebrates with the teammate taking a wicket."
Hard work doesn't necessarily pay off all the time, which the UAE team learnt from their stint in the Global Qualifiers. They got off to a strong start but, were unable to carry it on. The biggest thing the team learnt from their experience was the importance of the performance on the day of the match. While talking about it, she adds, "The biggest challenge in T20 is the performance on the day of the match. I think we need to improve drastically in our batting and this will only come through playing matches throughout the year. Since we have reached the international stage, we are hoping that we can play away or home games with other countries.
"We were also extremely disappointed to learn that we will not be playing the Asia Cup 2018 even though we came second place in the ICC T20 Asia Qualifiers. We could have had that tournament to prepare us for the Global Qualifiers."
What the skipper hopes for, are more matches away or home games with other countries.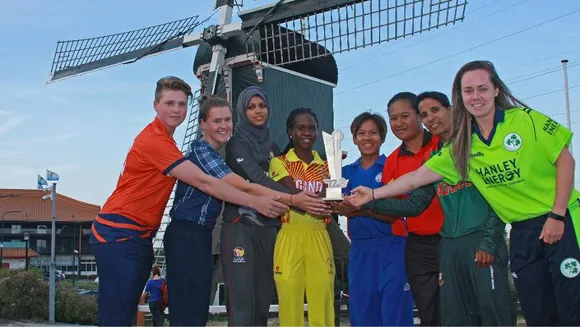 Before ICC Women's T20 Global Qualifiers. ©ICC
It wasn't all gloom for the team though. Winning the first and last match against the Netherlands was the highlight of the captaincy career of Tasneem, who believes that those two successful chases show UAE's potential. She is going to carry the memory of one of the games which they won the Super Over through her life.
The highlight of her personal career so far is of when she took six wickets against Kenya, giving just nine runs from her four overs, at home in 2016.
There is no mistaking the rise in the popularity of the women's game around the world and UAE has felt it's force too. According to Tasneem, when she joined the team ten years back, the squad consisted of exactly 14 people. Now, talent hunts are being hosted in schools all over the UAE and a good number of participants have come forward.
To help grow the movement in women's cricket in UAE, Tasneem, who recently graduated with a degree in architecture, believes that the Emirates Cricket Board (ECB) should compensate the players for the time and effort they put in so that they can "focus on cricket solely." Because cricket is not a full-time job in UAE yet, "it is difficult for the team," as they have to juggle work/studies, family life and the sport. The players are working very hard to change this so that they can be "more committed" to the game they love.
With Alex Blackwell and Ellyse Perry. ©Humaira Tasneem
"We have two tournaments with four academies taking part in each one," she adds, giving an insight into women's cricket structure in UAE. "We also participate in tournaments that are played with u19 boys to get more exposure and match practice. Most of the girls cannot come for all the matches due to work commitment and other issues."
Tasneem believes things will improve if the coaching staff increases.  That's one of her many wishes that she wants to come true for more girls to take up cricket in UAE.