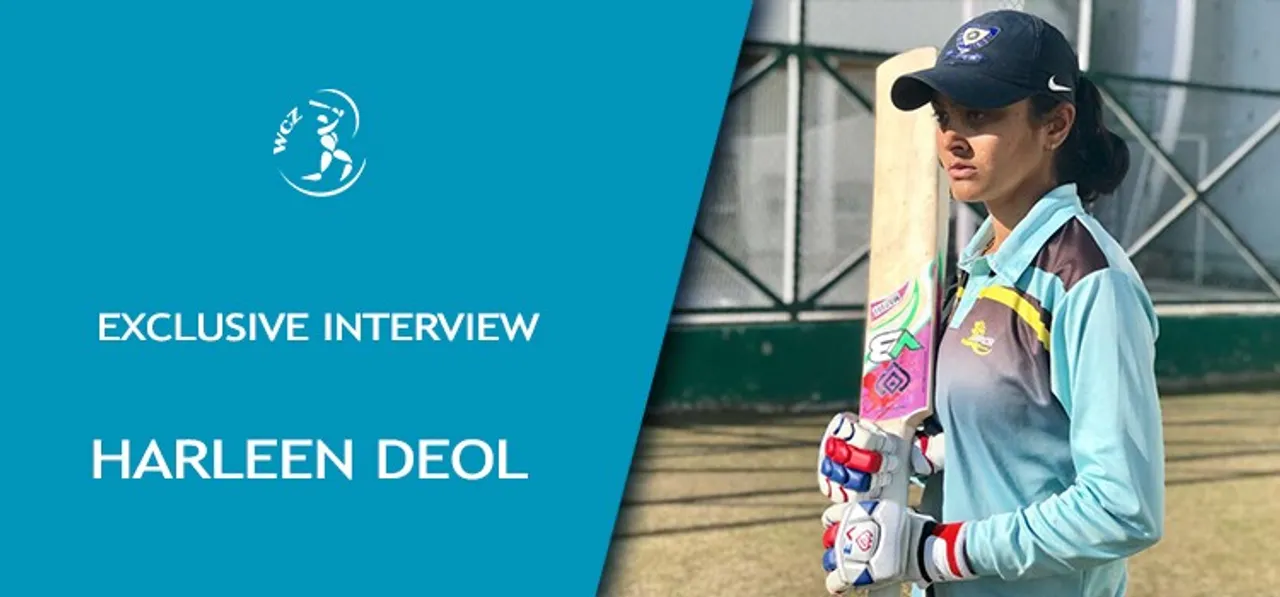 One of the most promising all-rounders of India, Harleen Deol, started her cricketing career at the age of 8. She started playing with her brother but after her brother went for higher studies, she became the only girl among the boys. Many eyebrows were raised at that time but her parents never allowed anything which could become a hurdle in her career.
She then shifted her base from Punjab to Himachal Pradesh for better opportunities and became a leg-spinner. Her dedication and hard work made her one dream fulfilled; when she played for India A. Following India ODI captain Mithali Raj's footsteps, as they both share the same jersey number; Harleen wants to fulfil her other dream, to get selected in the national team.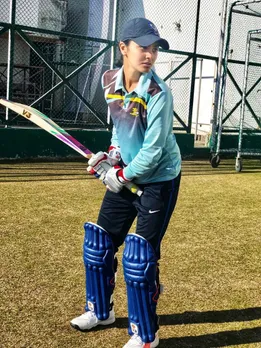 During a match in Dharamshala. ©Harleen Deol
Recently
Shruti Banerjee
had a chat with
Harleen Deol.Here are some excerpts from the exclusive interview:
What exactly made you get into cricket?
I used to play with the boys in Punjab. Because of my brother, I started playing cricket. Not only Cricket, I used to play Football, Hockey and Basketball too. But, later on, I decided to continue cricket only. So, that's how I got into this game.
Tell us about your initial days.
I started playing cricket at the age of 7/8 years, with my brother. It was only gully cricket then. I first got selected in the school team when I was in the third standard. I was 9 years old then. Later on, I went to give trials for Chandigarh team. We had a match against Mohali district. There was the coach named RP Singh, who told me to come to Punjab and he chose me for the state team. That time I was 11/12 years old. That's how the journey started.
You shifted your base from Punjab to Himachal Pradesh. Tell us more about that.
Firstly my father got transferred to Kangra. I had visited Dharamsala for the vacation and saw the academy there. Girls were practising and they were getting the facilities which international players get. When I saw the facilities and the opportunities, I got impressed. My father asked me whether I want to shift my base. I thought that would be a great opportunity for me to improve my base and skill.
What was the role of your family while shaping your career?
My family has supported me throughout. My parents are not like others' parents who don't support their children's dream. In my early stage, I used to play with the boys. After my brother got into higher studies, I was the only girl playing with the boys. So, lots of aunties used to come to our home and tell to my mother that why she used to play with the boys and she shouldn't play with them. My mother was very clear at that time. She told that if the goal is clear, then why shouldn't she play? My parents supported me a lot.
Off-spinner to leg-spinner. What was the story behind this?
Initially, I started as an off-spinner. That time I used to play for Punjab and we were playing a tournament. It was a North Zone Tournament and after that, the nationals. I started the tournament as an off-spinner. We had qualified for the nationals and we had a break of 10-15 days in between. That time no leg-spinner was in the team and I was bowling the leg spin with variation just for a change. I was bowling with good control so our coach Prakash Sir told me to do more leg spin instead of off-spin. Then I became a leggie.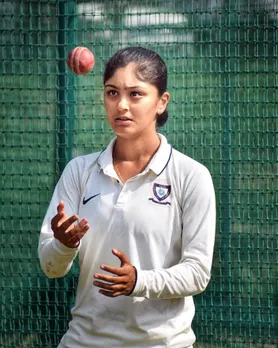 After an inter-college match in Chandigarh. ©Harleen Deol
You are a complete all-rounder, moreover, you open the inning too. Did it happen by chance or you wanted to become from the beginning?
I was the all-rounder from the beginning but initially, I used to play down the order only in the Punjab team where I didn't get the opportunity to play more and score runs. There was a match in Hyderabad where all the top order batters got out within 20 runs. I went to bat when the score was 22/4 and took the team to 100. Though we lost the match but later on our coach was impressed and told me that I had played better than the top order and told me to open the next inning. I opened the next match and scored 49 runs against Hyderabad. I got out at 49 and from that day I became an opener.
Being a leg-spinner and opener, isn't it difficult to balance both, as you have to think of your performance?
Really not because I enjoy both the departments. If you are getting wickets as well as scoring runs, then it's fine. But sometimes if you couldn't do well in bowling you can cover up that in batting also and vice-versa.
Did education take a back seat once you decided to pursue cricket professionally?
Not really because my father is equally concerned for my studies. He always says, "If you don't study, you will not be able to grow up. Even if you play cricket, you should manage study well." Currently, I am in the final year of B.A. in MCM college, Chandigarh.
What was your feeling when you got the chance to play in India A team?
It was a great feeling, especially for my mom. She was crying all day. When I asked why are you crying, she was like I am so happy that I can't tell you. She has seen me from the beginning so all the flashback was coming. Even when I was walking on the ground, wearing the jersey I just can't describe that feeling. When you are practising the whole day, repeating the same thing every day and when you get the results, it feels great.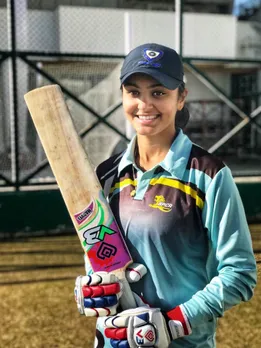 In Dharamshala. ©Harleen Deol
What were your coaches' roles in making you a cricketer?
I had many coaches, not only one. When I was in school, Praveen Singha Sir was there. He made me play in the Mohali team. I was 8 years old when I played my 1st inter-school U-19 match. When I used to play for Punjab, RP Singh Sir was there. He got me to inter-district and inter-state cricket. Prakash Sir was there with Punjab team who made me a leg-spinner.
When I shifted to the Himachal Team, Pawan sir was there. He made me the opener for the team. Then Pushpanjali Banerjee came into place. She is the recent coach now. She is there for the last 3 years and raised the standard of fielding.
There was Khyati Gulani ma'am too. I made my first 100 under her only in inter-zonal against the East Zone in 2015. She made me believe how to score big runs. I have learnt so many good things from each one of them.
Tell us about your daily routine.
We start our sessions at 5.30 or 6. Till 8.30, we have fitness session. Earlier when I had to go to school also, I had to go at 9 and I used to come at 3 pm from school, at 4 pm I had to reach the ground. Then till 7.30 or 8, we used to have sessions. After that, I used to come back home and do my studies and then I used to sleep. The difficult part was to prepare for the school. Coming from school and going to the ground was the better option than going to school. That was really difficult (she giggles)!
You have played in India A team, what do you think what is needed more to be selected in the national team?
You need to perform at that platform. That only makes you select for the India team. And you need to be more consistent by scoring runs or helping to the wins of your team.
The warm-up matches against England this year didn't go well. How was your experience?
The experience was good. I have learnt a lot from them. The way they batted, the way they fielded, their fitness level, everything is so amazing that you can feel them on the field that you are nowhere near to them. There are lots of differences between us. We got to know the differences and we are working on that only.
You are going to play your maiden Challenger Trophy. So, what was your feeling when you got to know about your selection?
I was happy as I was expecting a call from there only because last year I got selected but I got fractured on the finger so I missed that. Obviously, it makes me happy as well as excited to play.
How have you prepared yourself for the Challenger Trophy?
Just following the basic routines in batting and bowling because I have to concentrate on both. I just can't concentrate on one so yeah, practising a bit more.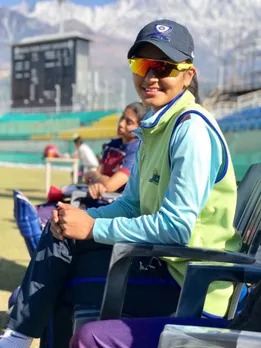 In Dharamshala. ©Harleen Deol
Your Jersey number is 3 and in the national team, Mithali Raj's Jersey number is 3. Is it because you idolise her or any superstition behind it?
Actually, I had asked for 21 as it's my birthdate. Usually, I have seen players chose their jersey number as their birth date or if anybody is superstitious so they chose their number. But in the team some senior player's jersey number was 21, so they gave me number 3. But Mithali Di's jersey number 3 and mine too is 3, so it's lucky for me that I am following her footsteps.
What do you think being a captain helps to perform better or it becomes a pressure?
I don't think it's a pressure because I have been captaining North Zone team and Himachal Team also. I feel there is a different responsibility you have in the back of your mind because you need to see which player works better in which area, and who is a better performer. And as a player, I think being a captain makes a person perform better because you know that you need to take your team to the other side.
Do you follow anyone from the India team?
I follow Mithali di's (Mithali Raj) batting as well as Smriti (Smriti Mandhana) and Harmanpreet (Harmanpreet Kaur). Because all three have the different style of batting so I like three of them.
You have attended NCA camps with Deepti Sharma and now you are going to play under her captaincy. So, will this help you to do better?
Yeah, I know Deepti from before. We have played in the Zonals too in U-19. When she started playing for India, she is been playing that level only. So, it would be exciting playing under her.
Any funny moments you want to share?
I was playing in the Senior Zonals in Kerala and in the first match I scored some 40-45 odd runs. But in the next two innings, I got out on zero. So, in the last match, our captain asked me to go to bat if a wicket falls. I was like ok. Some 20 runs were left and I went to bat. I played the first ball, flicked it towards fine leg and took a double. The whole team stood up and clapped for me that I scored my first run. They all stood up as if I scored a 100. The crowd started cheering, in fact, the opposition team too started clapping but they had no idea what was going on. They asked me what happened when the non-striker came up to me to congratulate! That was one funny yet embarrassing moment for me.
What is your next goal?
To get selected in the India team.
How's Harleen off the field?
I am a very joyful and funny person.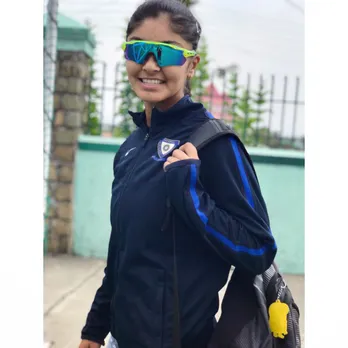 In Dharamshala. ©Harleen Deol
Rapid Fire:Favourite Food:
I like 'ghar ka khana' only (Homemade food). Especially chicken and my mother's chilli paneer.
Favourite Book:
You Can Win by Shiv Khera.
Favourite Pastime:
I watch movies
Favourite Actor:
 Ranveer Singh
Favourite Singer:
 Gurdas Maan as I like Punjabi songs.
Favourite Player (both male & female):
 Shane Warne and Virat Kohli (Male). Mithali, Smriti, Harman (Female)
Favourite sports person(s) outside cricket:
Messi and Ronaldo
Best Friend in the team:
 I have many. Jemimah Rodrigues, in the state team it's Shivani Thakur, Sushma di (Sushma Verma) and Nikita Chauhan. Other than these, Inayat, Ravneet and Amanat. I always hang out with them whenever I am in town.
Idol/Inspiration:
 My mother
Most memorable moment of life:
 When I got a call for India A.
Yourself in one word:
Funny 
Which cricketer comes to your mind hearing these words!Aggressive:
 Virat Kohli
Cool:
 MS Dhoni
Introvert:
 Mithali Raj
Foodie:
 Nikita Chahun (Himachal team)
Style Icon:
Veda Krishnamurthy