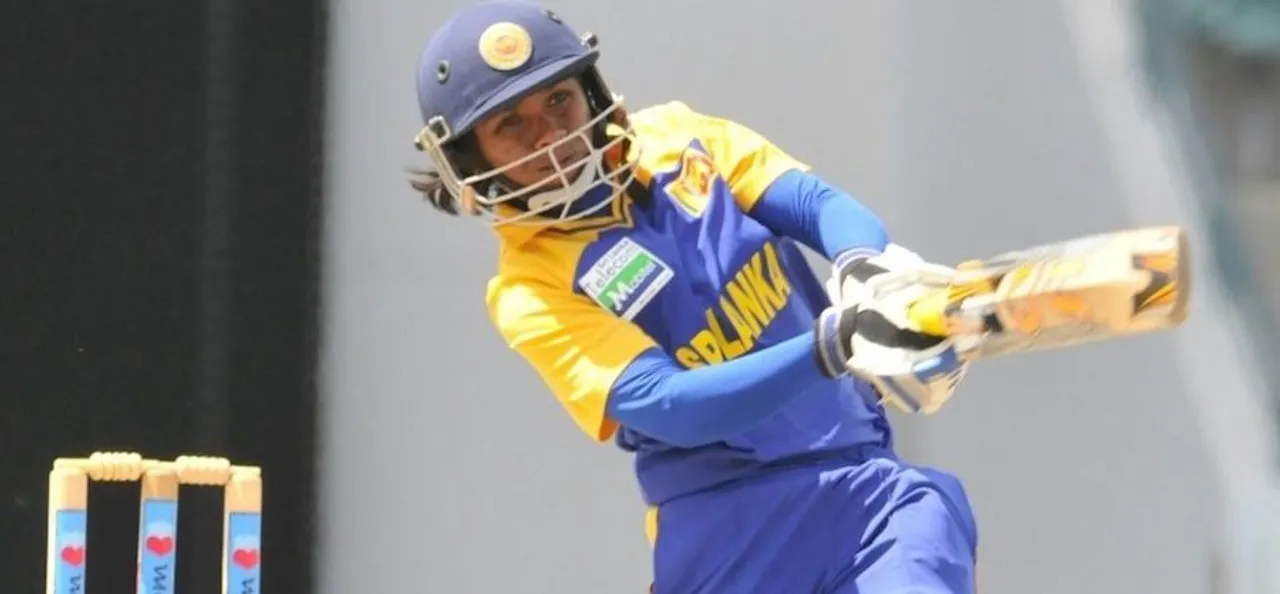 The ramparts of the Galle fort echoed the cheers of the fifty-odd Sri Lankan supporters who found their voice even as their team lost its feet. Sri Lanka slid to a facile win in the first ODI of the series against India, but you wouldn't have been able to tell looking at the players after the game. As they spoke to their supporters, you could see broad smiles, cheerful banter, and babies being passed across the boundary. After all, the players were interacting with their biggest fans: their friends and family.
One group was clustered around Sri Lankan batter Dilani Manodara, all wearing her colours. "It's because of my family support that I still play," says the former wicket-keeper, now close to 36 years old. Behind the group is a white Maruti Suzuki van in which the family of six piled into at 5 AM that morning, making the 220 k.m. trip from Kandy over to Galle. It's as if Manodara is making her debut. In fact, she's closing in on her 100
th
ODI, a mark only one other Sri Lankan has achieved.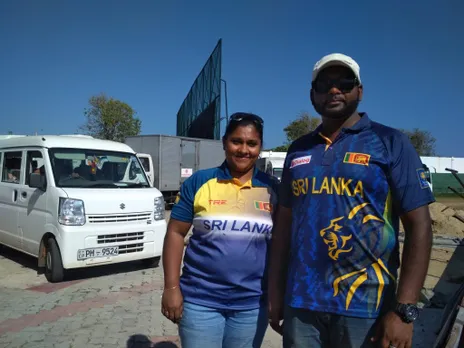 Manodara's sister Chayani and BIL Jagath. ©Snehal Pradhan/Women's CricZone
Manodara is a busy cricketer with a penchant for causing mischief when the opposition least expects it.  When India last played Sri Lanka, she walked in at 70 for 3 with Sri Lanka chasing 233. She scored 61, enough to make India very nervous. It was a televised game in the World Cup, and Manodara batted till the 48
th
over, taking Sri Lanka to within one good over of India's total. You may remember her from the previous World Cup as well: At the Brabourne stadium in 2013, Sri Lanka needed 10 runs off seven balls against defending champions England when she came to the crease. A last-over six from Eshani Kaushalya brought the target down to 2 in 4 balls, before Kaushalya was run out. With one required off the last ball and just one wicket in hand, a nerveless Manodara hit a six, scripting the upset of the tournament.
"It was a moment I will always cherish," she said, speaking after the first ODI in Galle.
Her numbers (1333 runs in 84 innings) won't set global cricket alight, but she does have 61 dismissals as wicket-keeper to her name, the most be a Sri Lankan. Her knack of delivering in tight situations is one of the reasons she has made a place for herself in the Sri Lankan team for 12 years. "I don't feel the pressure," she says. "When the team does well, I sometimes relax and get out. But when the team needs me, I feel like I can control the situation. It's a habit for me." 
Manodara's family. ©Snehal Pradhan/Women's CricZone
Perhaps it's because cricket is everything for her. Like a few of her teammates, she caught the bug after watching Sri Lanka men win the 1996 World Cup. She was 14 then, and happily followed a neighbour to the local cricket ground in Kandy, spending all her free time playing among the boys.
Then again, perhaps it's because she knows that cricket has given her everything. The third in six siblings, Manodara's father has been missing since she was seven; the family believes he was abducted by a local gang. Her mother took over the small supermarket that her father ran, and earned some money sowing on the side, so she could keep the entire family afloat. While in school, Manodara used the cricket kit provided to them, but after that, she sometimes struggled to fund her cricketing ambitions. "There were sometimes I would be able to afford only the bus fare. It was difficult to buy kit and travel for tournaments," she says. Despite this, Manodara managed to make an impression in the domestic tournaments. When MAS Holdings started a women's cricket team, Manodara was picked up in 2005 and got a financial lifeline.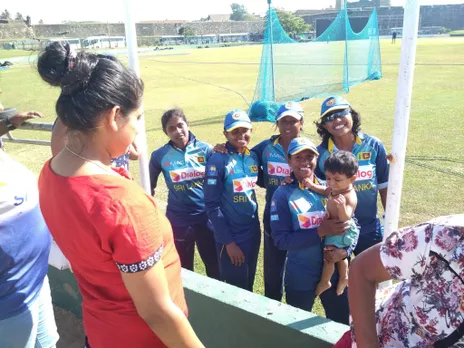 Dilani Manodara with the other Sri Lanka players. ©Snehal Pradhan/Women's CricZone
Now with the Sri Lankan Air Force since 2010, Manodara is one of those who provides for her family. "They fully supported me when I moved to Colombo for practice. They never told me about the problems at home, they would solve them by themselves and then tell me 'this happened, that happened'," she says. "Sometimes families push you to stop cricket in the 30s; in Asian region there is pressure." She doesn't say the word, but she means the pressure to get married. "From my family, there is nothing like that, they just keep supporting me."
Opposition teams might not spend too many nights sweating over Manodara's sweep shots (she used to play hockey), but she doesn't mind. Her career average of 19 may not scare bowlers, but that's not why she's here. She dreamt about playing for her country, and that's what she's doing. Ask her what she would be if not a cricketer and the immediately shakes her head. "Definitely a cricketer. Nothing else. Nowhere else." 
The author is a former India cricketer, and now a freelance journalist and broadcaster. She hosts the  YouTube Channel, '
Cricket With Snehal
', and tweets
@SnehalPradhan
/codes_iframe