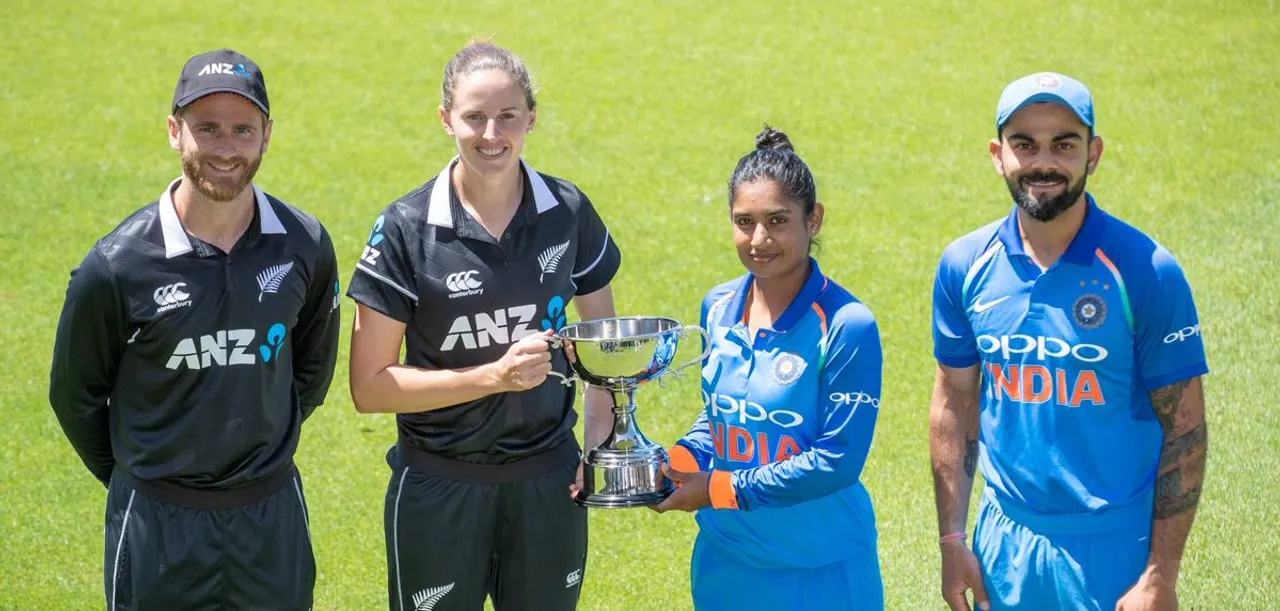 In the 42 years, since they played their first (official) Test, India have only travelled to New Zealand six times, but every journey has thrown up a significant event in the team's history. In 1977, Shantha Rangaswamy scored the country's first ever century in a Test match in Dunedin. In the 1982 World Cup, they registered their maiden ODI victory against International XI, and followed it up with a win over Rachel Heyhoe-Flint's England. In 1995, a young Indian team, led by Purnima Rau, beat both New Zealand and Australia to lift the Centenary Cup — the team's first major overseas victory. It was a triumph that, to quote Rau, "put the Indian flag on the cricketing map".

Five years later, during the Cricinfo World Cup, a young Mithali Raj made the world sit up and take notice of her abilities with the bat. In 2003, although India won only one game in the quadrangular trophy, the tour saw Jhulan Goswami, Amita Sharma, Rumeli Dhar, Neetu David and Nooshin Al Khadeer join hands. It was a bowling combination that would dominate in the years to come — possibly India's most potent and balanced attack ever.

India's last visit to New Zealand came in 2006. It was the second leg of a rather dismal tour Down Under, with India managing only one win. But strangely enough, it was also the first time the two teams had ever played a bilateral ODI series in the country.

Now, 13 years later, India embark on their seventh trip to Kiwi-land, and much has changed for both teams. Back then, India were in their initial years of 'professionalisation' with the BCCI having just taken over women's cricket, while New Zealand were still one of the super powers in the women's game. Mithali was already well established, Goswami was quickly becoming one of the most feared fast bowlers in the world, and Suzie Bates had just made her international debut.

Also Read: Mona, Poonam shine in India's warm up game

Fast forward to 2019, and Raj and Goswami, well into their 30s and arguably India's two greatest cricketers, are trying to eke out every last ounce of energy to stretch out their careers, while Bates is her country's most celebrated (and successful) player. All three have learnt to adapt and find ways to succeed at a game that is constantly changing and are the only remaining (playing) links to that tour of 2006.

For India, 2018 was a year of extremes — the double series win in South Africa, a forgettable home season followed by the devastating loss in the Asia Cup, victories in Sri Lanka and finally, a tremendous run (against-the-odds) to the semifinal of the World T20 in the Windies — that ended in a controversy that put the game in the shadows for a while.

2019, and this series, comes with the promise of change.

New Zealand are no longer the super power they once were. If anything, they have become consistently inconsistent — getting on a bit of a roll, before finding a way to collapse in a heap when the pressure is on. They have fallen off the radar and had some poor results in world tournaments over the last few years. They will be keen to start the new year on a positive note. They have a point to prove — to themselves and the rest of the world.

Also Read: Perkins recalled, Bezuidenhout to take gloves for White Ferns in ODIs

India's challenges this time around will be two-fold—they are not only unfamiliar with the conditions, but also with their coach. WV Raman, appointed head coach of the team at the start of the year is on his first assignment. Highly respected and considered one of the best technical and tactical brains in the country, Raman will be looking to guide a team that he sees as "very talented" to the height of their individual and collective abilities.

"What we are looking from the tour is to do as well as we can and play with the same kind of ability that we have been showing, because our team has stood out in terms of ability in comparison to other teams," Raman told CricketNext. "Basically, it is a critical time for the women's game, and it will be a challenging assignment as well for me personally. When I say critical stage, it is in the sense that they have been doing well in the last 18 months or so. Now is the time that they really go up."

Apart from the 1995 Centenary Cup, India's batters have traditionally struggled in New Zealand, but with Raman's experience, and India's newly adopted positive approach, they may be able to turn that around. After all, despite the wind and all the swing (in the air) on offer, pitches for one-day cricket have traditionally been quite flat all around the world.

The Indian batters themselves are all in good nick. Smriti Mandhana and Harmanpreet Kaur are coming off fairly successful stints in the Women's Big Bash League, while the rest of the batting unit including Mithali, Jemimah Rodrigues, Deepti Sharma, D Hemalatha, Priya Punia, and Taniya Bhatia were all amongst the runs in the Indian domestic circuit. Mona Meshram, the ODI specialist, managed a half-century in the practice game and will certainly be high on confidence heading into the series.

Also Read: Mithali Raj is positive of WV Raman making a difference

With conditions unlikely to be conducive to spin the quartet of Poonam Yadav, Rajeshwari Gayakwad, Ekta Bisht and Deepti will have their task cut out, but Mithali is confident that they will continue to be effective regardless of whether the pitches suit their style or not.

"Spinners have always been our strength," said Mithali in the pre-series press conference. "They have bowled in different conditions and on different tracks, and they do know how to bowl in the areas if they don't get much turn. It will be a challenge for them, but I guess that's where experience counts. As batters also, we need to negotiate different tracks, and that's what the bowlers will do."

The pace trio of Goswami, Shikha Pandey and Mansi Joshi could also be a handful in helpful conditions. Goswami, who recently retired from T20Is to try and prolong her ODI career, kept herself fresh through the domestic season, peaking at the business end, to help Bengal lift their maiden one-day title. Joshi, a genuine outswing bowler, made a successful return to international cricket last September, while Pandey looks to have found her edge again, even leading India Red to the Challenger Trophy title, and picking up a five-for in the final.

New Zealand too, have made a few changes to their squad, but the core remains the same. The young group of Amelia Kerr, Bernadine Bezuidenhout, Maddie Green and Hannah Rowe have been backed by the management and given a long rope. Bates, Sophie Devine, Amy Satterthwaite, Lea Tahuhu and Leigh Kasperek continue to be the key performers, while Katie Perkins' return to the ODI team, and Frances Mackay's selection in the T20I squad will certainly act as a huge boost to the group. Katie Martin, another key performer over the last 12 months will miss the ODIs due to work commitments, but has been included for the T20I series.

Also Read: India will face "a different challenge", says Amy Satterthwaite 

New Zealand has never been kind to India. In fact, India's overall limited overs record against them in the country reads as follows: 16 matches, four wins, and 12 losses.

The Indians, however, will be hoping that the 10-day camp and their practice match against Central Hinds would have helped fast-track their adaptation process.

"The ground dimensions — we don't think that much about it," said Mithali. "But yes, the wind will be a factor whether it is batting, bowling, or the fielding department. We did speak about it, and we are training accordingly, so that when we do get on to the field we hope that would not be the top-most thing in our mind. How we negotiate and manoeuvre it is certainly what we have discussed, and we look forward to implementing it."

As far as ICC Championship points go, this series is very crucial — India are down at fifth position with only eight points in nine matches. With New Zealand earning direct qualification, as the host, it is important India find a way to finish in the top four.

Also Read: Veda Krishnamurthy dropped for the New Zealand tour

In recent years, India have enjoyed some success over New Zealand. The last time the two teams met in a bilateral series was in Bangalore in 2015— a series where India came from behind to win 3-2. Although they went on to lose the T20Is, 2-1, it was the beginning of a special period for India in ODI cricket. After that, came the win in the 2017 World Cup followed by the walloping they gave them in the Caribbean.

Of late, Indian women's cricket has been in the news for all the wrong reasons. After having to constantly answer questions about the leaked e-mails and mud-slinging that followed, Mithali, Kaur and co. will be relieved to be able to get back on the field and let their skills do the talking. If anything has stood out about this team over the last couple of years, it has been their ability to bounce back from difficulties. They care little for history, their opponents' reputations, and what the rest of the world is saying about them. So, if any Indian team had a chance to give the Kiwis a run for their money, it is certainly this one. After all, (magic) tour number seven, too, must have its own piece of history in store.


---
ODI squads:India:  
Mithali Raj (c), Harmanpreet Kaur, Smriti Mandhana, Punam Raut, Deepti Sharma, D Hemalatha, Jemimah Rodrigues, Mona Meshram, Taniya Bhatia (wk), Ekta Bisht, Poonam Yadav, Rajeshwari Gayakwad, Jhulan Goswami, Mansi Joshi, Shikha Pandey.
New Zealand:
Amy Satterthwaite (c), Suzie Bates, Bernadine Bezuidenhout (wk), Sophie Devine, Lauren Down, Maddy Green, Holly Huddleston, Leigh Kasperek, Amelia Kerr, Katie Perkins, Anna Peterson, Hannah Rowe, Lea Tahuhu.
---
T20I squads:India:
Harmanpreet Kaur (c), Smriti Mandhana, Mithali Raj, Jemimah Rodrigues, Deepti Sharma, Taniya Bhatia (wk), Poonam Yadav, Radha Yadav, Anuja Patil, Ekta Bisht, D Hemalatha, Mansi Joshi, Arundhati Reddy, Shikha Pandey, Priya Punia.
New Zealand:
Amy Satterthwaite (c), Suzie Bates, Bernadine Bezuidenhout, Sophie Devine, Hayley Jensen, Caitlin Gurrey, Leigh Kasperek, Amelia Kerr, Frances Mackay, Katey Martin (wk), Rosemary Mair, Hannah Rowe, Lea Tahuhu.
---
Fixtures:
| | | |
| --- | --- | --- |
| 24th Jan | 1st ODI | McLean Park, Napier |
| 29th Jan | 2nd ODI | Bay Oval, Mount Maunganui |
| 1st Feb | 3rd ODI | Seddon Park, Hamilton |
| 6th Feb | 1st T20I | Westpac Stadium, Wellington |
| 8th Feb | 2nd T20I | Eden Park, Auckland |
| 10th Feb | 3rd T20I | Seddon Park, Hamilton |
---
Watch the ODI series preview by Snehal Pradhan: