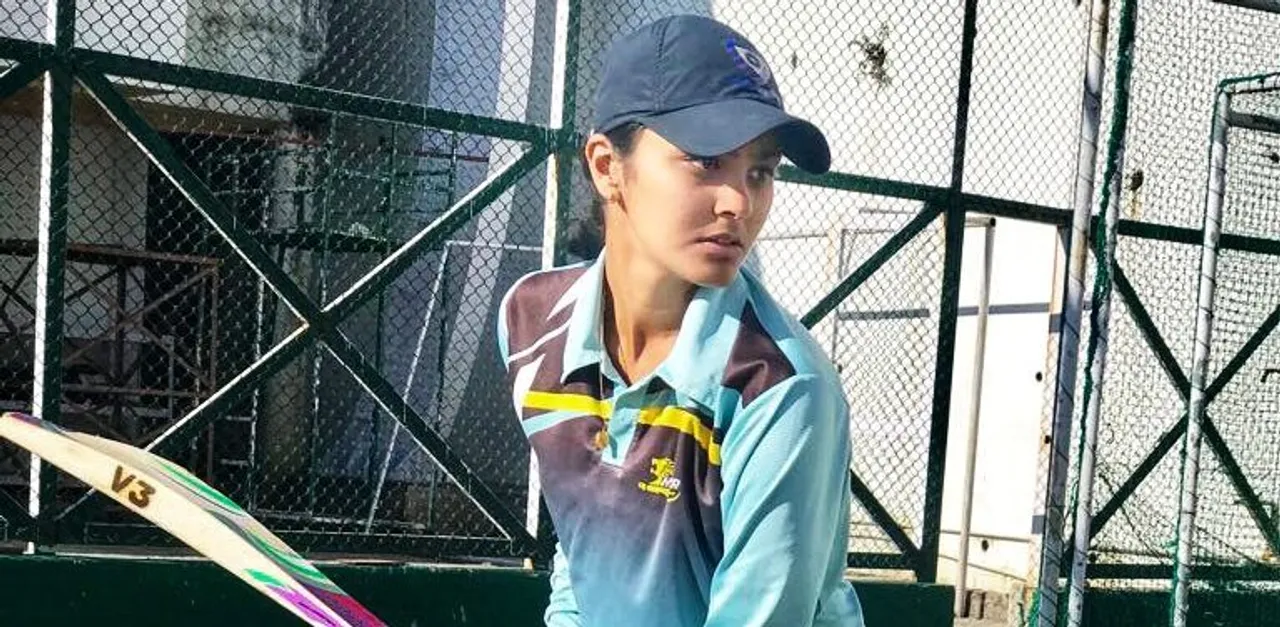 Harleen Deol and D Hemalatha are two fine young talents who have a lot to offer to Indian cricket in the coming future. The two straight drives that Hemalatha played off the seamers on Saturday (January 5) must have left an indelible mark on the minds of those who watched them, as must have Deol's offside play.
The duo became the first two batters to score half-centuries in the ongoing Challenger Trophy before Tejal Hasbanis (65) added her name to the list, but they are not yet finished products. Soon after their respective milestones, Deol in the first innings and Hemalatha in the second innings had lapse in concentration and threw their wickets away when they had a chance to build on the starts.
At the mid-match chat, Deol said that she was unhappy for having not converted her knock into a big one. It was a good to hear because if Deol or Hemalatha have to differentiate themselves from the rest and stake a claim for a spot in the Indian middle-order then they have to finish games consistently.
On the day, Deol's 80-ball 57, her 102-run stand for the third wicket with N Anusha and a strong comeback by the bowlers gave India Red a ten-run win over India Green in a virtual semifinal at the Devineni Venkata Ramana Praneetha Ground in Mulapadu. They will now play India Blue in the final at the same venue tomorrow.
Chasing 200, after Red posted 199 for 9, Green were bowled out for 189 in 49.3 overs.
Green lost their first wicket early before Hasbanis and Hemalatha came together. They went about their task sensibly, primarily focussing on rotating the strike, during a 83-run stand.
The game, however, turned on its head when Komal Zanzad, the left-arm seamer who had taken three wickets in one over against Blue but had not been brought back for a second spell, returned to the attack. Bowling wide outside the off stump from over the wicket to Hemalatha, she induced a drive away from the batter's body that took the outside edge on the way to the R Kalpana's gloves. Mona Meshram too fell in a similar fashion in the next over as Green became 108 for 3 in 31 overs. Arundhati Reddy was also stifled before falling to Radha Yadav for a 14-ball 1.
Hasbanis, who had been sedate till then, picked up pace during her fifth-wicket stand of 19 with Sushree Dibyadarshini, running twos cheekily. But a misunderstanding between the two led to Hasbanis getting run out in the 42nd over. Sushree tried to up the ante, but fell in the next over and the chase lost fizz thereafter.
Earlier in the day, Red were put into bat and Green bowlers used the early morning conditions well but could only take two wickets in the first ten overs. As the sun came out, Anusha, who had looked edgy at the start, and Deol gave good account of themselves.
Their association was the primary reason that for the first time a team was able to bat out full 50 overs in the competition. Deol's innings was laced with seven fours before her attempt to hit SB Keerthana, the legspinner, over the in-field led to an easy catch to Anita Lodhi at cover point.
That brought Veda Krishnamurthy to the middle, and she started positively. It looked like she would provide the impetus towards the end after Anusha made a wrong choice of shot to be caught at long off for 48 off 106 balls.
It was not to be Veda's day as she was one of the five wickets to fall in the last ten overs for the addition of only 49 runs. Her 46-ball 35, however, had give the scoreboard enough legs to set Green a target of 200.
Green needed 37 off the last six overs, and Lodhi and Shewta Verma showed urgency, but three run outs towards the business end derailed them.
Like the bowlers, Kalpana's effort behind the stumps was equally crucial to Red's victory. She took two catches, made two stumpings and effected two run outs.
"Harleen played well. We carried the innings and got that score. We are ready to play the next game. We were planning according to bowlers, aiming at three to four runs per over," Anusha told the broadcaster after the match. "Radha, Shikha, Tarannum Pathan and all other bowlers bowled well."
India Red 199/9 in 50 overs (N Anusha 48, Harlee Deol 57, Veda Krishnamurthy 35; Renuka Singh 2-44, D Hemalatha 2-28, SB Keerthana 3-33) beat India Green 189 in 49.3 overs (Tejal Hasbanis 65, D Hemalatha 50; Shikha Pandey 2-32, Komal Zanzad 2-36, Radha Yadav 2-37) by ten runs.