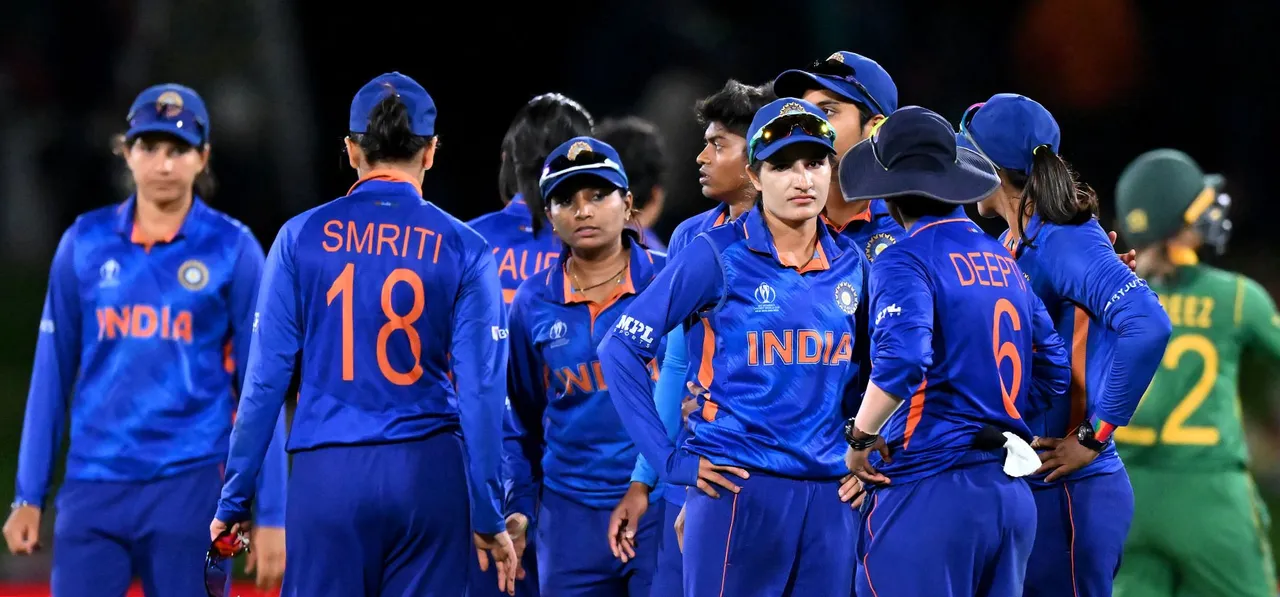 India, runners-up of 2017, bowed out of the
World Cup 2022
after a narrow loss against South Africa in their final fixture, rounding off a wretched time in ODIs that started with a 4-1 loss against the same opponent at home in March 2021.
After that series loss, India travelled to England, Australia, and New Zealand, winning only three matches from 11 ODIs. Incidentally, these four teams were the ones that beat India in the World Cup, as familiar woes continued to haunt the side. 28 players were part of the playing XI in these ODIs – most for any of the eight sides in the tournament - with only skipper Mithali Raj featuring in all 23 of them. For comparison, finalists England used 16, while 19 players turned up for Australia during the same period.
So what went wrong for India after enjoying a period from 2018 to 2020 losing only one ODI series – against Australia in Baroda – from the eight bi-laterals they featured in? Was the World Cup exit really a representation of where they are at as a team? Was it down to the one-year break they had during the pandemic? Did they fail to change their approach in a fast-evolving format? Or did all these things contribute to the eventual outcome?
The young and the restless
Successful teams tend to ease younger players into their squads and give them roles where they can flourish in the best possible way. While throwing them into the deep end can work once in a blue moon, in the long run, having the balance of senior pros doing the tougher jobs and young ones complementing them works better.
Young Yastika Bhatia was attending the press conference after India's loss against Australia on March 19. She looked composed and answered the questions patiently. Earlier in the day, Bhatia scored 59 off 83 balls to guide her side to a competitive total but Meg Lanning made light work of the chase, despite India taking it to the last over.
21-year-old Bhatia made her debut during the away series in Australia and has been largely impressive in the 13 ODIs she played so far. However, it hasn't been as straightforward as it seems. She earned her maiden India call-up for the series against South Africa in Lucknow in March 2021 but didn't feature in any of the games. She wasn't part of the England tour that followed before giving a good account of herself during the series Down Under on her return.
In an international career spanning six months, Bhatia has been dropped from the side after her first duck, then was brought back to the XI to open the innings, and then again been moved down to number three after two matches as an opener. Before travelling to New Zealand, Bhatia batted at three for Baroda in the Senior One Day Trophy and India A in the One Day Challenger Trophy (She batted at four in the final of the event). When India A won the Challenger Trophy, she was the player of the match with an 86. The southpaw talked about taking on these roles in an attempt to replicate scenarios that are likely to happen in the international arena.
Going back to the media interaction, when asked about going back to number three in the batting order, Bhatia said "So just one thing sir (Ramesh Powar, head coach) told me, that don't play too aggressively. Just play a normal game, not over aggression. And just take responsibility of the team and play, that's what he said to me. That's the adjustment I made in my game."
ALSO READ: Meet Yastika Bhatia, the karate kid who loves batting
Shafali Verma made a name for herself in 2019 when she became the breakout star of the second edition of the Women's T20 Challenge. Despite being a regular fixture in the T20I format, it took India one and a half years and 11 ODIs since her debut to bring Verma into the ODI setup. While it's understandable for them to be cautious with the kind of talent she is, India dropped Verma and chose to open with Bhatia after a failure in the first match of the World Cup 2022. Then they went back to her again after the experiment with Bhatia.
Bhatia finished the tournament with 178 runs at an average of 29.66 (Third-best after Smriti Mandhana and Harmanpreet Kaur) from six matches, while Verma scored 107 runs at a strike rate of 97.27 (Second-best after Pooja Vastrakar) from four matches. The fact that neither of them had a great World Cup overall and still could give a good account of themselves is a testament to the kind of talent they possess.
One of the important wins during this tumultuous period was orchestrated by Bhatia and Verma when they added 101 runs in a record chase against Australia in Mackay. Four matches later, once they suffered back-to-back losses against New Zealand, India were confused about how to make optimal use of both of them, which led to Bhatia being dropped from the last ODI against the hosts and then to overlooking Verma for the opener role.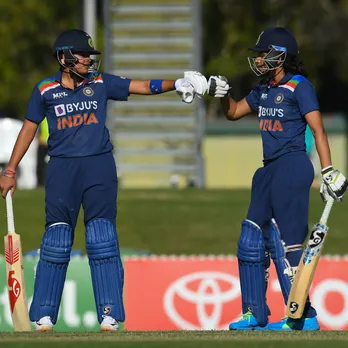 Shafali Verma (L) and Yastika Bhatia (R) during their stand against Australia © Getty Images
Considering both of them have been around the circuit at least since 2019 - they were part of India A squads in Australia during December 2019, could India have brought them into the squad a little bit earlier or should they have picked a reserve opener in the 15?
Going forward in the future, India would do well to persist with them in their preferred positions and allow Verma – the 18-year-old had seven fifty-plus opening partnerships in her nascent career of 15 ODIs – and Bhatia, who scored seven thirty-plus scores, including three fifties, continue in their current roles.
They would also do themselves a favour if they can extend the same courtesy to the young batters in the circuit – be it Jemimah Rodrigues, S Meghana, Indrani Roy, or a host of others. That might also include not asking them to face the media after a loss.
ALSO READ: Shafali Verma and the unbridled joy of battingCollective batting struggles, inexplicable tactics
In the World Cup 2017, six Indian batters played in all nine matches. Veda Krishnamurthy replaced Mona Meshram after the third match and went on to play the remaining games. All of them made significant contributions to their run into the finals. Except for Krishnamurthy, who finished with 153 runs from six innings, all the others made more than 200 runs.
Mandhana helped them get off to a good start in the tournament, while Kaur was instrumental in their strong finish, despite the heartbreak in the final. Raj and Punam Raut played their anchor roles to perfection and Krishnamurthy's knock in the virtual quarter-final against New Zealand was as good as any.
Come 2022, Mandhana made more telling contributions compared to the last edition – albeit at a lower strike rate – and Kaur was in her elements again. Apart from these two, none of the other batters made more than 200 runs and struggled to perform their supporting act. The fact that Mandhana, one of the aggressors, had to reign in her game can also be seen as part of the collective struggle the batting unit had.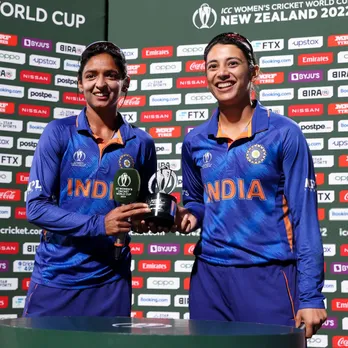 Harmanpreet Kaur (L) and Smriti Mandhana (R) were the bright spots for India © Getty Images
Raj and Jhulan Goswami were synonymous with women's cricket in India from their debut and they carried the expectations of the team with aplomb over the years. Here though, the India skipper had a middling tournament; she played a couple of crucial knocks against Australia and South Africa despite a not-so-ideal start in the first few matches. But overall Raj's numbers don't paint a rosy picture.
India were also on the money in the 2017 edition with decisions, be it bringing in Krishnamurthy for Meshram or Kaur moving up to four at the back end of the tournament, these decisions were taken on the go to optimize the batting unit.
However, in New Zealand, India were unsure of themselves. Much has been already written about the folly of loading up the top order with three left-handers in the New Zealand game, apart from how they handled Verma, Bhatia, and Deepti Sharma as batters.  There was never an attempt to move senior pros – Raj and Kaur – one slot up to give them more time at the crease. That also brought attention to the lack of flexibility in their 15.
At the first glance, with the team scores going up, it can be said that India's batting didn't fare badly overall. But they would feel they let themselves down in crucial matches considering batting was this side's strong suit.
Inexperienced pacers led by a tired warrior and struggling spinners
Like in the case of Raj and batting, Goswami has been the face of India's bowling mostly through her career. However, the 39-year-old pacer didn't have the greatest of tournaments despite her overall numbers looking decent. Putting all your money on a tiring warrior eventually cost the team when she was sidelined with a side strain ahead of the must-win encounter against South Africa.
Having had five years to prepare for the event, India failed to build a pace battery for various reasons. Even if you ignore the much-talked selection choices, it was unfair on both Meghna Singh and Renuka Singh Thakur to come into the tournament without much, or any, experience under their belt. Considering the fact that they have been around for a while in the domestic circuit and had stellar performances from time to time, they could have been given a go in all these years.
ALSO READ: India: Less than the sum of their parts
Eventually, it was too much for the young Pooja Vastrakar to lead the attack in India's final fixture despite having had a good tournament with both bat and ball. It wasn't just the pace unit, but India's bowling attack as a whole fell away since their spin contingent started struggling in good batting conditions since 2021. It can be said they weren't proactive in realising the patterns of how they were repeatedly failing to defend targets since the home series against South Africa in March last year.
Deepti Sharma conundrum and other allrounders

Sharma was opening the batting for India ahead of the World Cup in 2017, but Mandhana's comeback from injury and her own batting form meant the allrounder was mostly used as a bowler who can bat in the 2018-22 cycle. However, the lack of good all-round options forced India to utilise her batting ability as well. But the left-hander struggled and couldn't find a regular batting slot, as she was moved up and down the order. An opener by trade in domestic cricket, the lack of power game meant Sharma failed to evolve with a fast-changing game.
Even then it was her off spin that kept her relevant and was influential in India's win when they had a successful run in the format. With her bowling tapering off, and with India tampering with her batting positions more often than not, Sharma found herself out of the XI mid-way through the World Cup. Eventually, she made a comeback in the final fixture, when Goswami went down and was in the thick of the action. Despite her indifferent form, India backed her to bowl that final over when things went down to the wire and unfortunately for her, Sharma couldn't come through.
ALSO READ: India's Deepti Sharma problem raises more questions than answers
Sharma copped much criticism for bowling that no ball with the penultimate delivery, but that was something that could have happened to any of the bowlers contrary to common perception. Anyone could miss their run-up and overstep at the bowling crease regardless of their trade – be it spin or pace. However, her numbers should come under scrutiny and if India can find solutions to her bowling problems, Sharma would still be a handy option as a restrictive bowler.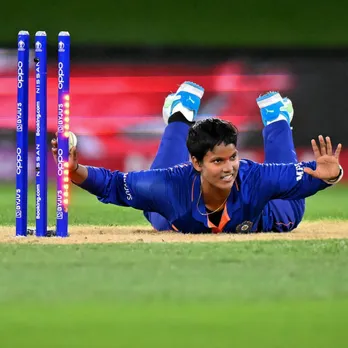 Deepti Sharma needs to re-invent her all-round abilities © Getty Images
The arrival of Vastrakar and Sneh Rana – both had decent tournaments with handy runs and ten wickets each – should help India and Sharma breathe better if they still want to make use of her off spin. Finding an aggressive leg spin option to complement the impressive left-arm spin of Rajeshwari Gayakwad could make for a well-rounded attack.
The next World Cup is in three years, other than making allowances and space for the arrival of prodigal talents like Verma and Richa Ghosh, what India could do is to build structurally towards the event after identifying the players they want to stick with. Give them enough game time and make a contingency plan as well in case of an injury or someone's form tapering off. It's about giving yourself the best chance to have a shot at that silverware. And for that, India need to act fast after letting the players process what happened in New Zealand.