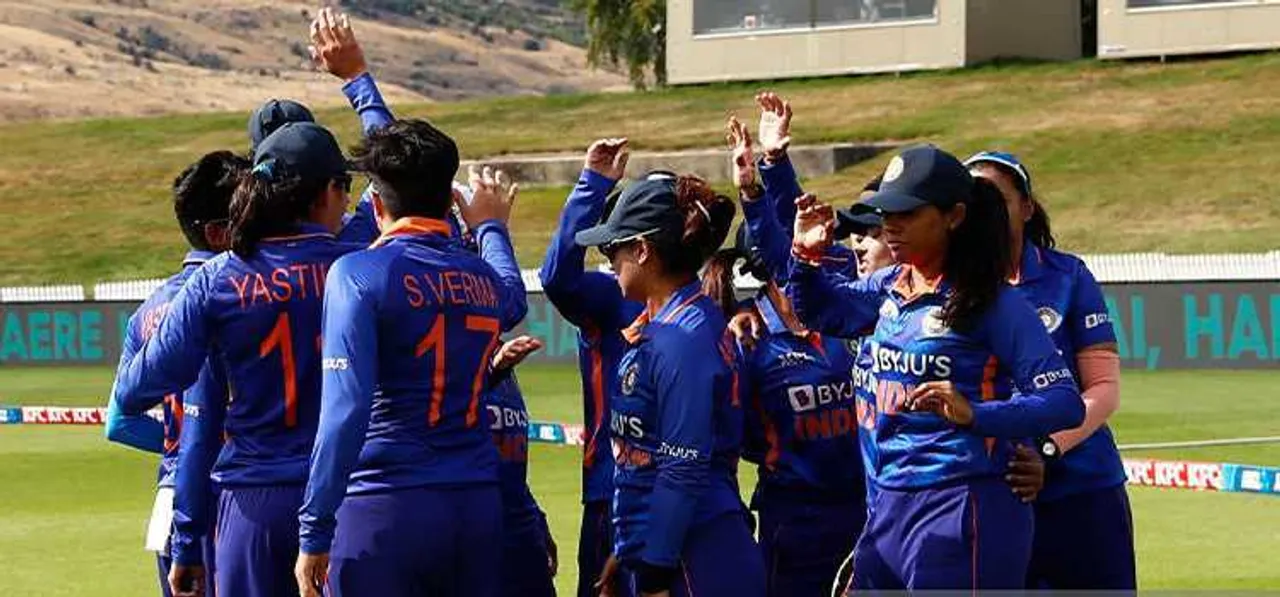 After the seminal day at Lord's on 23 July 2017 where they came agonizingly close to their first global triumph, India lost only one ODI series before the COVID-19 pandemic brought cricket to a grinding halt. Since that break from the format in 2020, they have been trying to find their mojo even as they lost three series back-to-back.
So when they set out to travel to New Zealand for a five-match ODI series ahead of the World Cup 2022, the tough losses against South Africa, England and Australia weren't seen as a deterrent to their hopes for the bilateral tour or the global event. Their hosts were also struggling to find their feet in the 50-over format, having managed to win only two of their last 20 matches before the series.
But by the time the third match was finished, India were no longer in the contest and it felt like things were unravelling for the current runners-up ahead of the World Cup.
India skipper Mithali Raj expressed concerns about the bowling, not without reason, for they failed to defend targets of 271 and 280 in the second and third ODIs respectively. Their batting, which has been criticised in the past for below-par performances, fared better in the series with at least three good efforts without being flashy. So, what are the issues plaguing the side going into the World Cup? Were the losses down to experimentation or inexperience or a bit of both?
Coach Ramesh Powar felt some of it was down to the extended quarantine they had to undergo after landing in the country. Regardless of what the team management projects to the outside world, they will be concerned about the way the series panned out and the consolation win in the final ODI will only give them some breathing space.
ALSO READ: New Zealand batting unit clicking at the right time ahead of the World CupWhat went right?
The fifth and final ODI gave a glimpse into what works for India in the format. They have predominantly become a chasing side – ironically after imploding in the face of a probable chase in the final – post the 2017 World Cup.
Smriti Mandhana's importance to the lineup:
Smriti Mandhana, ICC Cricketer of the Year 2021, went from an elegant opener who got India off to the perfect start at the 2017 event with wins against England and West Indies, to their most important and reliable batter in the current World Cup cycle. Having missed the first three matches due to Managed Isolation and Quarantine (MIQ), she had an uncharacteristic return to the game in the fourth ODI, where she was dismissed for 13 – her lowest score in the last 14 chases.
In the final ODI, the southpaw was back to her usual self and guided the chase of 252 with her trademark flair, scoring a match-winning 71.
India's reliance on spinners:
India are a good team when the spinners are in their elements. Having gone through a drought in recent times in good batting conditions, there were signs of them returning to form as the finger spinners, in particular, seemed to be finding their way back. The final ODI saw spinners bowl a whopping 38 overs and even the ever-reliable Jhulan Goswami didn't complete her quota of overs. Not that they haven't been bowling a lot of overs, for instance, in the second match of the series, spinners bowled 39 overs but that felt more out of desperation than having a specific plan to choke the opposition – which has been their go-to mantra when it comes to spin bowling.
Deepti Sharma – the only spinner to play all five matches - was the most impressive, with ten wickets to her name at an average of 24.00.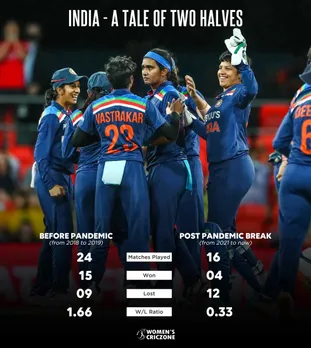 India struggled on their return post pandemic break © Women's CricZone/Getty Images
The Big PictureThe opening act:
Shafali Verma is only 18 and she is in her sophomore season. She made her debut in ODIs during the England tour of 2021 and has played 11 matches so far in the format. Her numbers look like that of any player that is finding their feet in international cricket. She has scored 260 runs at an average of 23.63 and has been very sedate by her standards with a scoring rate of 75.14 per 100 balls.
Verma didn't set the world on fire in the New Zealand series as well, scoring only 96 runs from five innings at an average of 19.20. On the other hand, travelling reserve S Meghana had a great re-introduction to international cricket with her fearless strokeplay. The right-hander smashed a 50-ball 49 and followed it up with a 61 off just 41 balls.
So, should Verma's place in the side be under threat? While her individual struggles will continue and she along with the coaching staff will have to find answers for her troubles, it should be noted that India have had five fifty-plus (one of them was a 100-run stand) opening partnerships since her debut in 11 matches.
Verma and Mandhana have added 325 runs at an average of 40.62 in these matches and the 18-year-old struck 174 runs at 58.00 with Meghana as a partnership. She also had a 100+ stand with Yastika Bhatia in the famous match where India ended Australia's 26-match winning streak. Even though the sample size is small, 23, 56, 46, 31, 74, 59, 13, 61, 100, 7, and 29 are numbers any team should be happy to take from their openers over the course of 11 matches.
With Mandhana's return and Meghana waiting in the wings, openers should hardly be India's worry even as young Verma stumbles and fumbles in the quest to evolve her game.
Middle muddle:
Like Verma, Bhatia is another young inductee, who came into the squad after the home debacle against South Africa in Lucknow. The 21-year-old started promisingly with four 30 plus scores in her first five matches after making her debut against Australia in September last year. But as the New Zealand tour went on, her form tapered off and the southpaw kept getting out while trying to pull off the front foot. That eventually ended up with her losing her place to Sharma in the last ODI.
Verma, Mandhana/Meghana, and Bhatia's collective effort meant Raj – who has been shouldering the responsibility of the batting – could walk to the crease in comfortable situations (Only thrice has Raj had to bat in the power play in a 50-over game since Verma's debut and India have lost all three of those matches). India's skipper had the luxury of coming to bat with more than 100 runs on the board in three out of the five matches during the series. Over a longer period, this might not be the case, the fact that they still went on to lose will put the onus on both Raj and Harmanpreet Kaur – who batted at number four in the last fixture – as tougher scenarios await them at the World Cup.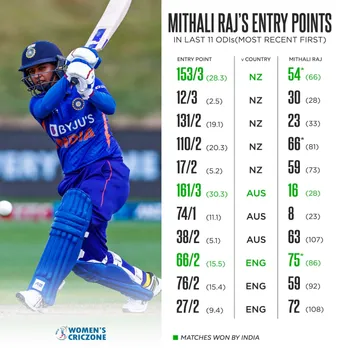 What should India's middle order look like? © Women's CricZone/Getty Images
Kaur's return to form with a 63 at no. four in the final ODI and Raj's unbeaten 54 at no. five in the same match offered some promise – but New Zealand were defending a below-par score with two of their first-choice bowlers missing. On the other hand, New Zealand found match winners in Maddy Green and Lauren Down at various stages of the series despite them averaging 21.07 from 45 matches and 17.60 from 22 matches respectively across their career.
That brings us back to the question about the batting order – Sharma's utility as a batter will be significantly diminished down the order because of her lack of power despite scoring an unbeaten 69 at number six. With the exciting Richa Ghosh in the lineup, it's difficult to accommodate Sharma even at six if they were to play Bhatia at three, and the fact that Raj is not a natural number five further complicates things. Although one would trust the seasoned campaigner to tweak her game to suit those scenarios, having Raj at three and Kaur at four – they have their best career numbers in these positions – would give them more comfort and they would hope to emulate the golden run they had at the 2017 edition once they made that tactical switch.
ALSO READ: Should Harmanpreet Kaur bat at no. 4 for India in World Cup 2022?
Or they could simply embrace the chaos and accept the fact LOI cricket is a situational game and they should just let the batters walk in based on the scenarios India find themselves in. However, it's easier said than done.
Lone warrior and death by spin:
India tried ten bowlers in the series – one of them being Kaur – and even aged 39, Goswami is still India's go-to bowler. To be fair to Powar and Co., they have talked about addressing the issue and brought in domestic performers like Renuka Singh Thakur and Meghna Singh into the mix, with the allrounder Pooja Vastrakar being the other option.
Vastrakar looked impressive in patches during the England and Australia series, but failed to replicate that in the good batting conditions of New Zealand. Two wickets at 56.00 and an economy rate of 6.58 from three matches doesn't make for good reading. Thakur picked up three wickets from two matches at a similar economy, while Singh went for 7.44 runs per over.
Not that the spinners fared any better on the economy front even as they bowled more overs and took more wickets. The fact that all the matches were played at good batting decks at the John Davies Oval in Queenstown didn't help as well. Goswami failing to take any wickets in the final game was also an indication of how the wickets were through the series.
The biggest worry for India could be their death bowling; the veteran fast bowler struggled in the third ODI to close out the match after having an incredible opening spell. India don't have a designated pacer for these scenarios and Raj was seen relying on spinners to do the job. For the optimists, death by spin worked for India in the last global event until they stumbled at the final frontier.
Now that the series is done and dusted, India can dismiss the series as glorified preparation for the mega event, or else they can take solace in the fact that all their World Cup matches will be day/ night affairs with none of the matches being in Queenstown and various other factors will come into play.
That brings us to another question. Why didn't they play a single day/ night fixture in the series if the New Zealand series was meant to be about getting their combinations right? Maybe we will look back at this with a sense of déjà vu in a month's time in light of what happened at the T20 World Cup 2018, for some things never change.