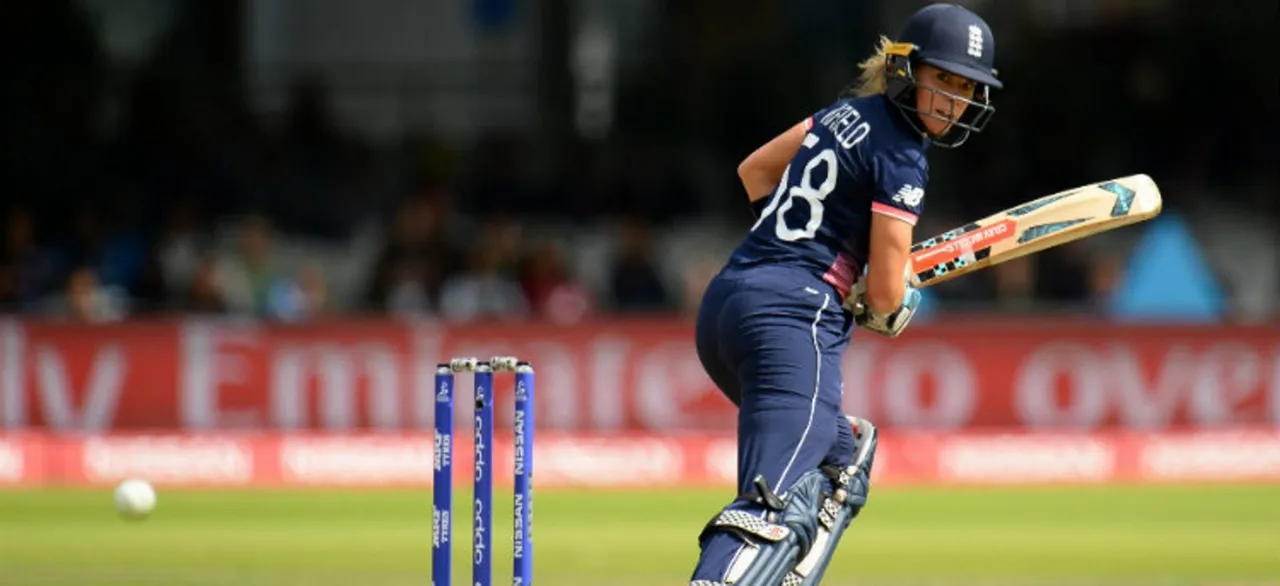 England has sealed the series 2-0 against India. In the 2nd T20I, Danni Wyatt played the match-winning knock of an unbeaten 64 to help England win the match by 5 wickets. Lauren Winfield played the supporting innings of 29 runs.
Winfield said that England is trying to improve their running between the wickets. She said, "Something we are trying to add to our game. We want to play the ball-striking game but we should also be about to play touch game as well which gives us the ability to play on bigger boundaries as well as 65-yard boundaries, important of running singles and twos is more. Something we have worked on both skill and fitness levels in the last two years good to see come to life."
Winfield spoke about her fitness and the need for fitness in cricket. "Ability to get up and down for 2s, speed endurance, always trying to be better athletes and move better that will help in the field. Last 10 overs of a T20I, like to hit boundaries, but not possible every ball, so trying to get a 2 off every time you can't get a boundary the goal, ambition is to put fielders under pressure."
India had clinched the ODI series 2-1 but lost the T20I series, a repeat of what happened in New Zealand in the last month. Winfield was asked whether she thinks India is a better ODI side than T20I to which she replied, "I don't think so. I think India is a good all-round sideshow where they are finishing in world cups etc always in with the top few teams. I think the surface is slightly easier here saw the ball hold and spin a lot in Mumbai, naturally, find that more challenging also swung a lot more early doors, openers found it more difference. I don't think it's a change in format, it's a change in personnel surfaces were just more different there and we didn't adapt early enough and weren't patient enough in the ODIs a switch to T20s is nice, allows you to play with more intent."
She said about KSL's importance in England, "The KSL for us, as a country, has been huge in helping develop the next crop of players. You see players like Sophia Dunkley, Linsey Smith, Freya Davies who are on this trip. They weren't really names who were in the mix a year or a year-and-a-half ago but because of the competition . And they get to pitch themselves against international cricketers in that competition, so you see where they are at and it's important to bring up that next crop of players. You ideally want 20-25 players to pick from where every single player is ready to rock and play international cricket. It's really important to bridge that gap and give girls a taste for the level of both."
Winfield said on Katherine Brunt in the second T20I:
"Katherine's a huge player for and when she stands up, she always brings the team with her. She's been really good for us in T20 cricket for a long time, and is player who's worked really hard on herself and her skills like, 'Can you nail the yorkers? Can you nail the slower balls etc? And can you bat yourself to deliver that when it matters?' And I think we've seen her do that more and more now. And she's a huge player for us. When she's firing, she brings the rest of us with us. Today, that was a very important spell, and it's good to see her do that more and more."
She also spoke highly of ECB doing keep teenage girls interested in playing, "It's like anything is that you want to improve, you want to grow. And certainly in my time as an international cricketer the opportunities I get and the opportunities that 10-year-olds get from when I was ten-years-old, it's a phenomenal difference. That's what you want. You want more growth, and that's certainly happening in England over the last few years. We've got to keep pushing on for sure, but cricket is in a healthy spot at the moment."
England will play India in the 3rd T20I of the series on 9th March. England has won the series 2-0.